What's next for Juul after settlements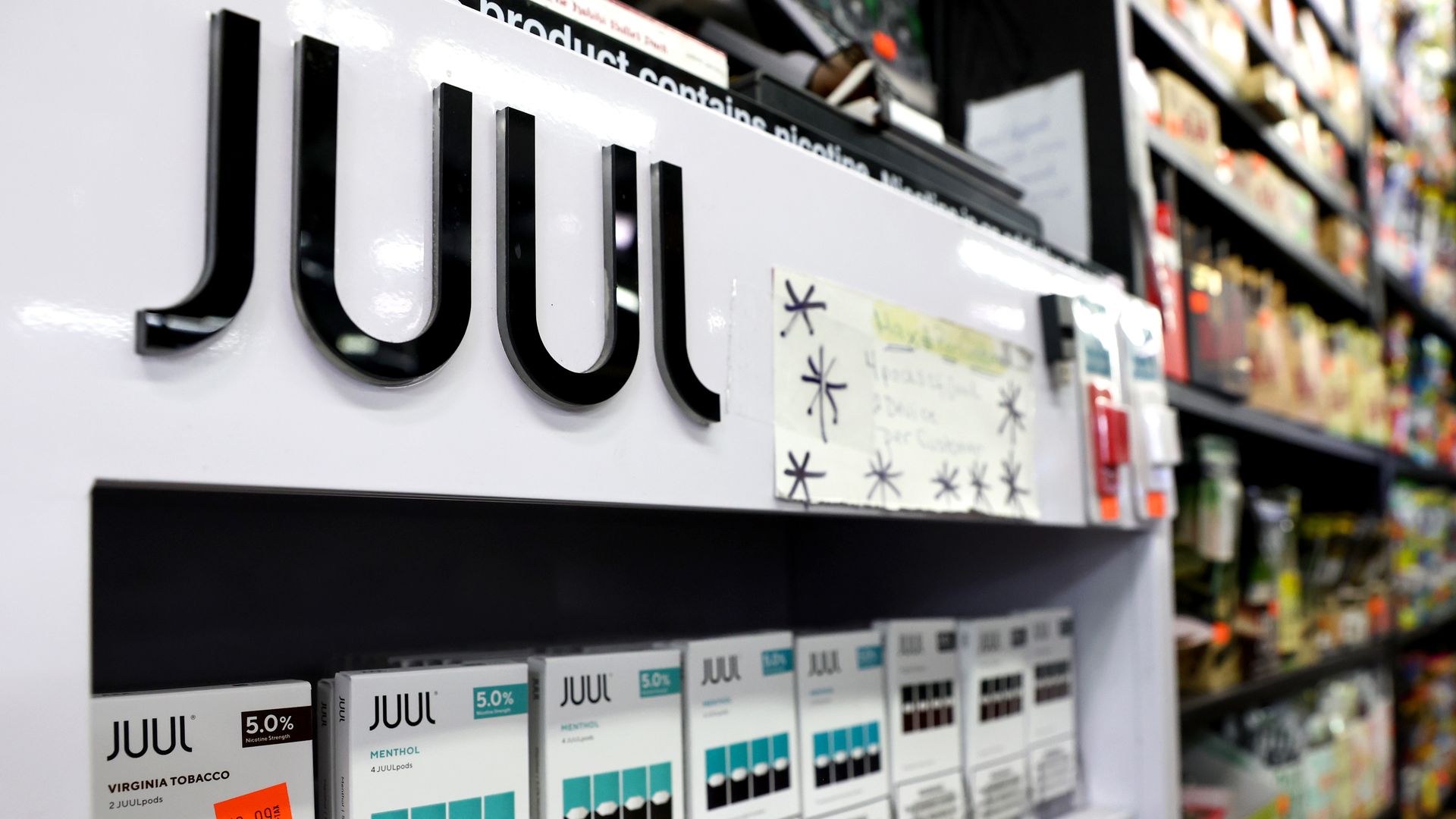 Minnesota settled its lawsuit against Juul labs and the e-cigarette manufacturer's previously largest investor Altria as their trial was wrapping up on Monday, the two parties announced.
The big picture: Juul has settled thousands of lawsuits — its biggest coming last week when it agreed to pay six states and the District of Columbia $462 million related to allegations that the vaping company targeted youth in its marketing. The Minnesota case was first to reach trial.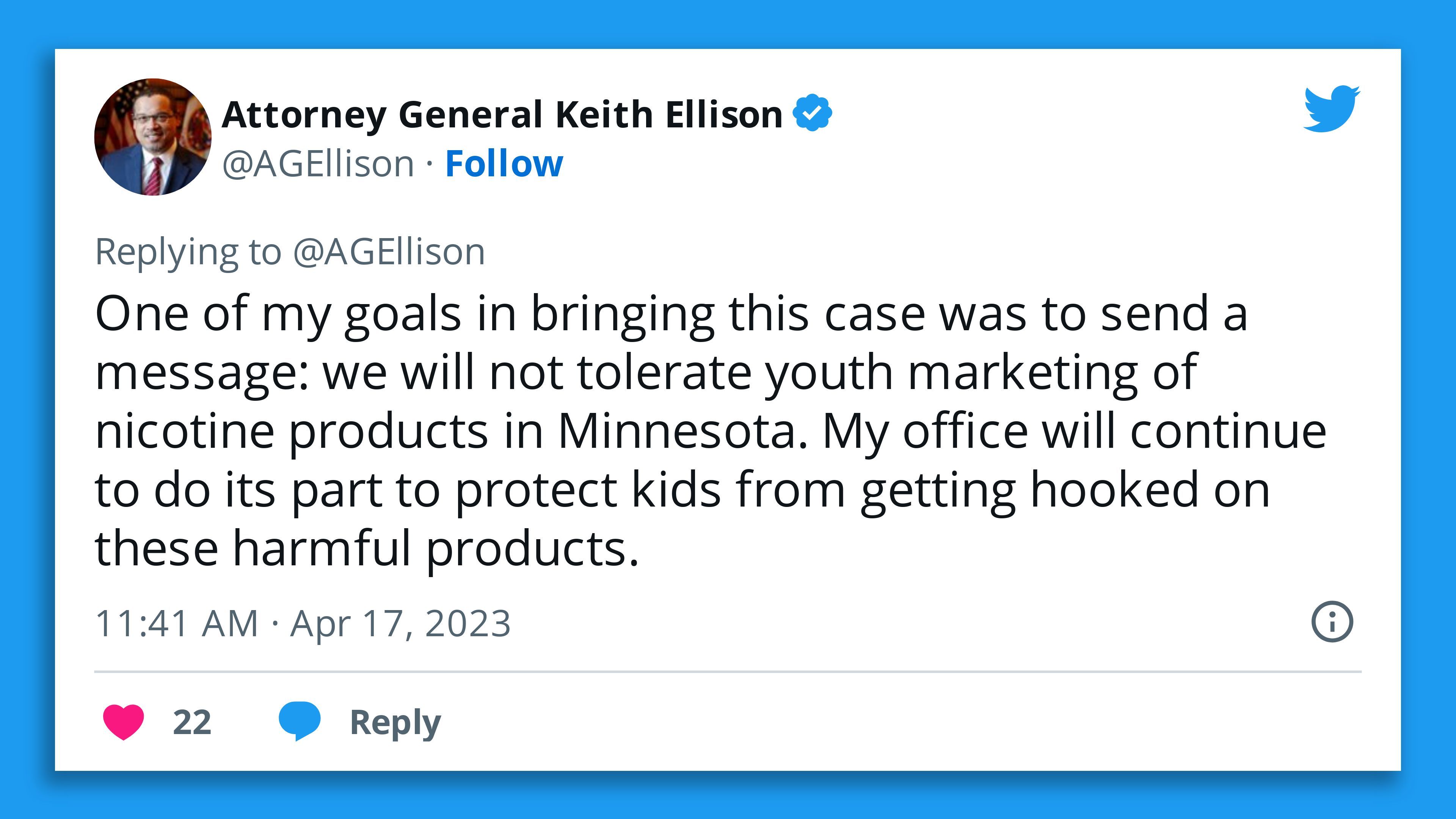 By the numbers: Some 2.55 million U.S. middle (3.3%) and high school (14.1%) students used e-cigarettes last year, according to the latest available data from the Centers for Disease Control and Prevention.
Juul has settled cases with 48 states and territories, "providing over $1 billion to participating states to further combat underage use and develop cessation programs," per a statement from the e-cigarette maker announcing it's working with Minnesota to finalize the details of their agreement over the coming weeks.
Of note: Juul has "never admitted any wrongdoing," said Robert Jackler, a surgeon and Stanford professor whose research into the e-cigarette maker's marketing was used as a primary source in most of the U.S. litigation, in a phone interview Friday.
State of play: The e-cigarette maker exploded onto the market after launching in 2015 with sleek marketing campaigns for vaping devices and nicotine flavored pods. By 2018, it was raking in revenue of nearly $1 billion.
What they're saying: Juul said in its statement Monday that it's "focused on our path forward to maximize the value and impact of our product technology and scientific foundation," which "has transitioned" over 2 million adult smokers from "combustible cigarettes."
Juul proposed in its Premarket Tobacco Product Applications "a marketing plan narrowly tailored to adult smokers to reach our intended audience and limit underage exposure," which "specifically stated" would "avoid broad marketing channels, like social media, unlike competitors in the marketplace."
Yes, but: Jackler and Michelle Jongenelis, an associate professor at the University of Melbourne whose study published in February examined the impacts of e-cigarettes on youth in Australia, expressed skepticism at Juul's pledge.
Jongenelis said in an emailed comment Monday that the tobacco and vaping industries "have always found loopholes" in marketing restrictions and other regulations.
Jackler said Juul "set out claiming they were trying to improve the lives of a billion smokers around the world and instead, they addicted a whole generation of non-smoking to nicotine."
Meanwhile, Juul's pledge not to market to youth doesn't really matter as the company already went viral on social media in its earlier campaigns and became a "fad amongst teenagers," according to Jackler.
"They had recruited an army of teenagers that basically became members of their marketing department," he said.
What we're watching: "The fact that in late 2022 JUUL's lead investors, who also serve as corporate directors, were willing to make a sizable cash infusion to help pay for JUUL's litigation payments indicates that this savvy group of wealthy individuals foresee a promising path forward for JUUL in the nicotine delivery marketplace," said Jackler in an email on Monday night.
"There can be little doubt that JUUL has been working on a business plan based on introducing novel nicotine delivery technologies, almost certainly ones which the company anticipates will circumvent its present regulatory limitations."
Go deeper