Scoop: The numbers behind Juul's investor appeal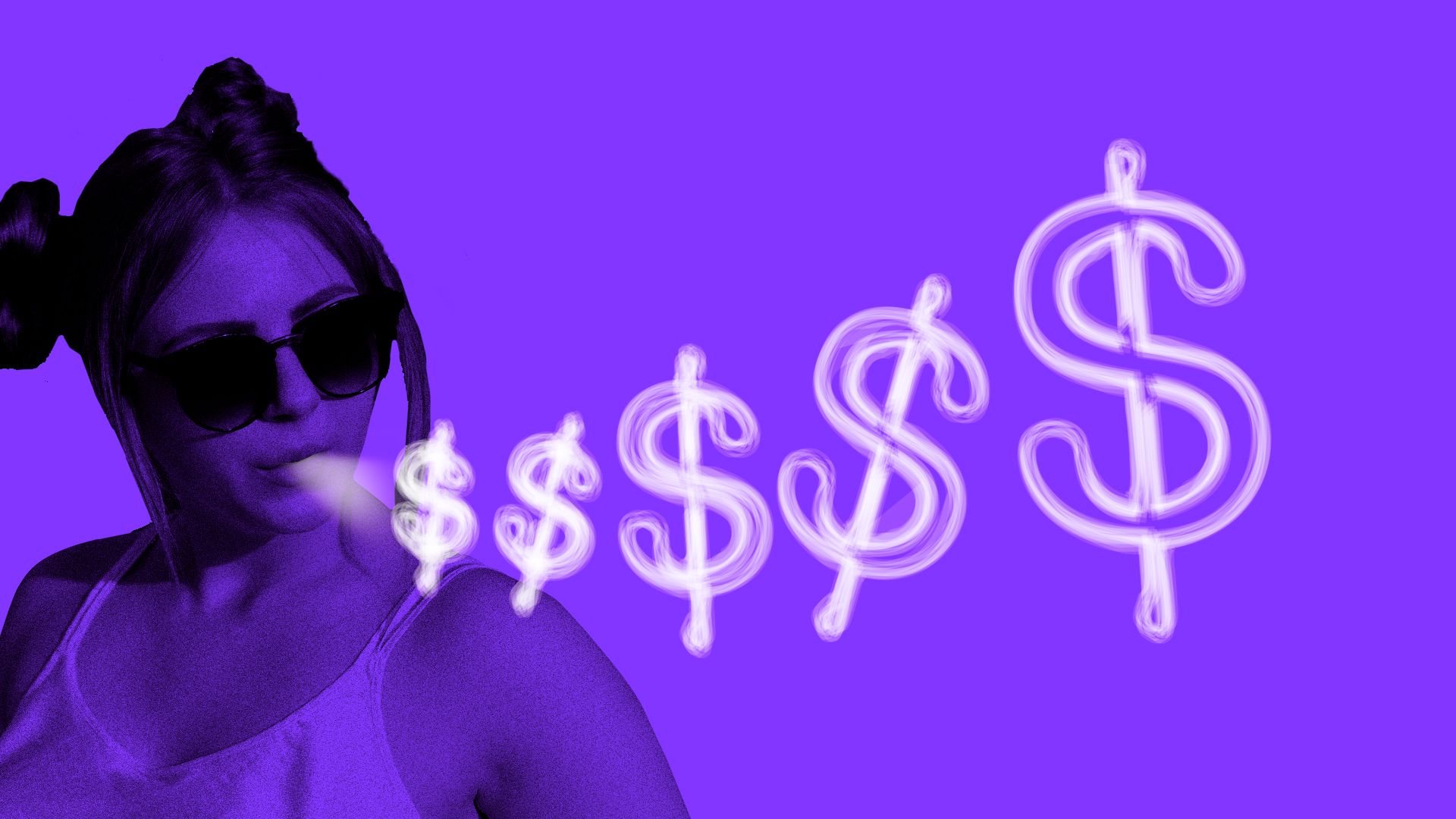 Juul, the maker of vaping devices and nicotine flavor pods that dominate college and (yes) high school campuses, is raising $1.2 billion at a valuation of around $15 billion.
Bloomberg was first with the news on Friday, and Axios has learned that it's basically a done deal that could be announced within just a week or two. We've also obtained some company financials, which helps explain the investor appeal.
The following numbers come from late last year, and word is that Juul is blasting through its 2018 projections:
2017 revenue was around $245 million, with a 54/46 split between product (devices) and subscription (pods). This is up from around $60 million in 2016, and projected 2018 revenue was $940 million.
Gross margins are 70%
2018 EBITDA projection is approximately $250 million.
Such numbers would normally make Juul a no-brainer for venture capital and growth equity types, particularly given that the San Francisco-based company hasn't yet tapped overseas markets other than Israel. But this one is complicated:
Ethical con: Juul contains a ton of nicotine. Specifically, each Juul pod is the nicotine equivalent of an entire pack of regular cigarettes. This can make it very addictive, and also may create cardiovascular issues for older users and brain development issues for younger ones. Moreover, there has been academic research showing that young people using e-cigs are more likely to begin smoking regular cigarettes than are those who don't use e-cigs. That research isn't specific to Juul, but Juul's design and flavoring makes it the e-cig of choice for those who aren't legally allowed to have them.
Ethical pro: Juul is used by some regular cigarette smokers as a cessation tool, and there is some Juul-funded research that points to its efficacy. It also has taken steps to reduce its visibility among young people, including via social media, and says it has online ordering limits to prevent black market sales to underage users.
Bottom line: As we said, this deal is getting done because the growth almost demands it. But don't be surprised if it doesn't include traditional VC or growth equity investors.
Some funds are knocked out because of tobacco restrictions, while others won't think the possible risks — both ethical and regulatory — are worth the reward at such a high valuation.
I don't have any inside info on the actual investors, but would guess there would be some non-U.S. names (particularly because of the int'l expansion plans). Also could be interesting to see if TPG becomes involved, given that Juul CEO Kevin Burns is a former TPG exec who previously helped lead portfolio company Chobani.
Go deeper