FDA needs more time on Juul e-cigarette ban decision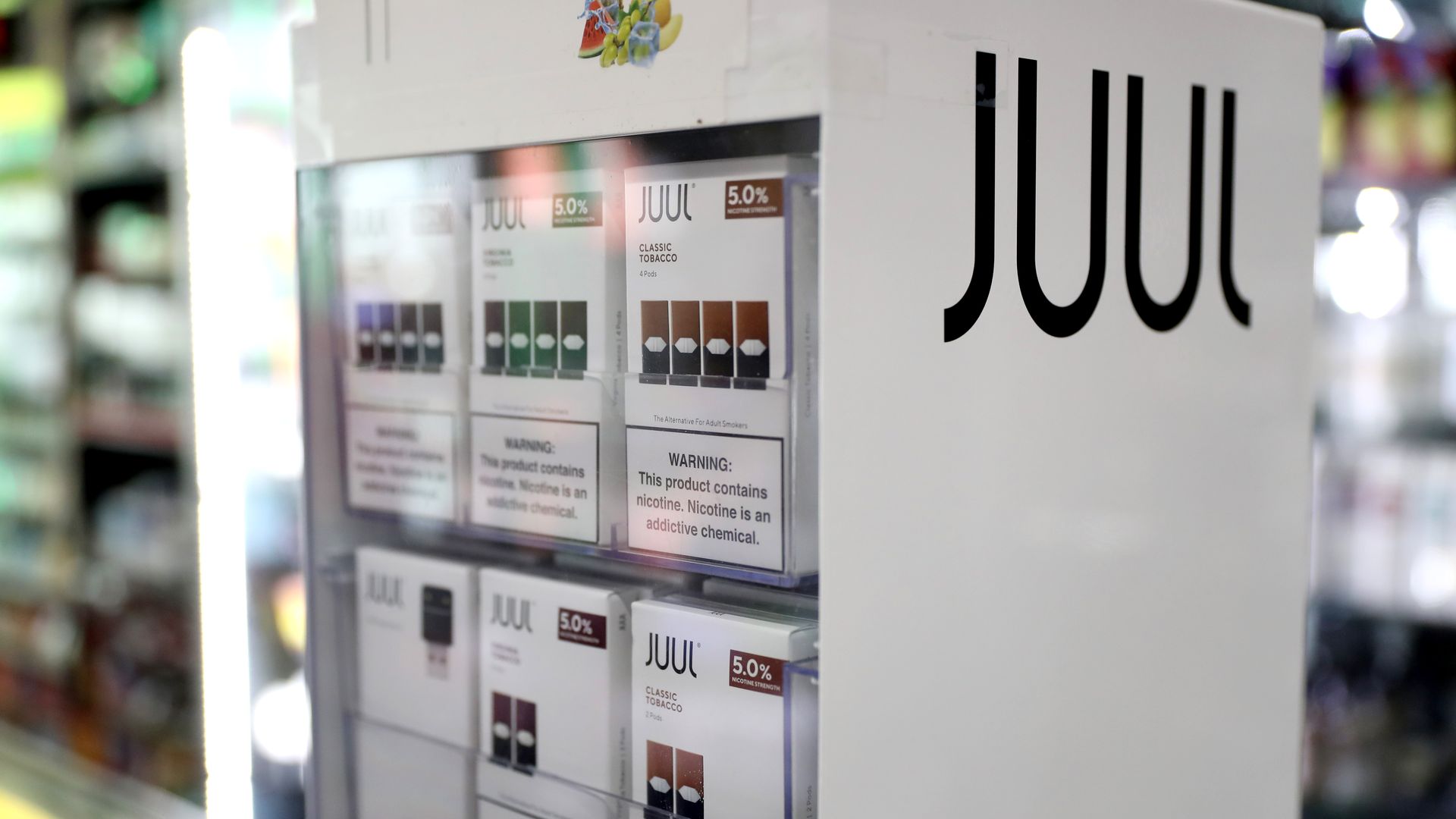 The Food and Drug Administration said Thursday it will delay its decision on top-seller Juul, but thousands of other electronic cigarettes will be ordered off the U.S. market.
Why it matters: The stalled decision prolongs the agency's determination on whether there is enough data to show if adult cigarette smokers switching to a less harmful option outweighs the detrimental costs of young people getting hooked on nicotine by vaping.
The companies with the most to lose are Vuse, owned by Reynolds American and Juul, with Altria having a 35% stake.
The big picture: The FDA rejected applications for about 950,000 flavored e-cigarettes and related products. The reasoning was their flavor profiles and appeal to underage teens could be problematic.
Vaping in the last few years has been a huge concern by parents, politicians and anti-tobacco advocates who have pushed the agency to ban high-nicotine devices, products Juul has mainly been blamed for. Still, the agency said it would need more time to rule on company's products.
Zoom out: In September 2020, the agency required all U.S. e-cigarette manufacturers to take their vaping products off the market or submit them for FDA review. The FDA was facing a Thursday deadline to decide whether vaping has a net positive or negative effect on American public health.
The companies were required to show through scientific evidence that each product was less harmful than traditional cigarettes and that cigarette smokers would be more likely to stop smoking if they used it.
Since then, more than 500 companies have filed applications for about 6.5 million products. Another government agency in June had asked the FDA for more time considering the application size.
The FDA in August already blocked the sale of 55,000 flavored vape products from three companies. More individual bans could be under consideration.
Noteworthy: In April, the FDA announced plans to propose banning menthol cigarettes and flavored cigars. It is also reportedly considering whether to seek limits on nicotine levels in cigarettes to reduce their addictive potential.
The agency did enact temporary restrictions on some sweet and fruity-flavored products in an effort to curb youth vaping.
The bottom line: Both tobacco companies and special interest groups planned on moving forward with court battles depending on the outcome of the FDA review.
Go deeper