Go deeper: Juul's value skyrockets despite investor trepidation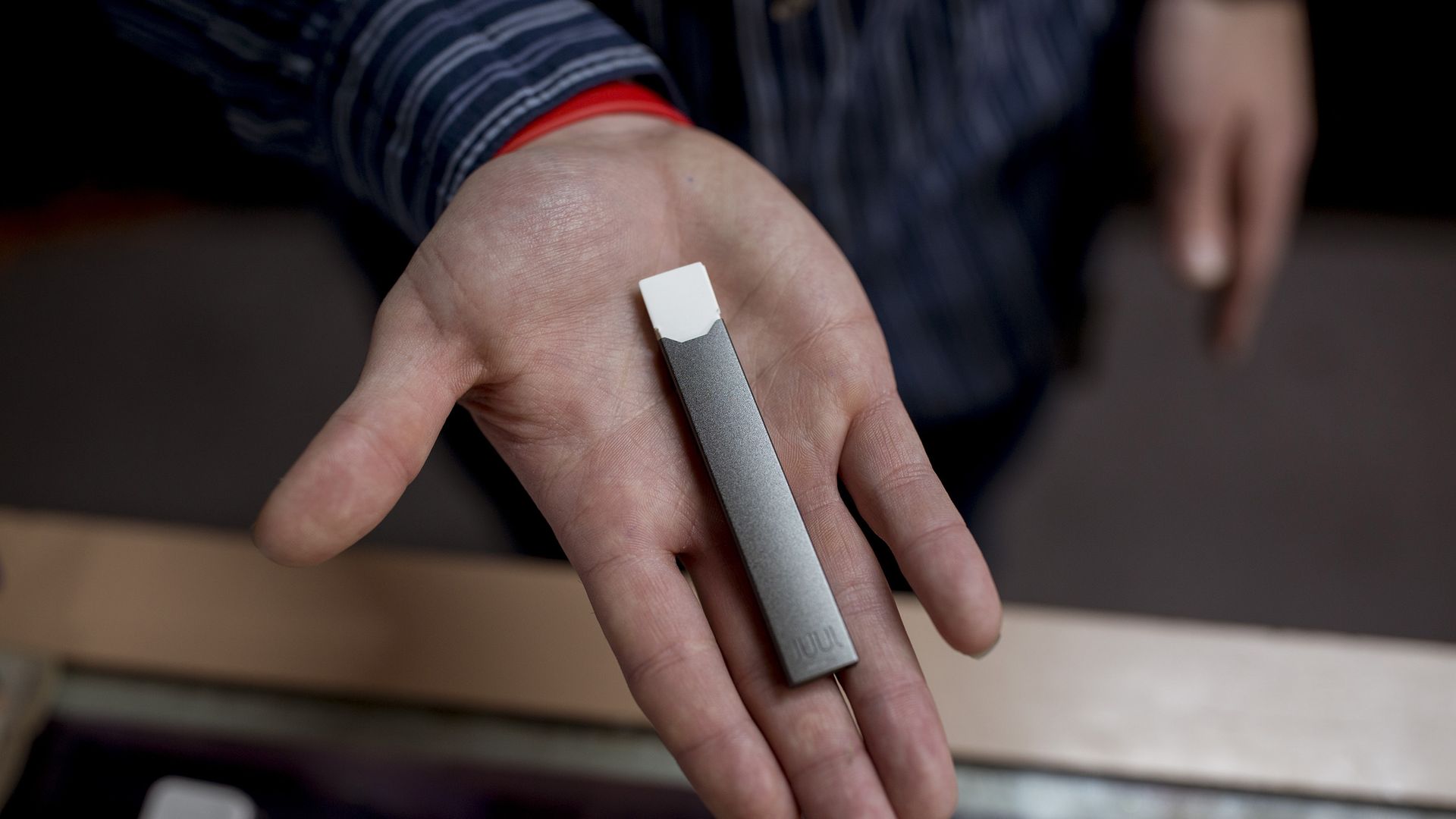 Juul Labs, a startup that makes electronic cigarettes, is reportedly raising $1.2 billion in a financing round that would value the company at $15 billion, Bloomberg reports, a massive jump from what investor Fidelity valued it last month ($4 billion) and a staggering number given private e-cigarette funding virtually disappeared this past year.
Why it matters: Juul is succeeding in a market where many other e-cigarette companies have failed, despite continuing regulatory uncertainty.
The intrigue: Juul has mastered a sleek and discreet design that other e-cigarettes don't have. Juuls are easy to clean, charge, and refill the pods containing the vaping juice. For that, Juul has more than 50% of the market share and is up 700% in revenue from last year, Nielsen reports.
The e-cigarette market taps in at about $2 billion, and sales for Juul could go as high as $1 billion for 2018.
In an effort to appeal to the FDA, Juul announced it was changing its social media and marketing policies to deter looking trendy and appealing to youth.
The bleak competition
NJOY, one of the first companies to make and sell e-cigarettes, raised $165 million in its last round. The company filed for bankruptcy in 2016 as the FDA announced its ability to regulate NJOY's products and all other e-cigarette companies.
Tobacco giant Philip Morris International has seen its stock drop by almost a third in the last year. The company has attempted to catch up with the shift among younger customers toward e-cigarettes and vaping, per The Information.
R.J. Reynolds' Vuse brand of e-cigarettes has seen its market share drop by more than 50% in the last year, according to data from Nielsen and Wells Fargo.
What to watch: As Juul is winning in a bleeding market, investors are left to decide if the San Francisco-based company is an opportunity to dominate the e-cigarette market or if it will fall as fast as it soared.
Still, the business for e-cigarettes is expected to rise at an annual growth rate of 17%, higher than 12% in 2017, per Nielsen.
The other side
Juul had until June 19 to turn in any paperwork to the FDA relating to Juul's marketing campaigns, product design, and consumer complaints on the product as it relates to youth use. Those will be very important in examining if Juul is marketing itself as a "cigarette alternative" for adult smokers, and its potential contributions to a tobacco problem in younger generations.
The numbers that matter: E-cigarettes are now the most commonly used tobacco product among the youth, according to the Center for Disease Control and Prevention.
In 2016, more than 2 million U.S. middle and high school students used e-cigarettes in the past 30 days, including 4.3% of middle school students and 11.3% of high school students.
In 2016, only 3.2% of U.S. adults were current e-cigarette users.
Go deeper: The Juul, explained (via Vox)
Go deeper