Sen. Tammy Baldwin is latest swing state Dem seeking reelection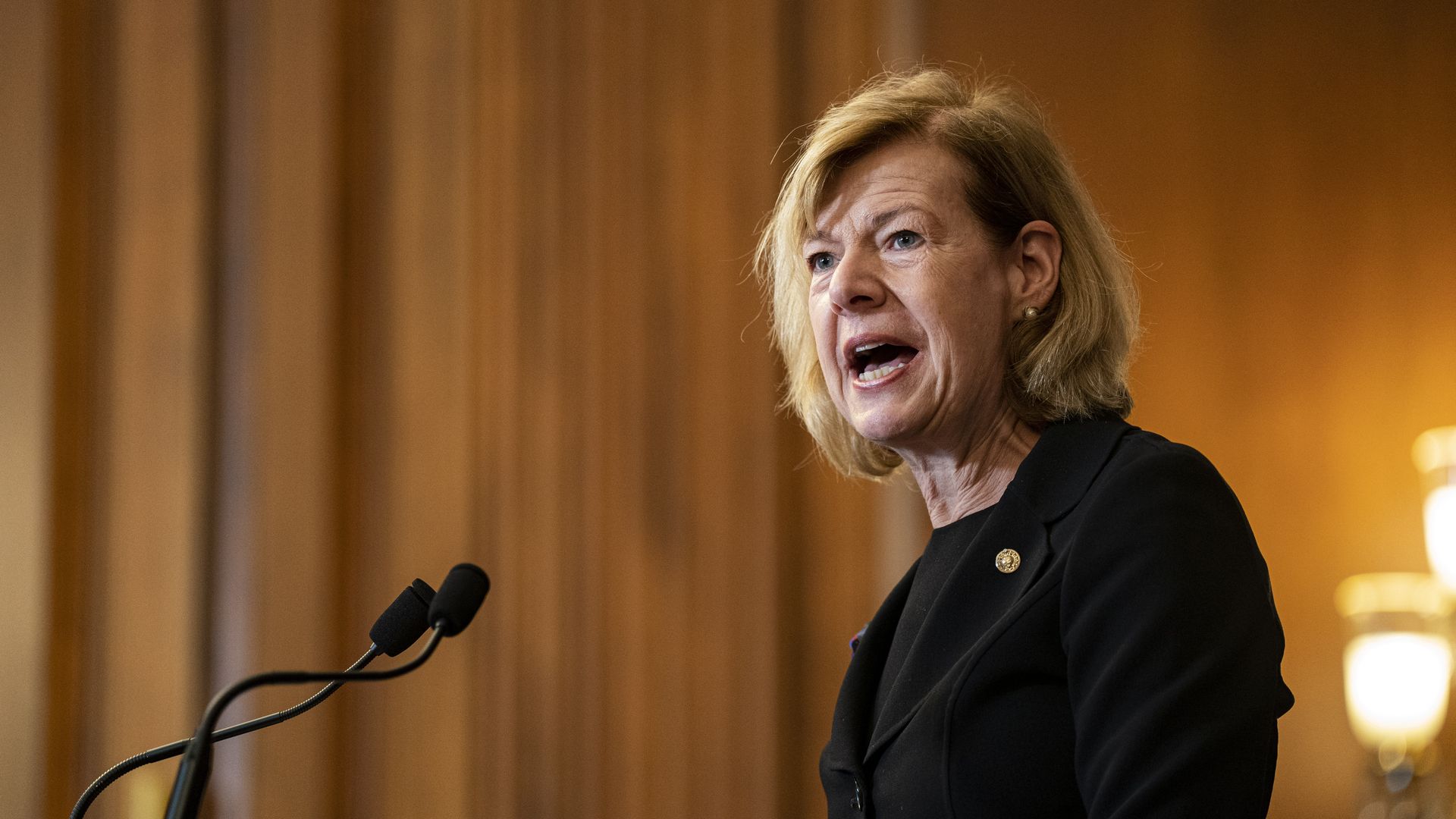 Sen. Tammy Baldwin (D-Wisc.) on Wednesday announced she's running for reelection in 2024.
Why it matters: The two-term senator's decision means Senate Democrats will maintain the advantages of incumbency in one of the many swing states where they are playing defense this cycle.
Republicans, by contrast, are trying to hold onto just two states that didn't vote for former President Trump by double digits in 2020.
Driving the news: In a statement on Wednesday morning, Baldwin said, "With so much at stake, from families struggling with rising costs to a ban on reproductive freedom, Wisconsinites need someone who can fight and win."
It's a signal that abortion, which has been a boon to Democratic campaigns since Roe v. Wade was overturned, will be a signature focus of her campaign.
The backdrop: The first openly gay senator, Baldwin was first elected in 2012, defeating former Wisconsin Gov. Tommy Thompson by more than 5 percentage points.
The other side: Baldwin is a "reliable vote for the far left, not a senator Wisconsin can count on," said National Republican Senatorial Committee spokesperson Tate Mitchell in a statement.
The big picture: Baldwin is the latest in a string of Democratic senators running for reelection in purple or deep red states.
Sens. Jon Tester (D-Mont.) and Sherrod Brown (D-Ohio), both of whom represent states that went for Trump by substantial margins in 2020, have announced reelection bids.
So has Sen. Jacky Rosen (D-Nev.), with Sen. Bob Casey (D-Pa.) announcing his run for a fourth term on Monday.
Just one swing state senator, Sen. Debbie Stabenow (D-Mich.), has said they're retiring this cycle.
What we're watching: All eyes are on Sen. Joe Manchin (D-W.Va.), whose state went for Trump by nearly 40 points in 2020.
The two-term senator, who won reelection by just three percentage points in 2018, could face a strong challenge from West Virginia Gov. Jim Justice. He's signaled an announcement could be a long way off.
Sen. Kyrsten Sinema (I-Ariz.) has also been characteristically circumspect about her 2024 intentions, though Rep. Ruben Gallego (D-Ariz.) is already running for her seat.
Go deeper