Schumer to corner GOP on Trump call to "defund" DOJ and FBI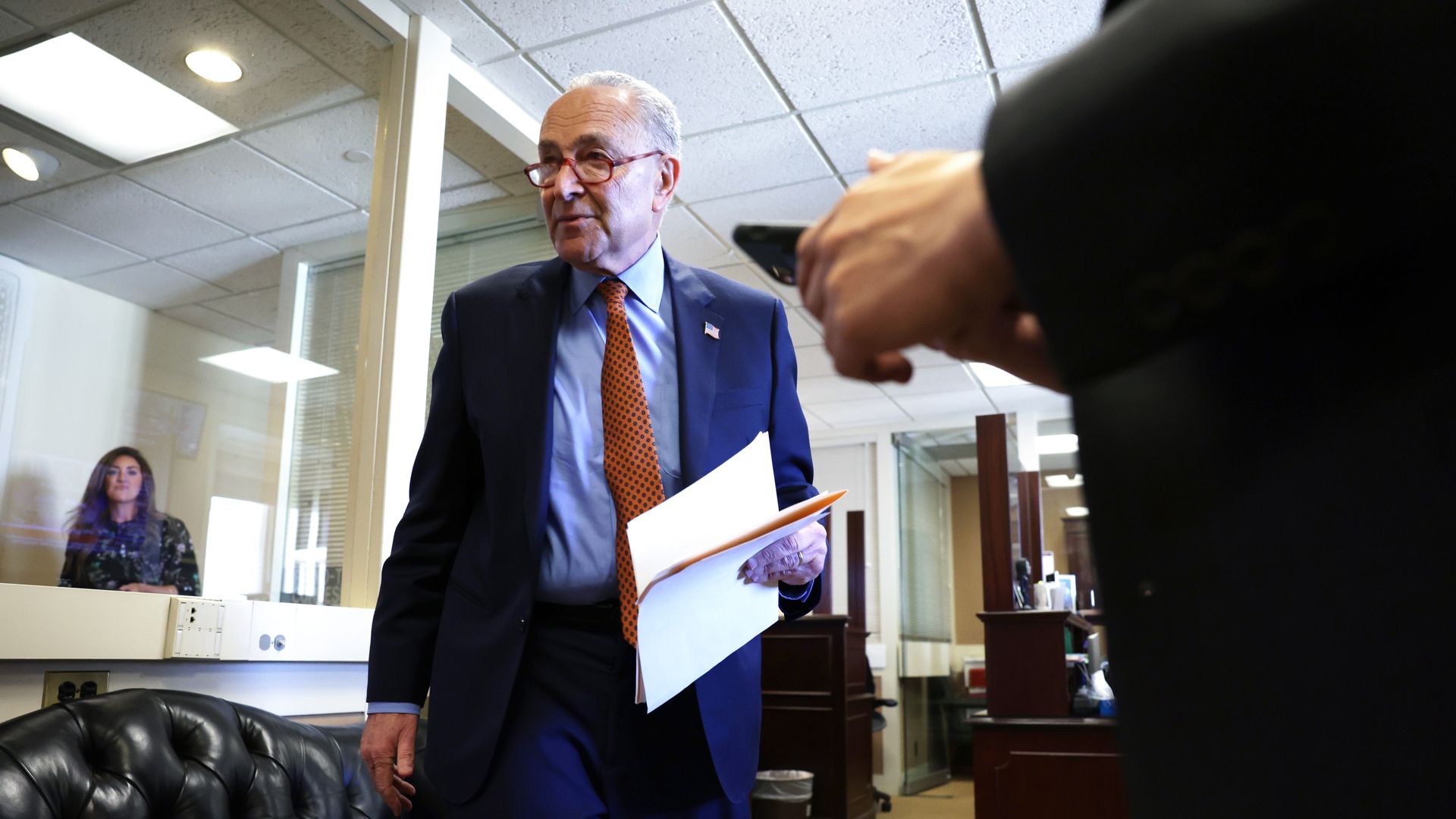 Senate Majority Leader Chuck Schumer (D-N.Y.) on Tuesday announced plans to introduce a resolution rejecting former President Trump's call to "defund" the Department of Justice and FBI.
Why it matters: It's an effort to force Republicans to choose between an unpopular stance or breaking with Trump — a reversal from the usual dynamic of the 118th Congress.
House Republicans have been forcing Democrats into tough votes on crime, COVID and sustainable investing with legislation that can be forced to the floor of the Democrat-controlled Senate.
This time, Senate Democrats are using their majority to put Republicans into a bind.
Driving the news: Schumer said in a "dear colleague" letter to senators in both parties on Tuesday that he will offer a resolution condemning Trump's "defund" calls when the Senate returns from recess next week.
The text of the resolution, shared in the letter, "recognizes and appreciates the dedication and devotion demonstrated by the men and women of Federal law enforcement agencies."
It name-checks Trump, rejecting his attempts "to degrade public trust in Federal law enforcement agencies for attempted political or legal benefit."
The backdrop: Trump, who is under investigation by a DOJ special counsel over his handling of classified documents and actions related to Jan. 6, posted to social media last week calling to defund the agencies "until they come to their senses."
It came after Trump was arrested in Manhattan on unrelated charges.
Some Biden-district Republicans have rejected the idea. "It's not going to happen. We have a country to run," Rep. Don Bacon (R-Neb.) told Axios last week.
But several Trump allies had already been beating the "defund the FBI" drum, with more joining in after Trump's posts.
Between the lines: Republicans have spent years tying Democrats to the "defund the police" position embraced by the party's left flank and Democrats are eager to give them a taste of their own medicine.
The big picture: The GOP has had an increasingly chilly relationship with federal law enforcement in recent years, with House Republicans setting up a Judiciary subcommittee on the "weaponization of the federal government" to probe alleged abuses by those agencies.
What's next: Schumer may offer unanimous consent on the resolution, allowing just one Trump-sympathetic Republican senator to block it from passing, in order to preserve precious floor time.
If he chooses to eat up more time, he could force Republicans into an up-or-down vote on the resolution, which would be subject to the Senate's 60-vote threshold.
Go deeper