First look: White House accuses GOP of defunding law enforcement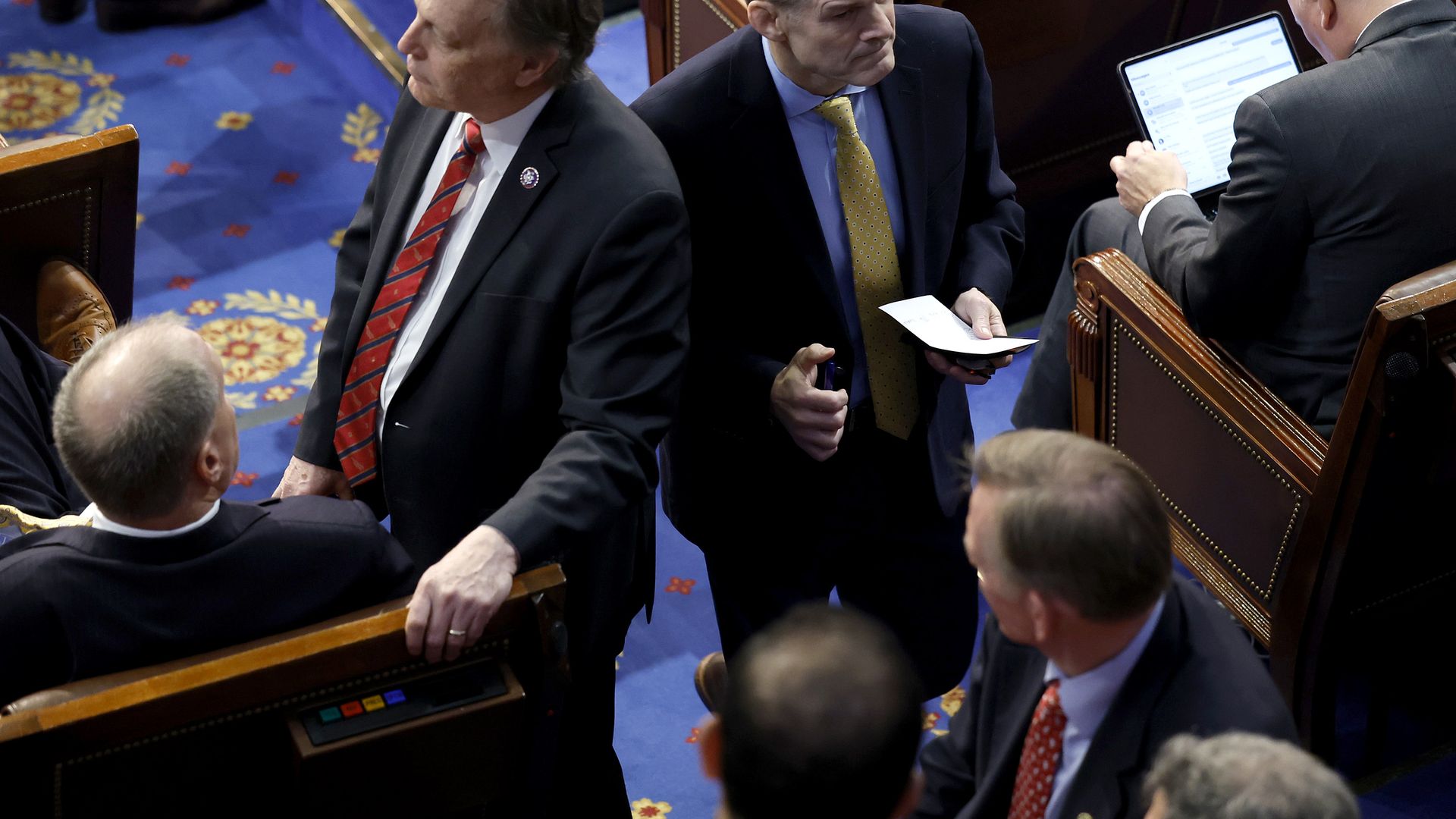 The White House is accusing House Republicans of wanting to "defund or abolish" law enforcement, according to a statement first obtained by Axios.
Why it matters: It's the latest example of the White House's new aggressive strategy to counter Republicans' sprawling investigations and attacks on Democrats over the issue of crime.
It's an attempt to flip the script on Republicans who have long hammered Democrats for past calls to "defund the police" and "abolish ICE."
Driving the news: The White House messaging push comes ahead of a joint subcommittee hearing on Thursday, titled, "ATF's Assault on the Second Amendment: When is Enough Enough?"
Top House conservatives are targeting the budgets of federal law enforcement agencies such as the FBI and the Bureau of Alcohol, Tobacco, Firearms and Explosives (ATF) as part of their scrutiny of the "weaponization" of the federal government, as Axios has reported.
Zoom in: The White House plans to claim the recently released House Freedom Caucus budget plan would "make communities less safe" by cutting funding for 11,000 FBI personnel, freezing hiring at the ATF and otherwise slashing money for law enforcement positions and related grants.
Some GOP hardliners have been vocal about their desire to slash funding to agencies they view as weaponized against conservatives. Rep. Matt Gaetz has even suggested abolishing several federal agencies, including the FBI and ATF.
"These same House Republicans who opposed the President's bipartisan reforms and are now threatening to defund or abolish law enforcement agencies," Ian Sams, White House spokesperson for oversight, said in a statement first shared with Axios.
The other side: Republicans want to make significant spending cuts across the government, targeting what they see as government "waste, fraud and abuse."
In particular, Republicans like Rep. Andrew Clyde (R-Ga.) are concerned about a new ATF rule under Biden, which they say could needlessly put gun owners in legal trouble.
"It's going to render millions of Americans felons," Rep. Dan Bishop (R-N.C.) told Axios about the ATF rule earlier this month.
The Justice Department has also long been eyed with distrust by GOP hardliners — a sentiment bolstered by DOJ investigations into the events surrounding the Jan. 6 Capitol riot and Trump's handling of sensitive documents after leaving office.
Between the lines: The White House has been active in pushing back against the numerous investigations launched this year by House Republicans.
The bottom line: Two months in, GOP investigations have produced few if any revelations — but the political messaging war is in full force.
Go deeper