Freedom Caucus seizes center stage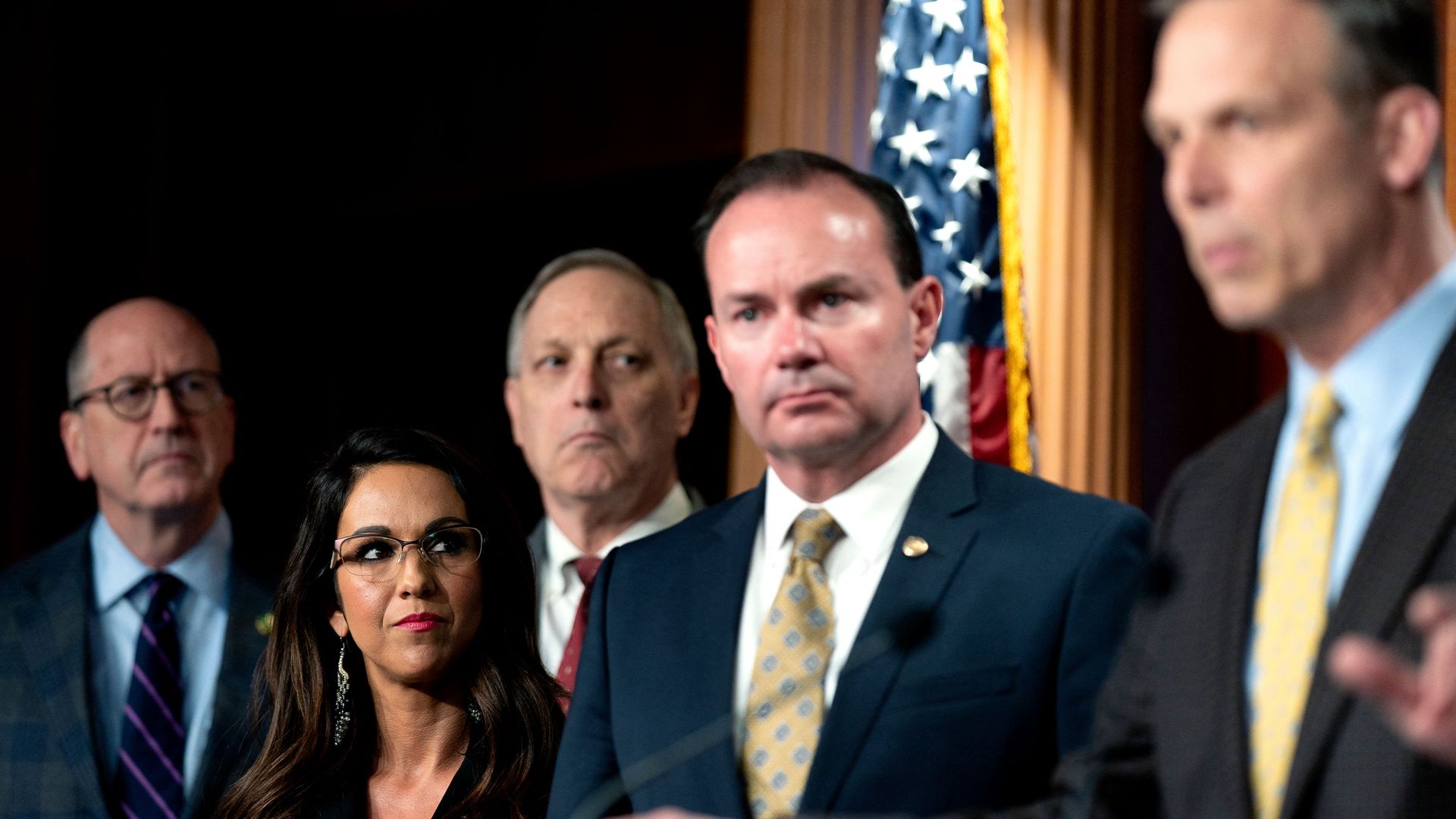 Flanked by half a dozen right-wing Republicans, Rep. Lauren Boebert (R-Colo.) extended an invitation to President Biden: Attend Wednesday night's meeting of the House Freedom Caucus to begin budget talks with Capitol Hill's true power brokers.
Why it matters: The absence of negotiations between Biden and House Speaker Kevin McCarthy (R-Calif.) — not to mention wall-to-wall media coverage of the potential Trump indictment — has obscured the dangerous trajectory of the ongoing debt-ceiling crisis.
The Freedom Caucus, which Boebert dubbed "the only caucus who has released a plan to address this situation," is stepping into the vacuum — flexing the same muscle it used to extract concessions from McCarthy during the speaker's election.
"I'd remind Mr. Biden that America saw what the House Freedom Caucus is made of in January," Boebert said. "Lies don't move us. Media coverage doesn't move us. Attack ads don't move us. Policy moves us."
State of play: Biden released a $6.8 trillion budget this month that functioned as a blueprint for his political priorities — and called on House Republicans to do the same.
McCarthy, who has refused to commit to raising the debt ceiling without spending cuts, blasted the proposal as "completely unserious."
After an initial sit-down, Biden said he would not meet again with McCarthy until Republicans release their own budget, which the speaker has indicated could be delayed until May.
In the meantime, the Freedom Caucus released its own preconditions for raising the debt ceiling — a list that includes ending the Biden administration's student loan forgiveness program, rescinding unspent COVID-19 relief funds, and clawing back funding for the IRS and climate change prevention.
"We have a plan, we're ready to go right now. There's no reason this needs to be a crisis now or a crisis in the future," said Freedom Caucus chair Scott Perry (R-Pa.). "If the president wants to solve this, we're all here."
"I'm very optimistic with what the Freedom Caucus has done," added Sen. Rick Scott (R-Fla.), who joined the press conference with Sen. Mike Lee (R-Utah). "We have a great opportunity to start the process of doing what every family in this country does, businesses do — live within our means."
Between the lines: Biden, at least for the moment, has been happy to make this a messaging war — and likely will be thrilled that his two favorite foils, Scott on the Senate side and the Freedom Caucus on the House side, are seizing center stage.
Each day this week, the White House has rolled out blistering fact sheets painting various Freedom Caucus proposals as a "five-alarm fire" for American families.
At their press conference, members of the Freedom Caucus accused the White House of lying and vowed not to touch Social Security or Medicare, or allow the U.S. to default on its debt.
What we're watching: Republicans see the collapse of Silicon Valley Bank and Signature Bank as extra incentive to enact spending cuts now. The White House views the brinkmanship as irresponsible and a road to a far more catastrophic debt crisis.
"This is the best time to do it," House Budget Committee Chair Jodey Arrington (R-Texas) told Punchbowl News. "That interest rate pressure that is creating some risk in the banking industry is a result of the inflation that has been induced by the massive amounts of spending."
"MAGA House Republicans are exploiting the bank failures they helped cause and threatening to worsen economic volatility unless they can implement their budget policies: raising costs for seniors and families to pay for tax cuts for rich special interests," White House spokesperson Andrew Bates told Axios.
Editor's note: This story has been corrected to reflect Freedom Caucus Chair Scott Perry is a Republican representing Pennsylvania, not Texas.
Go deeper