Biden proposes $6.8 trillion budget to make rich pay "fair share"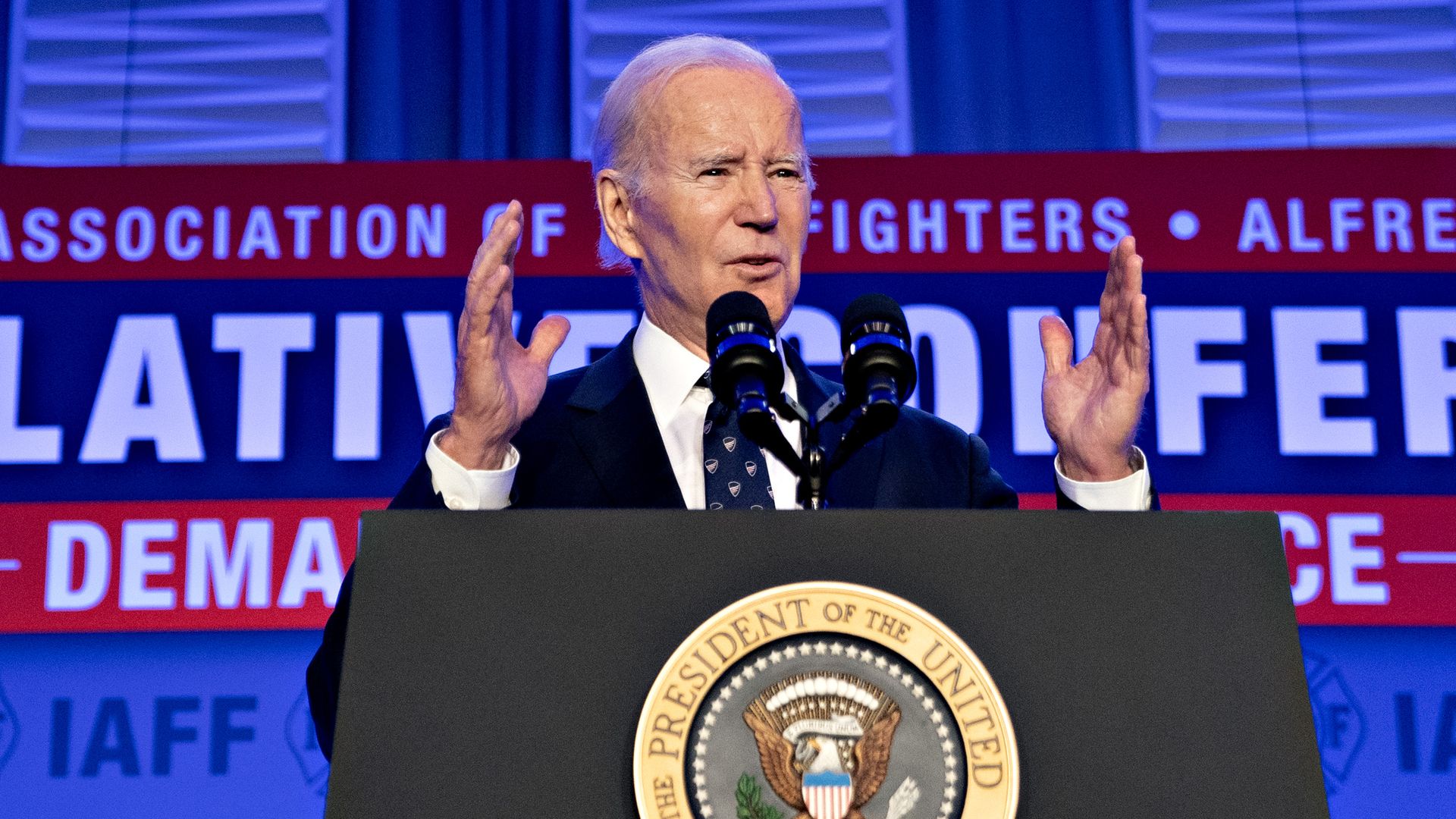 President Biden is using the release of his $6.8 trillion budget for fiscal year 2024 to challenge House Republicans to produce their own tax and spending blueprint without cutting Medicare or Social Security.
Why it matters: Biden's plan, which has little chance of being enacted by Congress, amounts to the clearest distillation of his political priorities as he prepares to mount a re-election campaign by running against congressional Republicans.
"I want to make it clear: I'm ready to meet with the Speaker [Kevin McCarthy]) anytime — tomorrow if he has his budget," Biden said in Philadelphia.
"My budget is going to give working people a fighting chance," he said. "We have made a lot of progress in the first two years."
The message to the wealthiest Americans was clear: "You have to begin to pay your fair share," Shalanda Young, the director of the Office of Management and Budget, told reporters. "We are happy to have that debate."
By the numbers: Biden is proposing $885 billion in overall defense spending to help fund the war against Russia in Ukraine and bolster the Pentagon's procurement budget.
For domestic programs, a traditional top priority for Democrats, he's asking for even more, proposing some $1 trillion for so-called nondefense discretionary spending.
To achieve his spending priorities, which include shoring up Medicare and protecting Social Security, Biden relies on deficit spending and envisions a shortfall of $1.8 trillion next year.
The big picture: Biden has sought to frame his budget as a serious effort to rein in deficits, claiming that he will reduce overall deficit spending by $3 trillion over the next decade.
He hopes to achieve that goal with a new billionaire tax, forcing them to pay at least 25% on all of their income, including appreciated assets, in taxes.
He also wants to quadruple the tax on corporate stock buybacks and raise the overall corporate rate from 21% to 28%.
For Americans with unearned income above $400,000, the Medicare tax rate would jump from 3.8% to 5%, which Biden says will extend the program's solvency by 25 years.
As in prior budget proposals, he wants to increase the top tax rate to 39.6% from 37%, reversing a Trump-era tax bill.
Altogether, he plans to raise an additional $4.5 trillion from corporations and the wealthiest Americans.
Between the lines: Mandatory spending — for Social Security, Medicare, Medicaid and other programs — still constitutes the bulk of the federal budget and Biden is proposing more than $4.2 trillion in spending next year.
Interest on the national debt will cost $789 billion next year for a total of $10 trillion over the next decade.
For the Department of Homeland Security, the Budget requests $60.4 billion for next year, including $865 million for United States Citizenship and Immigration Services.
For the Department of Veterans Affairs, Biden is requesting $137.9 billion in spending, a modest $3 billion increase over the 2023 enacted level.
The bottom line: Biden's budget is a mixture of overall spending plans as well as individual spending priorities to score political points.
He plans to hammer Republicans to cap the cost of insulin at $35 a month for all Americans, according to administration officials.
Editor's note: This story has been updated to include the amount of tax increases on wealthy Americans and corporations, as well as Biden's comments in Philadelphia.
Go deeper