First look: Biden puts insulin at center of budget fight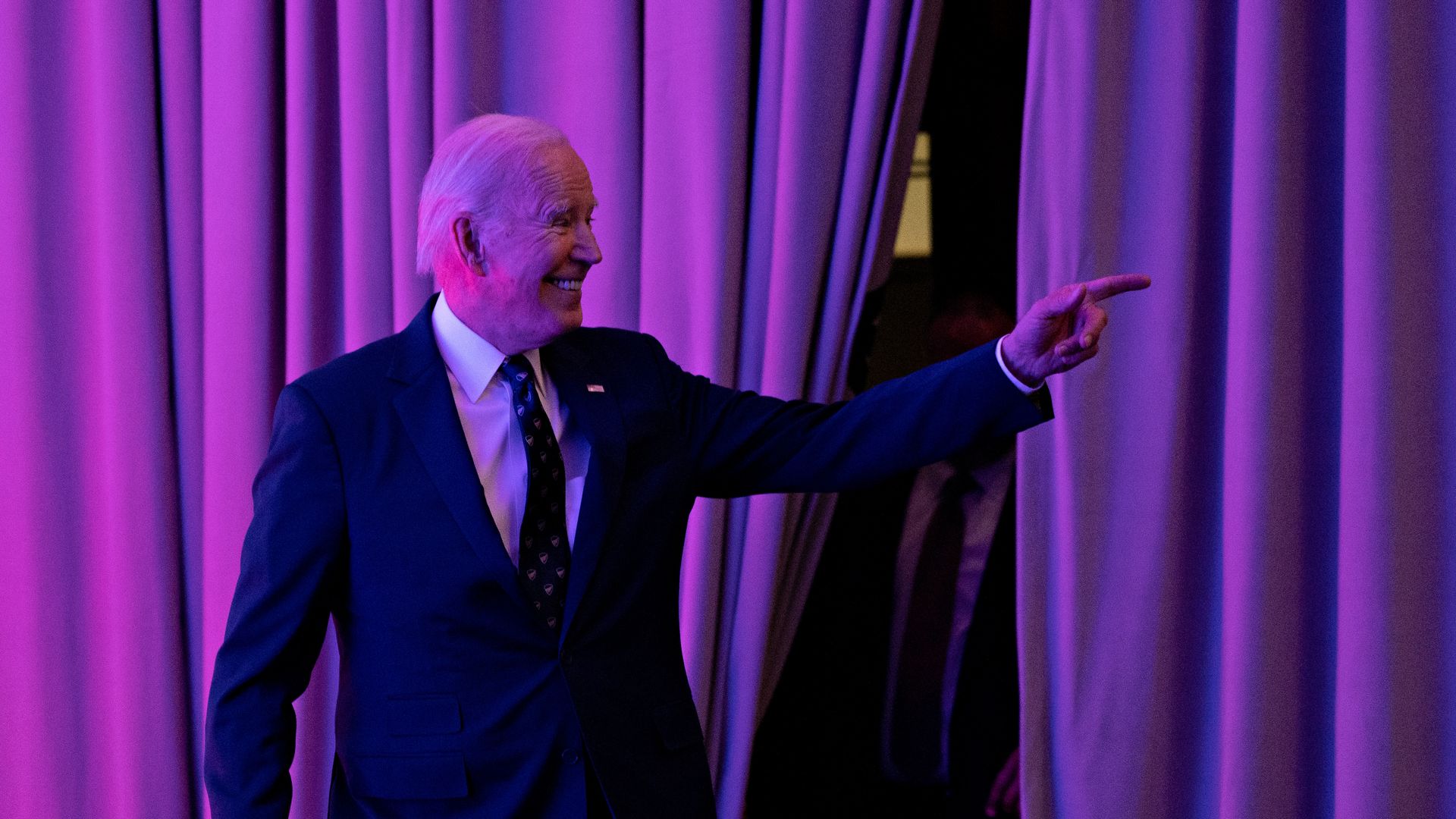 President Biden will use the release of his FY2024 budget Thursday to pressure Republicans to cap the cost of insulin at $35 a month for all Americans, according to administration officials.
Why it matters: By putting Biden's insulin cap at the center of his budget rollout, the White House is previewing the populist tone that will course throughout his expected re-election campaign.
White House budgets are always political documents, but Biden is leaning into making this year's proposal a virtual campaign manifesto.
He also wants to lay potential traps for the new — and thin — GOP House majority as both sides position themselves for a big summer showdown on how to raise the debt ceiling and whether to cut any spending.
Zoom in: The White House took a victory lap last week after the drug maker Eli Lilly announced that it was capping insulin at $35, claiming that the president helped force the change by using the bully pulpit.
In Biden's Inflation Reduction Act, lawmakers agreed to cap insulin at $35 for Medicare recipients, but a proposal to limit it for all Americans was defeated by Senate Republicans.
In using his 2024 budget to pressure Republicans to limit costs for everybody, Biden is echoing his call at last month's State of the Union for Congress to "finish the job."
A recent Axios-Ipsos poll found that 84% of Americans strongly or somewhat support placing a $35-per-month limit on the out-of-pocket costs for insulin.
Driving the news: Biden will hammer Republicans on insulin when he touts his budget at an event in Philadelphia on Thursday.
Back at the White House, the Office of Management and Budget will release the actual text, tables and tabulations that form the plan.
The goal is to draw attention to the president's plans to cut deficit spending and raise Medicare taxes on families making more than $400,000 to help improve the solvency of the program.
What they're saying: "The President, like 7 in 10 Americans, thinks it is unacceptable that Congressional Republicans continue to block common-sense legislation to cap the cost for all Americans in need of insulin," White House press secretary Karine Jean-Pierre told Axios.
"If the MAGA Republicans get their way, seniors will pay higher out-of-pocket costs on prescription drugs and insulin, the deficit will be bigger, and Medicare will be weaker," Biden wrote in the New York Times op-ed on Tuesday.
Flashback: Biden used last year's budget to drive home his plans to fund — and not defund — the police.
Since then, with crime surging, he has continued to look for ways to emphasize his commitment to law enforcement, even if it gets him crosswise with his party's progressive base.
The intrigue: In Biden's State of the Union address, he promised to cut the deficit by $2 trillion over 10 years.
On Wednesday, in an AP preview of Biden's proposals, the deficit-reduction target had swelled to $3 trillion.
Between the lines: The Pentagon is slated for a big increase, with a topline number of $835 billion — up from the current $816 billion, according to Bloomberg.
With Biden and GOP leaders forswearing any cuts to Medicare and Social Security, those defense levels will add pressure to find savings in discretionary programs, like education and housing for the poor.
The other side: Last year, seven Senate Republicans, including Sen. Josh Hawley (R-Mo.), voted to keep the insulin caps in the IRA. Hawley has a new proposal to lower the cap to $25.
Russ Vought, a former Trump budget director who has been closely advising House Republicans on spending negotiations, blasted Biden's proposal in a statement to Axios.
"The Biden budget will do nothing to address the current fiscal crisis, marked by high inflation, nor alleviate the burden of woke and weaponized bureaucracy on the American people," Vought said.
Go deeper