Scoop: Inside Biden's big deficit-cutting plan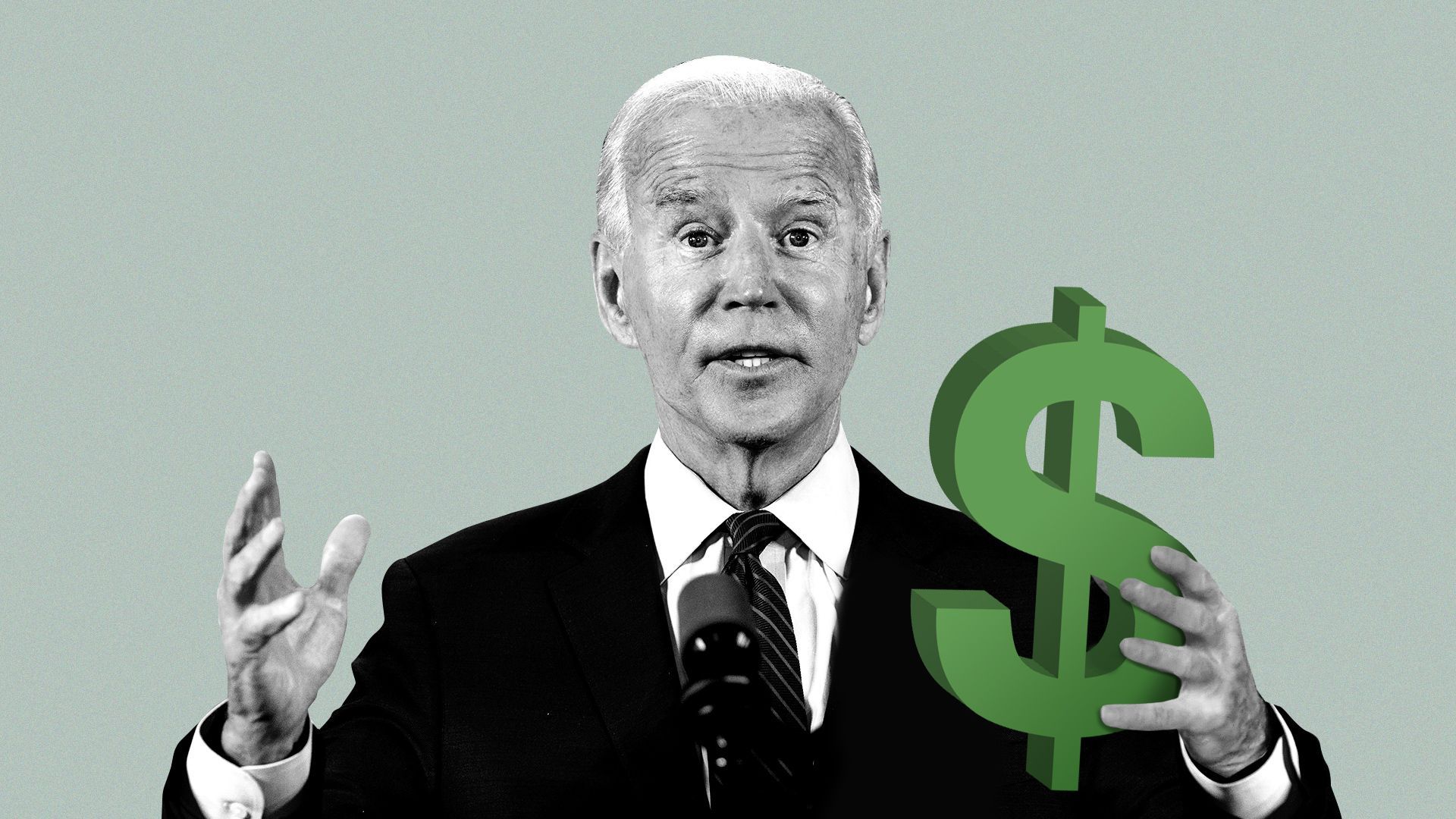 President Biden plans to make deficit reduction a centerpiece of his 2024 budget and aims to pressure Republicans to focus on government revenue — not just spending, Axios has learned.
Why it matters: The White House is seeking a tactical advantage in its looming showdown with congressional Republicans on the debt limit — and wants to test Republicans' commitment to lowering annual deficits over the next decade.
Officials plan to dust off a variety of proposed tax increases on corporations and wealthy Americans — including Biden's plan to boost rates on billionaires — to narrow the gap between what the government takes in and spends.
Biden's budget will claim some $238 billion of deficit reduction from the Inflation Reduction Act. It's unclear whether it will count the potential $400 billion cost of his student loan forgiveness plan, which is tied up in the courts.
Biden also is preparing to achieve his goal by slowing the rate of some spending. Republicans have called for cuts without specifying which ones.
He hinted at his strategy in his State of the Union address: "The plan I'm going to show you is going to cut the deficit by another $2 trillion."
Driving the news: Biden plans to submit his budget on March 9. Congress is supposed to pass a budget resolution by April 15, but routinely blows past that deadline.
His ambitions on deficit reduction are complicated by rising interest rates. They'll force the Treasury Department to spend more servicing the federal debt, now above the $31.4 trillion debt ceiling.
Officials also face the prospect that slowing economic growth will provide the treasury with less revenue.
Flashback: Last year, with inflation surging and Sen. Joe Manchin (D-W.Va.) harping about deficit spending, Biden's budget focused on boosting revenue.
This year's budget will take a similar tack, but with bigger goals.
"This president takes a backseat to nobody on deficit reduction," Shalanda Young, director of the Office of Management and Budget, said on "Morning Joe" last week. "The budget will continue the trajectory on reduction."
The big picture: The White House — and most of Washington — is preparing for a massive debate about the national debt. Both sides want to position themselves as a prudent steward of the country's finances.
Biden has been accusing Republicans of scheming to gut Medicare and Social Security.
In his State of the Union address, he goaded them into standing for his call to protect those programs from any cuts.
Republican leaders insist that changes to Medicare and Social Security — an idea that has been suggested by a few Republicans — are not being discussed now, and that Biden's claims to the contrary are not made in good faith.
By the numbers: Biden proposed a total of $5.8 trillion in spending in his fiscal 2023 budget, with a deficit of $1.2 trillion for the year.
In last year's budget, he proposed spending $14.4 trillion more than the government planned to collect in revenue over 10 years. That pace of spending would bring the total debt to $44.8 trillion at the end of 2032.
Interest payments on that debt would climb to $1.2 trillion a year by 2032, amounting to 3.3% of the projected GDP, according to the Congressional Budget Office.
Between the lines: Biden and his team want credit for reducing deficit spending in 2022 compared to 2021 and 2020, President Trump's last year in office.
Those claims have been rejected by independent fact-checkers, who note that the year-to-year decline in deficit spending was more a result of the pandemic-era stimulus dropping off.
The intrigue: Biden officials insist that the economy would have been much worse had they not pumped $1.9 trillion into it in March 2021.
They want credit for a robust economy and the health revenue it generates.
The bottom line: Budget season in Washington is mostly kabuki — it's more about signaling values than actually spending money.
This year's exercise will feel a little more real, with both Republicans and Democrats using it to frame their debt-ceiling strategies.
Go deeper