Biden goes off script to challenge Republicans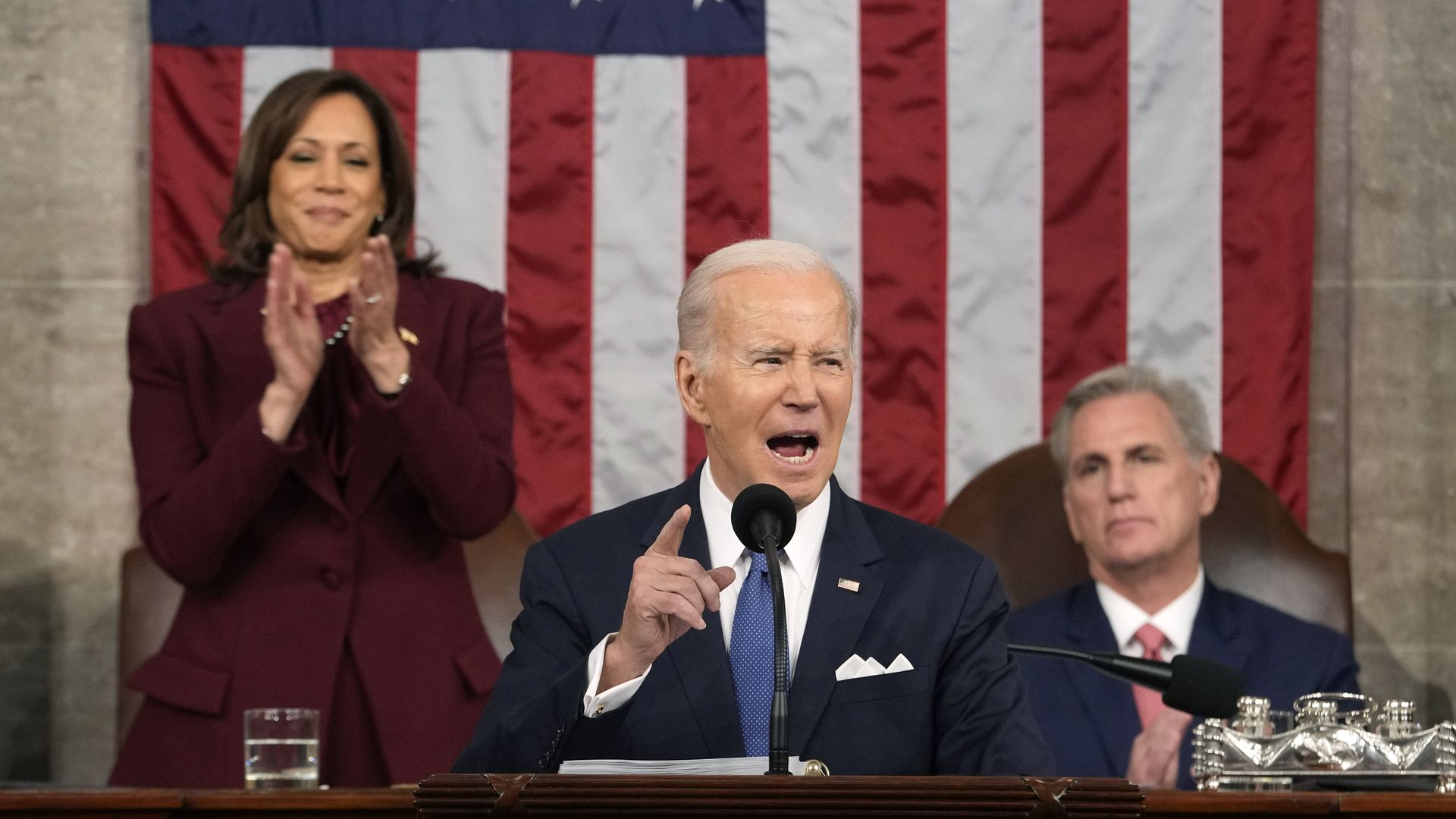 President Biden previewed an optimistic re-election platform in his State of the Union speech Tuesday — but veered off script to take on rowdy Republicans in a series of confrontations that captured America's political chasm.
Why it matters: Biden used much of his speech to emphasize what Americans can do when they work together — while also baiting Republicans to agree with his push to protect Medicare and Social Security as Congress weighs budget cuts.
Biden seemed to anticipate — and relish — the jeers from some Republicans when he questioned their commitment to Medicare and Social Security during upcoming budget talks.
He dared them to "contact my office" for proof that some Republicans had discussed cutting the safety-net programs — and that if everyone agreed they shouldn't be cut, they should "stand up for seniors." House Speaker Kevin McCarthy and his fellow Republicans then joined Democrats in doing just that.
"I enjoy conversion," Biden joked.
The big picture: Republican lawmakers defied House Speaker Kevin McCarthy's call for civility and interrupted Biden's speech several times. Rep. Marjorie Taylor Greene (R-Ga.) called Biden a "liar" and other Republicans shouted "border"— a reference to their claim that Biden hasn't done enough to stop illegal immigration.
Along the way, Biden, 80, showed the fight that many in his party believe he'll need in a potential rematch with former President Trump in 2024.
Driving the news: In many ways, Biden's speech resembled those of his predecessors at similar stages of their terms: He took stock of the nation's progress over the last two years and gave himself sterling marks in job growth, rebuilding infrastructure, and other areas.
But in other ways, it was fundamentally different, as he closed his speech by acknowledging how frayed America's institutions have become.
He linked the "Big Lie" of 2020 election denialism, the Jan. 6 insurrection at the U.S. Capitol, and the violent attack on Paul Pelosi, the husband of former Speaker Nancy Pelosi.
"There is no place for political violence in America," Biden said.
Zoom out: He shared a vision of the country that was infused with optimism and hope, but also tempered by the reality that America is "bruised."
"Our democracy remains unbowed and unbroken," he said. "Fighting for the sake of fighting, power for the sake of power, conflict for the sake of conflict, gets us nowhere."
The core of Biden's speech was a defense of his economic record, touting the legislation he passed on semiconductors, infrastructure and prescription drugs, as he took credit for the historic job growth of the last two years.
"And we're just getting started," he said.
The intrigue: The speech did have moments of bipartisan applause, with Republicans standing to cheer for Biden's plans to build more semiconductor factories in America, reflecting a new bipartisan consensus that America needs to be more self-reliant on crucial technologies.
Between the lines: Biden made a brief reference to the China spy balloon that drifted across the U.S. last week before the military shot it down on the president's order.
"As we made clear last week, if China threatens our sovereignty, we will act to protect our country," Biden said. "And we did."
Go deeper: Biden made his case to Congress after two tumultuous but consequential years as president. He withdrew U.S. forces from Afghanistan, re-engaged with allies in Europe and provided billions of dollars in military assistance to Ukraine after Russia invaded last year.
Along the way, he passed four major pieces of legislation to advance his domestic agenda and ensured the confirmation of the first Black woman to join the Supreme Court — part of his effort to stock the federal judiciary with younger and more diverse judges.
In November he saw his party lose control of the House in the midterm elections, but the losses were less than his predecessors endured at similar stages of their presidencies.
What we're watching: Biden's essential bet is that America wants to return to some sense of normalcy after three years of COVID and a contested election.
The scene at the State of the Union showed how challenging that will be.
Go deeper