China crashes Biden's State of the Union speech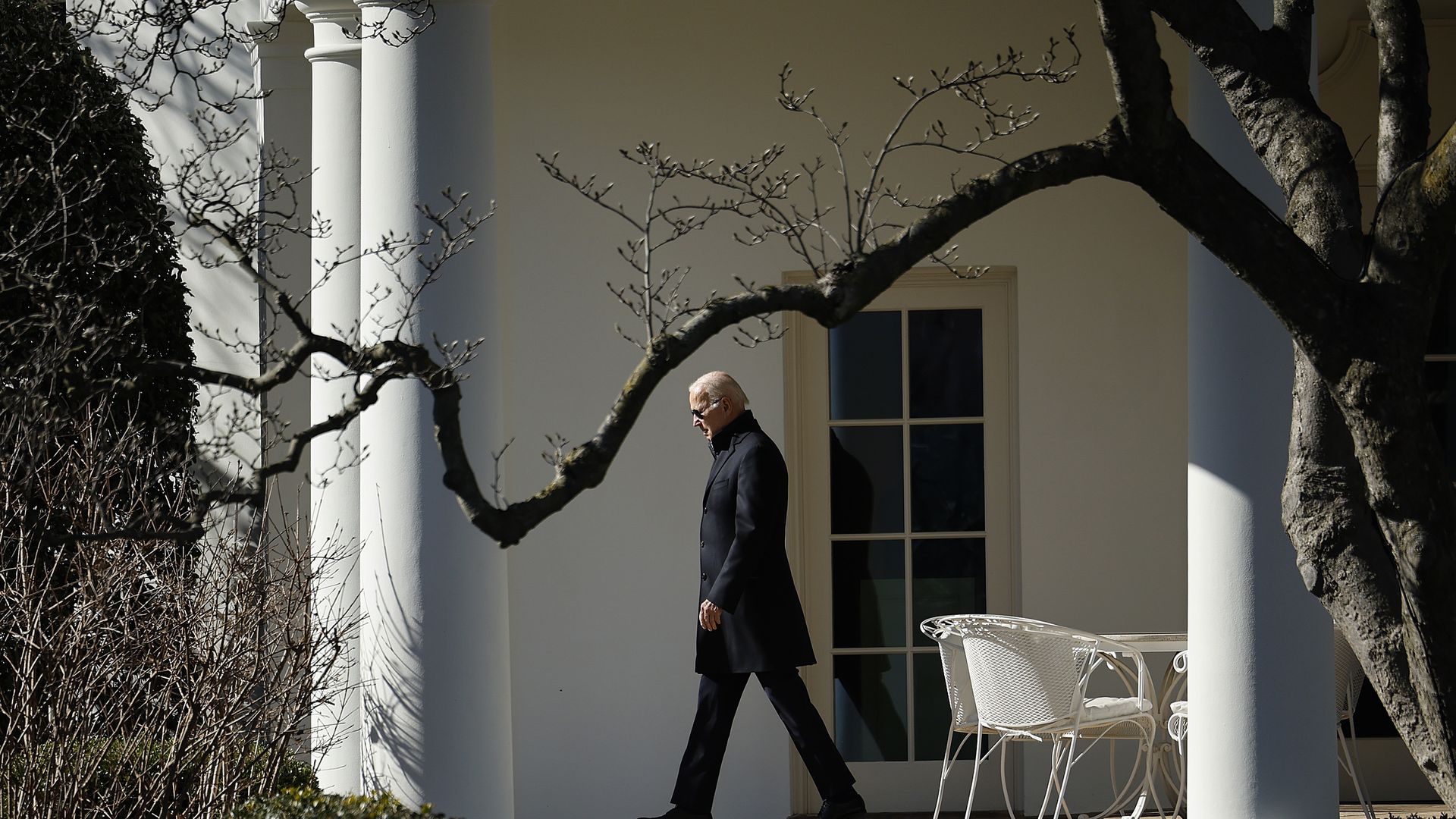 China will be an uninvited guest at President Biden's State of the Union address Tuesday night, as he takes credit for a resilient economy, celebrates record-low unemployment, and previews a broader domestic agenda designed to unify the country.
Why it matters: The stakes are high for Biden as he emphasizes a series of accomplishments and tries to control the narrative about his administration as it faces investigations by House Republicans. Now, a balloon from China has complicated that.
Biden and his speechwriters are prepared to be nimble — and likely rewrite — the China sections of the speech, as officials weigh Beijing's response to the U.S. military's downing of the surveillance balloon after it drifted across North America.
The president's challenge is to signal to Beijing that violating America's airspace won't be tolerated, while also convincing Americans — and skeptical Republicans — that he did enough to protect U.S. airspace. Biden said that on Wednesday he ordered the balloon to be shot down, and that national security officials thought it was safest to wait until it was over water.
Biden also wants to preserve his administration's ability to cooperate with China on everything from the global economy to climate change.
Flashback: Last year, Biden delivered his annual address to Congress six days after Russia invaded Ukraine, forcing his team to reorganize — and reimagine — the speech.
The last-minute scramble also gave Biden the chance to deliver one of his more memorable lines, when he warned Russian oligarchs that he would "find and seize your yachts, your luxury apartments, your private jets."
Driving the news: Biden's decision to shoot down the Chinese balloon off the coast of South Carolina comes at a crucial moment in his presidency.
He is preparing to run for re-election by sharpening his differences with House Republicans, while also using the address to demonstrate his willingness to find ground with congressional Republicans on a "unity agenda."
Republicans already have plans to investigate Biden's response to the surveillance balloon, adding to the long line of probes they've launched.
The big picture: In ways subtle and overt, Biden has codified former President Trump's confrontational approach to China. Along the way, he has turned Trump's instincts into the new bipartisan Washington consensus that China needs to be checked and challenged.
Biden has considered modifying Trump's tariffs on some $350 billion of Chinese goods, but he hasn't seriously considered wiping them off the books.
Last summer, he got Congress to pass a bipartisan $280 billion bill to help bolster the U.S. domestic semiconductor industry, and make the U.S. less reliant on China for chips.
In October, the administration took the tech conflict up a notch when it imposed export restrictions aimed at slowing China's ability to make advanced semiconductors. Officials are fine-tuning a new executive order to restrict U.S. investment in China.
Between the lines: Biden's hawkish posture on China has prevented Republicans from scoring any real political points on the China issue.
But the delay in shooting down the balloon has given Republicans an opportunity to second-guess the commander-in-chief's decision-making.
The intrigue: Before the first reports of the balloon drifting across America, Biden's team was pressing ahead with improving relations with China and generally lowering the temperature.
Treasury Secretary Janet Yellen had a largely positive meeting with her Chinese counterpart in Zurich, and was planning to visit China after Secretary of State Tony Blinken, who canceled his trip because of the balloon.
Last November, with both sides realizing that relations were deteriorating, Biden and China's president, Xi Jinping, met face-to-face at the G20 summit in Bali and pledged to cooperate more.
What we're watching: Months of planning go into a State of the Union address, with calls across the administration for big-picture goals and any pet projects that might get a presidential mention.
Biden is known for rewrites and revisions of major speeches, right until it's loaded into the Teleprompter. Tuesday night won't be any different.
Go deeper