Inside Yellen's rare meeting with China's vice premier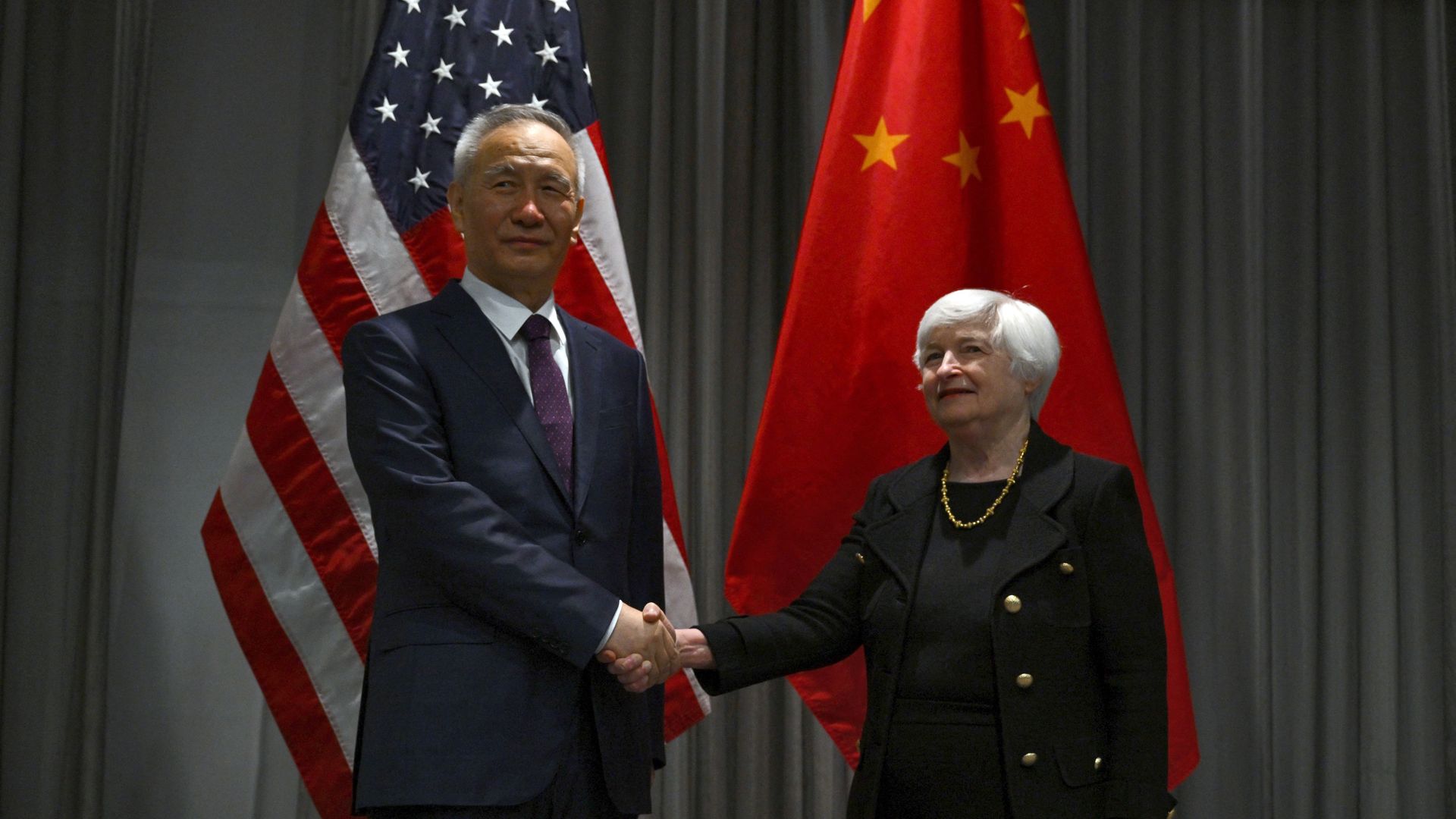 Top Chinese officials told Treasury Secretary Janet Yellen they are optimistic China can return to normal economic growth and avoid a crisis in its property sector, according to a Treasury official.
Why it matters: China's economy is somewhat of a black box. The Biden administration — not to mention every investor with a Bloomberg Terminal — is eager to gain a better understanding.
Driving the news: This week, Beijing's official GDP reading flashed 3% in 2022, down from 8.1% in 2021. The country's housing market is flirting with disaster.
Wednesday's meeting between Yellen and China's Vice Premier Liu He at the World Economic Forum in Zurich, Switzerland, gave Treasury officials a chance to hear Beijing's theory of its economy — as well as global growth — first-hand and in-person.
Between the lines: The mood of the meeting, which was attended by officials from both delegations, was largely positive. When it was over, Treasury quickly announced that Yellen would visit China in the "near future."
Yellen will also roll out the welcome mat to whoever replaces Liu in March, when President Xi Jinping unveils his new government.
The intrigue: When the official agenda indicated it was time to raise any concerns, both sides said there was no need — as Yellen and Liu already discussed them one on one at a coffee break, according to the Treasury official.
That kept any difficult conversation — or confrontations — between the two principals.
The big picture: With Xi abandoning his zero-COVID approach, there's some uncertainty about how China's business cycle will respond to COVID-19's own vicious waves.
The coming Lunar New Year, when many Chinese residents travel home for family gatherings, will test China's health care system and its economy's ability to remain productive if COVID cases surge.
Liu tried to allay some of those concerns with a largely sunny speech on Tuesday in Davos.
What we're hearing: The Chinese delegation acknowledged the financial risks in the property sector but indicated they can bring it under control.
They also explained their new efforts to provide a more level playing field for China's private sector to compete with state-organized enterprises (SOEs).
The Chinese delegation didn't define what it means by normal economic growth — only that it was confident that it can resume something close to it. In the decade before COVID, China's annual GDP averaged above 7%.
The other side: The Chinese, in turn, had questions about the U.S. economy.
Yellen told her counterpart that the U.S. can avoid a recession and still bring down inflation. That's in line with her public comments.
Be smart: Yellen is just like any other economist in government, only more so.
The former academic and Fed chair, the first to serve as Treasury secretary, thrives on data.
She got a better understanding of China's economy on Wednesday, but Beijing doesn't provide nearly the same level of economic transparency as almost every other G-20 country.
Go deeper