Chinese balloon shot down over Atlantic Ocean by U.S.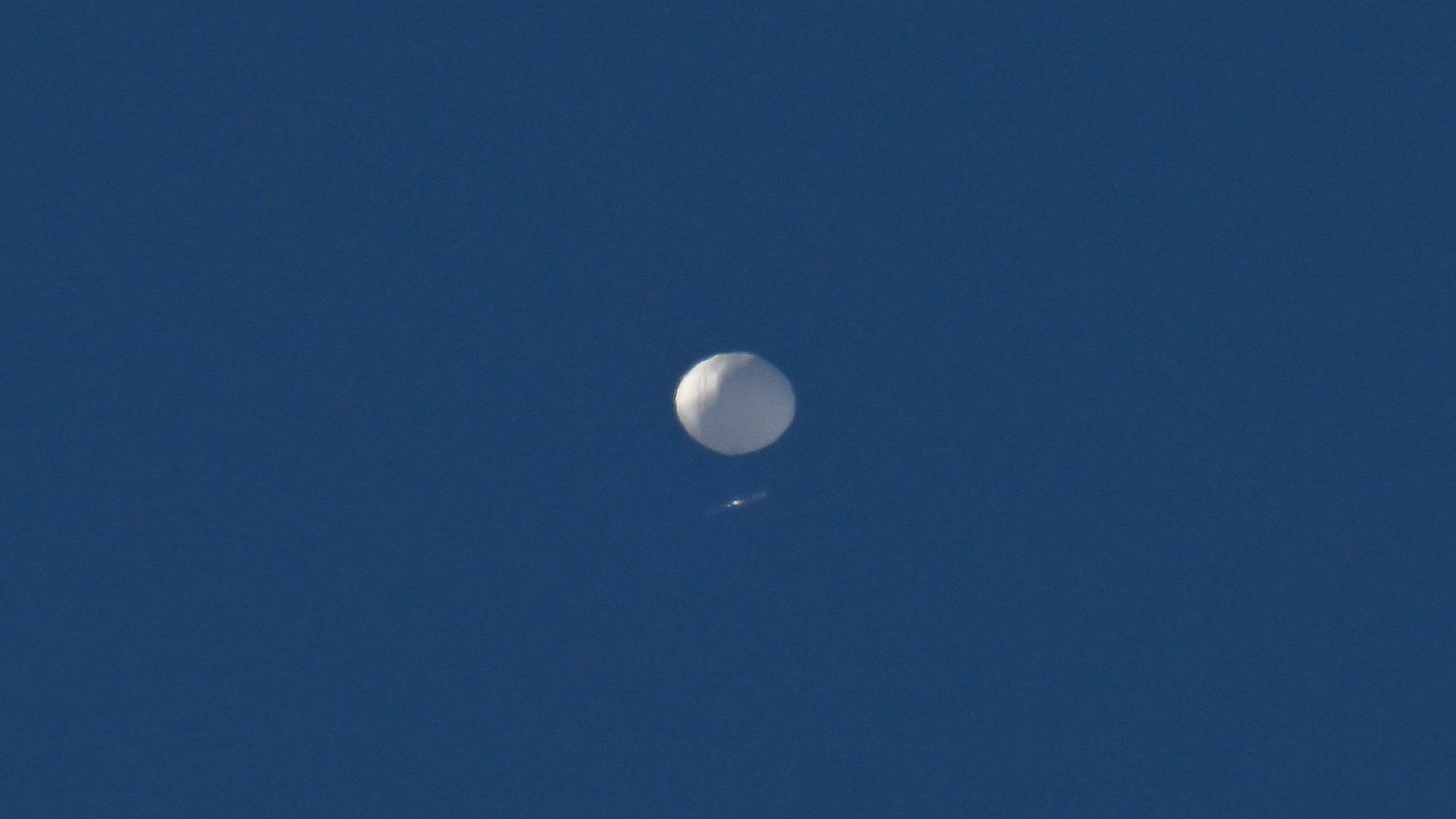 The U.S. on Saturday shot down a suspected Chinese surveillance balloon off the South Carolina coast, the Department of Defense announced.
The big picture: The balloon, which the Pentagon accused China of using to collect information on U.S. military sites, has heightened tensions between the two nations.
China's Ministry of Foreign Affairs called the decision to down the balloon an "obvious overreaction and a serious violation of international practice" in a statement Sunday, adding that it was "reserving the right to take further actions in response," AP reported.
China's Defense Ministry reiterated the sentiment in its own statement, noting that it "reserves the right to take necessary measures to deal with similar situations."
Driving the news: The balloon was downed by an American fighter aircraft above U.S. territorial waters, per the DOD.
President Biden had given his authorization Wednesday — a day before news of the balloon was made public — to take down the surveillance balloon "as soon as the mission could be accomplished without undue risk to American lives under the balloon's path," the department said.
U.S. military commanders determined that doing so over land posed a risk and so they developed plans to take it down once the balloon was over water. 
The procedure was done in coordination and with the support of the Canadian government, the DOD said. 
Efforts to recover the remnants from the Atlantic Ocean were underway.
The Federal Aviation Administration issued an airspace closure around 12:45 p.m. EST in parts of North Carolina and South Carolina, pausing departures and arrivals from the Wilmington, Myrtle Beach International and Charleston International airports in order "support the Department of Defense in a national security effort."
The airspace and airports reopened around 3:30 p.m. EST, per the FAA.
What they're saying: "Today's deliberate and lawful action demonstrates that President Biden and his national security team will always put the safety and security of the American people first while responding effectively to the PRC's unacceptable violation of our sovereignty," the Defense Department said.
Biden told reports Saturday after the balloon was downed: "I ordered the Pentagon on Wednesday to shoot it down," adding that the Pentagon opted to wait until it was over the water.
When asked by a reporter earlier Saturday if there were plans to shoot down the balloon, Biden said in his first public comment about it, "We're going to take care of it."
Thought bubble via Axios' Bethany Allen-Ebrahimian: Chinese President Xi Jinping has recently softened his tone towards western nations, hoping for a thaw in relations as he grapples with major domestic challenges.
But sending a spy balloon directly over the heads of the American populace has accomplished the opposite, greatly raising the sense of a direct Chinese threat to the American homeland.
Editor's note: This story has been updated with details throughout.
Go deeper