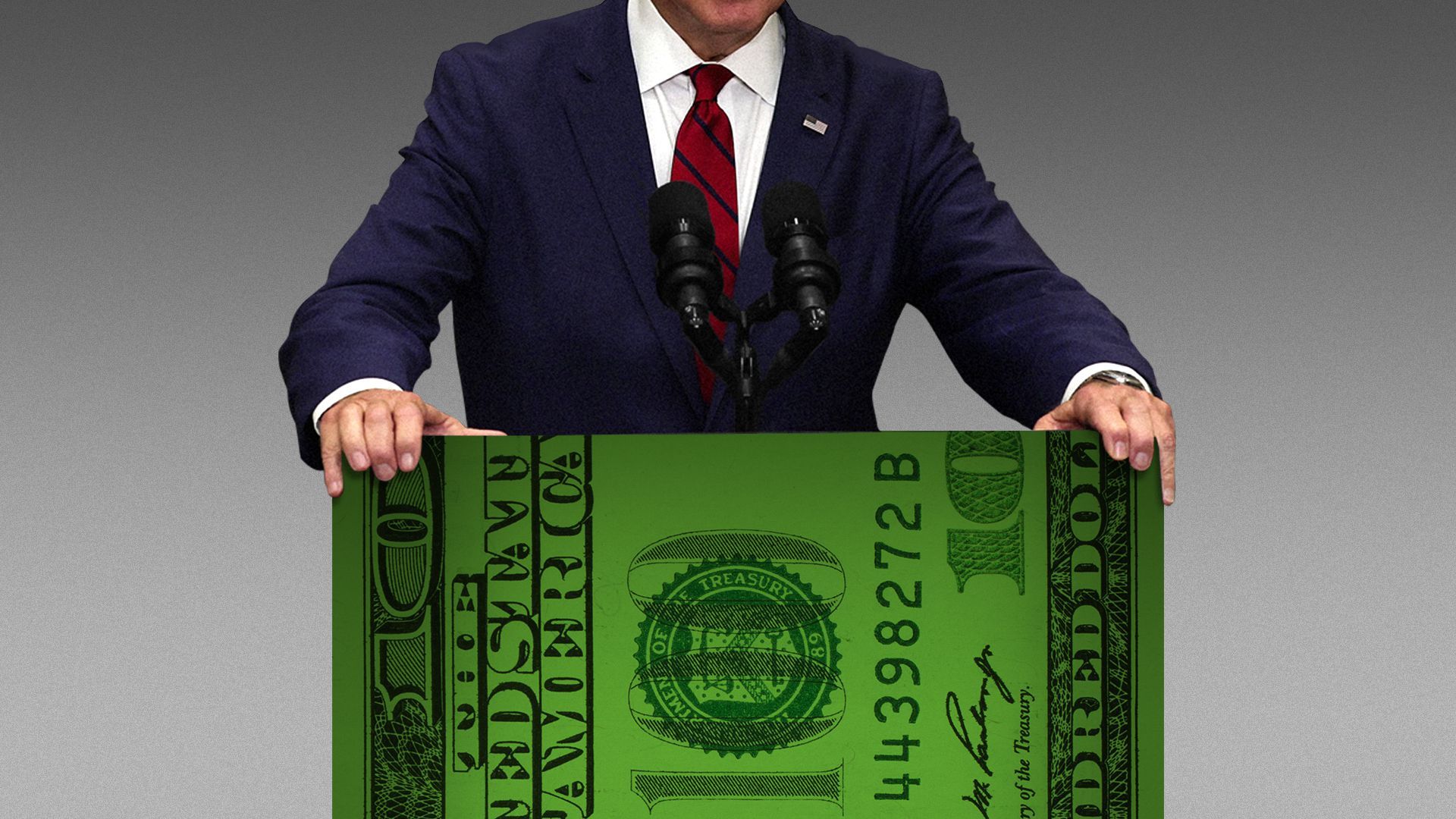 President Biden will deliver a major economic speech this week spotlighting fringe economic proposals championed by House Republicans — including a controversial bill to abolish the IRS and replace it with a 30% national sales tax.
Why it matters: With a divided Congress, the political battle over the economy for the next two years will be more about perception than actual policies. Biden wants to build a narrative for his case by bludgeoning Republicans with their own words.
One way he'll do that is by trying to tie the GOP to Rep. Buddy Carter's (R-Ga.) national sales tax bill, which House Speaker Kevin McCarthy (R-Calif.) reportedly agreed to bring to the floor in exchange for the support of far-right rebels.
Even some Republicans see a vote on the Fair Tax Act as a potential vulnerability. "This is a political gift to Biden and the Democrats," leading tax reform advocate Grover Norquist told Semafor last week.
The big picture: Painting Republicans as extreme has been core to Democrats' strategy in the era of Donald Trump, and the party is eager to run the same playbook with the House GOP's newly empowered far-right flank.
Biden trotted out a new line last week, calling Republicans "fiscally demented" and vowing to veto any of their tax bills.
"National sales tax, that's a great idea," Biden quipped in remarks following the latest inflation reading. "Go home and tell your moms. They're going to be really excited about that."
Driving the news: In a speech to union workers in Springfield, Virginia, on Thursday, Biden will focus on GOP proposals like the national sales tax as proof that Republicans are irresponsible, according to an administration official.
He'll also accuse Republicans of wanting to gut entitlement programs like Social Security and Medicare, reprising a line of attack he used against then-NRSC chair Sen. Rick Scott (R-Fla.) during the midterms.
Some Republicans already recognize the third rail will be a potent Democratic attack in negotiations over the debt ceiling: "Under no circumstances should Republicans vote to cut a single penny from Medicare or Social Security," former President Trump warned on Friday.
Zoom out: For several weeks, officials have been mulling a set-aside speech on the economy before the State of the Union address next month.
With Republicans in control of the House and the Federal Reserve continuing to raise interest rates, Biden's top advisers know they have very few economic levers they can pull to address a potential recession.
In past recessions, Republicans and Democrats have come together to provide some sort of fiscal stimulus, like extending unemployment insurance or temporarily suspending the payroll tax. That's unlikely to happen in the next two years.
The challenge for the White House will be how to respond to a potential recession with anything other than rhetoric.
What we're watching: The White House has been buoyed by some recent releases of economic data, with core inflation dropping to an annualized 3.1% over the last three months of last year.
Those numbers, along with declining gas prices, have allowed top officials like Treasury Secretary Janet Yellen to claim progress on inflation, which was a major drag on Biden's poll numbers last year.
The bottom line: While White House officials remain hopeful that the economy can avoid a recession, they're also keenly aware that two years is an eternity in politics and quarterly GDP reports.
One of Biden's favorite lines, which he attributes to his father, is "don't compare me to the Almighty, compare me to the alternative.''
That theme — contrast — will be a near constant over the next two years.
Go deeper