State of the Union erupts as Biden and GOP trade barbs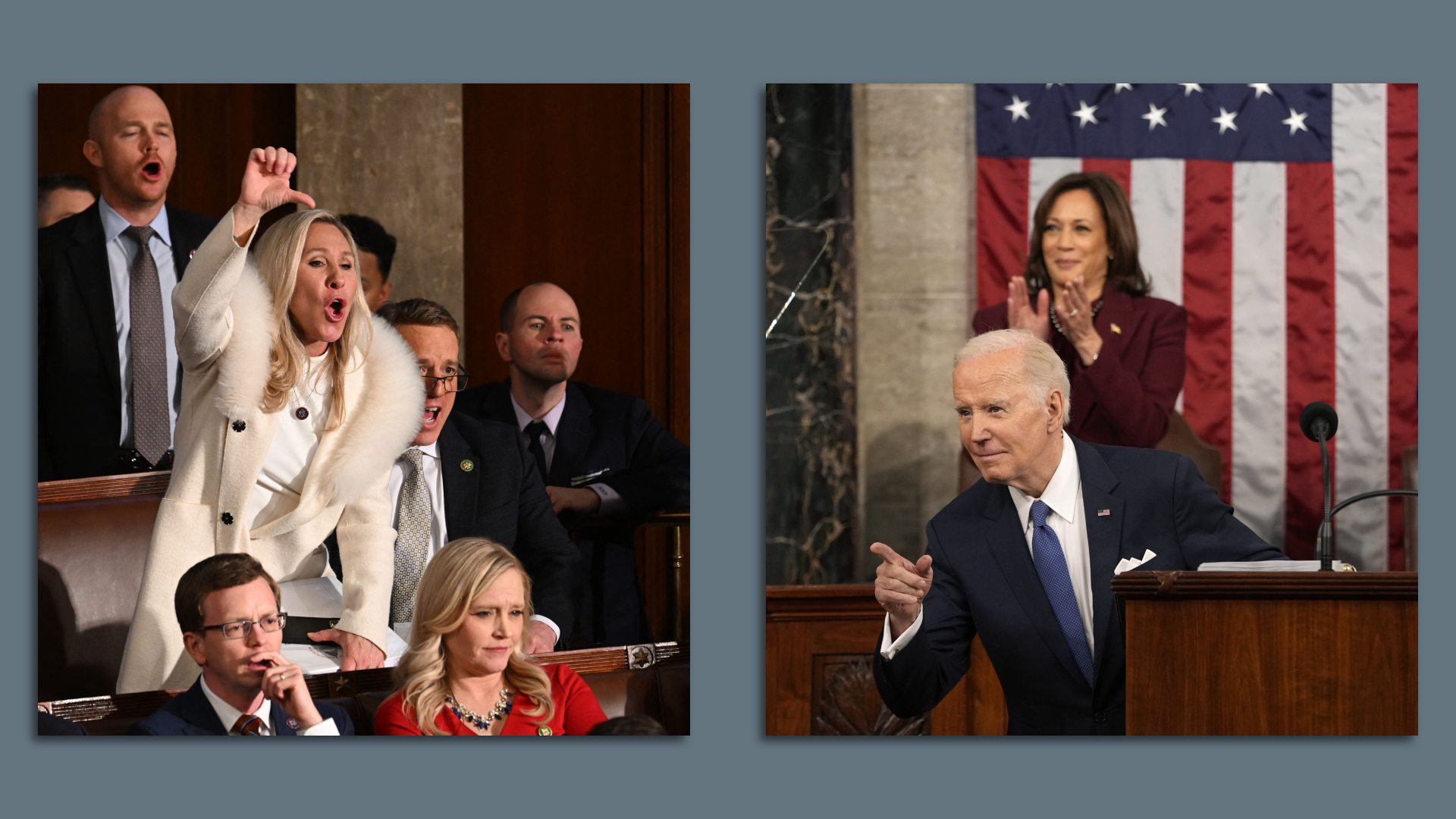 A tense State of the Union address on Tuesday was punctuated by subtle swipes at the GOP by President Biden and raucous disruptions by Republican lawmakers.
Why it matters: It underscores the tense relationship between Biden and Republican lawmakers as Washington kicks off two years of divided control and stares down potential crises on the debt ceiling and government funding.
Driving the news: Biden's assertion that "some Republicans want Medicare and Social Security to sunset" prompted a raucous uproar, including audible heckling and boos, from the Republicans seated in the chamber.
Rep. Marjorie Taylor Greene (R-Ga.) was caught on a hot mic yelling "you lie" and "liar" — reminiscent of Rep. Joe Wilson's (R-S.C.) 2009 disruption that captured national attention.
Biden's statements on entitlements morphed into a virtual call and response with Republicans as he insisted, "I'm not saying it's a majority of you, I'm not even saying it's a significant [portion] ... but it's being proposed by some."
After the disruptions quieted down, Biden quipped, "As we all apparently agree, Social Security and Medicare are apparently off the books now. ... We've got unanimity!"
The details: The outburst over entitlements appeared to embolden Republicans to get louder and more disruptive.
As Biden called on Congress to pass a pathway to citizenship for undocumented immigrants along with resources for border security, Republicans heckled him once again, prompting Democrats to yell "order!"
When Biden mentioned U.S. relations with China, one Republican shouted "China spied on us!"
On the issue of fentanyl, Republicans once again erupted, shouting "Your fault!" before standing in ovation to applaud Biden's calls to "launch a major surge" to stop production, sale and trafficking of the drug.
What he's saying: Biden also offered his fair share of barbs and jabs at Republicans, saying at the start of his speech that he looks forward to working with House Speaker Kevin McCarthy (R-Calif.), going off script to add: "I don't want to ruin your reputation."
He also said to Republicans who didn't vote for the infrastructure bill: "I still get asked to fund the projects in those districts as well. But don't worry. I promised to be the president for all Americans. We'll fund these projects. And I'll see you at the groundbreaking."
Go deeper