Biden ribs GOP lawmakers during SOTU: "I'll see you at the groundbreaking"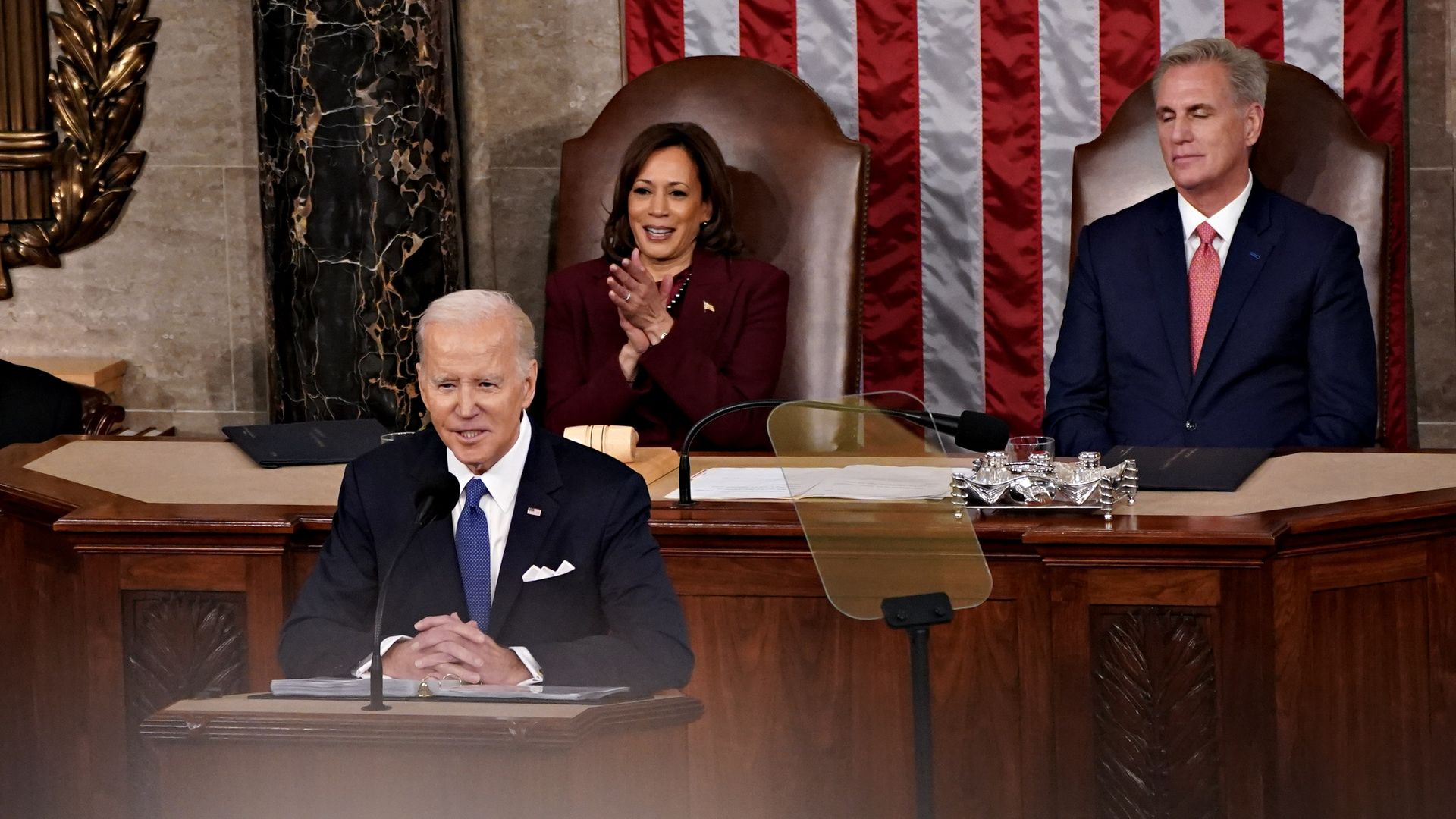 President Biden made unity the focal point of his State of the Union address to a newly divided Congress on Tuesday night even while using the speech as a traditional victory lap.
Driving the news: "I promised to be the president for all Americans. We'll fund your projects. And I'll see you at the ground-breaking," the president said in touting passage of the bipartisan infrastructure deal.
He ribbed "my Republican friends who voted against it," noting: "I still get asked to fund the projects in those districts as well."
Republican House Speaker Kevin McCarthy, standing behind Biden on Tuesday evening, opposed the bill when he was minority leader.
What Biden said about gun violence, Tyre Nichols
In the audience were the parents of Tyre Nichols, a 29-year-old Black man who died days after being beaten during a traffic stop last month and who was buried last week.
Biden spoke from his own experience, saying: "there are no words to describe the heartbreak and grief of losing a child." But, he noted, "I've never had to have the talk with my children — Beau, Hunter, and Ashley — that so many Black and brown families have had with their children."
"Imagine having to worry like that every day in America," he added.
Biden called for equal protection under the law, and for more resources toward law enforcing training. "Something good must come from this," he said, appealing to the lawmakers in the room to "finish the job on police reform."
Democrats and some Republicans rose and applauded when Biden said: "When police officers or departments violate the public's trust, we must hold them accountable."
Biden noted the attack and "political violence" unleashed on Paul Pelosi, husband of former House Speaker Nancy Pelosi (D-Calif.), saying the assailant used "the very same language" of Jan. 6 insurrectionists."There is no place for political violence in America," Biden said, adding that the results of elections must be honored.
Biden on Putin's war in Ukraine war
Biden condemned the "murderous assault" of Russia's invasion of Ukraine and praised the unity of the U.S. and its allies in standing by Ukraine.
The president's words garnered standing applause from both Republicans and Democrats in the Chamber.
"We are going to stand with you as long as it takes," Biden said as he called for Oksana Markarova, Ukraine's ambassador to the U.S., to stand as the crowd applauded.
"Covid no longer controls our lives"
Biden opened his speech on Tuesday taking credit for how the country has emerged from the pandemic.
"The story of America is a story of progress and resilience. Of always moving forward. Of never ever giving up," Biden said.
"Today, COVID no longer controls our lives," he said.
Manufacturing jobs growth
Biden honed in on manufacturing jobs across the nation, touting that his his administration has created "800,000 good-paying manufacturing jobs, the fastest growth in 40 years."
"Where is it written that America can't lead the world in manufacturing again?" he said.
He touted the passage of the bipartisan CHIPS and Science Act, which drew bipartisan applause, and celebrated the passage of the Bipartisan Infrastructure law.
Biden to veto any national abortion bans
Biden dedicated only a few sentences of his speech to the topic of abortion, calling for the restoration of rights taken away by the overturning of Roe v. Wade.
The president condemned the "extreme abortion bans" passed by some states, promising that the administration was "doing everything we can to protect access to reproductive health care and safeguard patient privacy."
Biden also vowed to veto any national abortion ban passed by Congress.
Go deeper...
Editor's note: This story has been updated with new details.
Go deeper