Guest list: Who are the plus-ones at Biden's State of the Union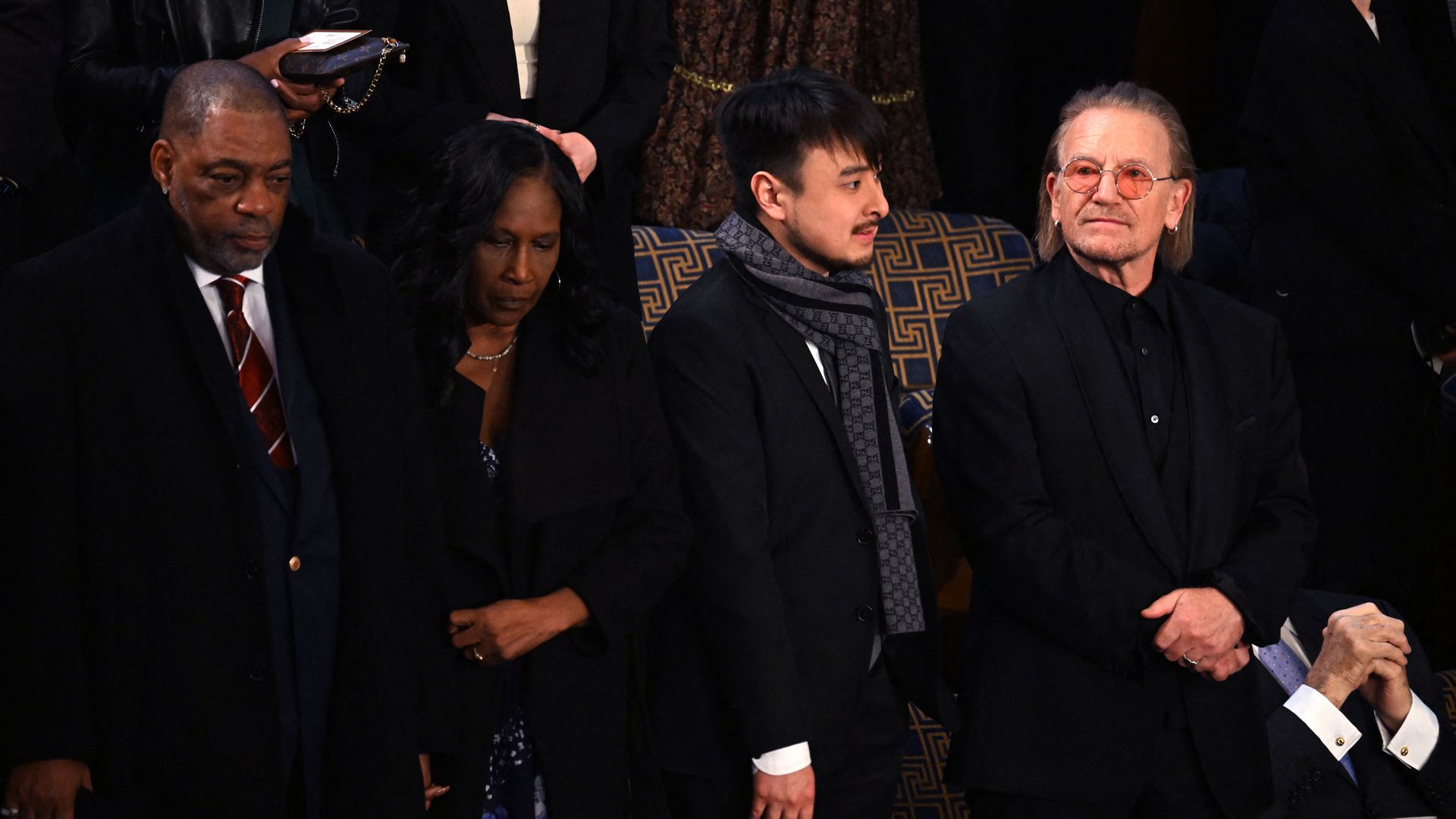 Congress members and the White House brought high-profile guests to the State of the Union on Tuesday.
The big picture: Democrats' and Republicans' guests highlight hot-button topics like police brutality, inflation and abortion rights.
Tyre Nichols
First lady Jill Biden invited the parents of Tyre Nichols, a 29-year-old Black man who died days after being beaten during a Jan. 7 traffic stop.
"There are no words to describe the heartbreak and grief of losing a child," President Biden said during his speech. "But imagine what it's like to lose a child at the hands of the law."
"When police officers or departments violate the public's trust, we must hold them accountable," he added.
Abortion-rights guests
The First lady invited Amanda Zurawski, a Texas woman who nearly died after being denied medical intervention because of the state's abortion ban, USA Today reports.
Rep. Debbie Wasserman Schultz (D-Fla.): Anabely Lopes, a Florida woman who was forced to fly to Washington, D.C., for abortion care.
Rep. Rob Menendez (D-N.J.): Roslyn Rogers Collins, president and CEO of Planned Parenthood Metropolitan New Jersey.
Rep. Madeleine Dean (D-Pa.): Kelsey Leigh, an abortion patient advocate.
Rep. Nydia Velazquez (D-N.Y.): Dr. Jamila Perritt, president and CEO of Physicians for Reproductive Health.
Sen. Tammy Duckworth (D-Ill): Erin King, an abortion care provider.
Sen. Ed Markey (D-Mass.): Kate Dineen, a Massachusetts woman whose personal abortion story influenced the state's 2022 shield law.
Democratic Whip Rep. Katherine Clark (D-Mass.): Dr. Cheryl Hamlin, an OB/GYN and reproductive justice advocate.
Rep. Susie Lee (D-Nev.): Misty Tzugaris, a mother and educator whose abortion story involving a nonviable pregnancy was shared on the House floor just weeks before Roe v. Wade was overturned last year.
Rep. Nikema Williams (D-Ga.): Monica Simpson, executive director of SisterSong, a multiracial reproductive justice organization.
The White House
Bono, who co-founded the ONE campaign, which addresses poverty and preventable diseases, and (RED), which fights HIV/AIDS in Africa.
Ukraine's ambassador to the U.S. Oksana Markarova attended for the second straight year. She "represents not just her nation, but the courage of her people," Biden said, adding that the U.S. "is united in our support" of Ukraine.
Deanna Branch, a Milwaukee mother who has worked to raise awareness about toxic lead pipes after her son suffered from lead poisoning due to unsafe levels in their drinking water and home, is also a guest, CNN reports.
Brandon Tsay, who disarmed the Monterey Park gunman who killed 11 people during a Lunar New Year celebration.
"He found the courage to act and wrestled the semi-automatic pistol away from a gunman who had already killed 11 people at another dance studio...He saved lives. It's time we do the same as well. Ban assault weapons once and for all."
—
Biden on Tsay
Paul Pelosi, the husband of former House Speaker Nancy Pelosi, who was injured in a politically targeted violent attack.
Republicans
Rep. George Santos (R-N.Y.) plans to bring a former volunteer firefighter as his guest, the New York Times reports. Matthew Weinstock ran as a Democrat for Santos' district and was at Ground Zero during 9/11. Santos faced backlash for falsely saying that his mother was "in her office in the South Tower" of the World Trade Center during the attacks.
Rep. Elise Stefanik (R-N.Y.), who has criticized Biden's law enforcement policies: New York's Montgomery County Sheriff Jeffrey T. Smith.
Rep. Mary Miller (R-Ill.), who will not be attending the State of the Union: Retired Illinois Air Force Col. Mark Hurley, who left the military over the Biden administration's COVID-19 vaccine requirements.
House Speaker Kevin McCarthy (R-Calif.): Former NBA player Enes Freedom, an outspoken critic of human rights abuses in Turkey and among China's Uyghur Muslims.
Rep. Michael McCaul (R-Texas), the chair of the House Foreign Affairs Committee that is investigating the administration's withdrawal from Afghanistan: Roya Rahmani, former Afghanistan ambassador to the U.S.
Democrats
House Speaker Emerita Nancy Pelosi: former Capitol Police Sgt. Aquilino Gonell, who defended the Capitol during the Jan. 6 insurrection.
House Minority Leader Hakeem Jeffries (D-N.Y.): Gwen Carr, the mother of Eric Garner, who died after being choked by a New York police officer.
Rep. Cori Bush (D-Mo.): Michael Brown Sr., father of Michael Brown, who was fatally shot by a police officer in Ferguson, Missouri.
Sen. John Fetterman (D-Pa.): Dennis "Freedom" Horton, who, along with his brother, was exonerated after being wrongfully imprisoned for a murder they did not commit.
Senate Majority Leader Chuck Schumer (D-N.Y.): Zeneta Everhart, whose son was injured in last year's mass shooting in Buffalo, New York, which killed 10 people, most of whom were Black.
Sen. Sherrod Brown (D-Ohio): Andrea Neutzling, a Pomeroy Army veteran who was exposed to toxic burn pits while deployed in Iraq.
Sen. Richard Blumenthal (D-Conn.): Alex Plitsas, an army veteran who helped evacuate hundreds of Afghan refugees following the U.S. withdrawal from the country in 2021.
Reps. Greg Casar (D-Texas) and Maxwell Frost (D-Fla.): Brett Cross, whose son Uziyah García died in the Uvalde, Texas, school shooting, and Manuel Oliver, whose son Joaquín Oliver died in the Parkland, Fla., school shooting in 2018.
Go deeper