GOP investigations could launch Stefanik in 2024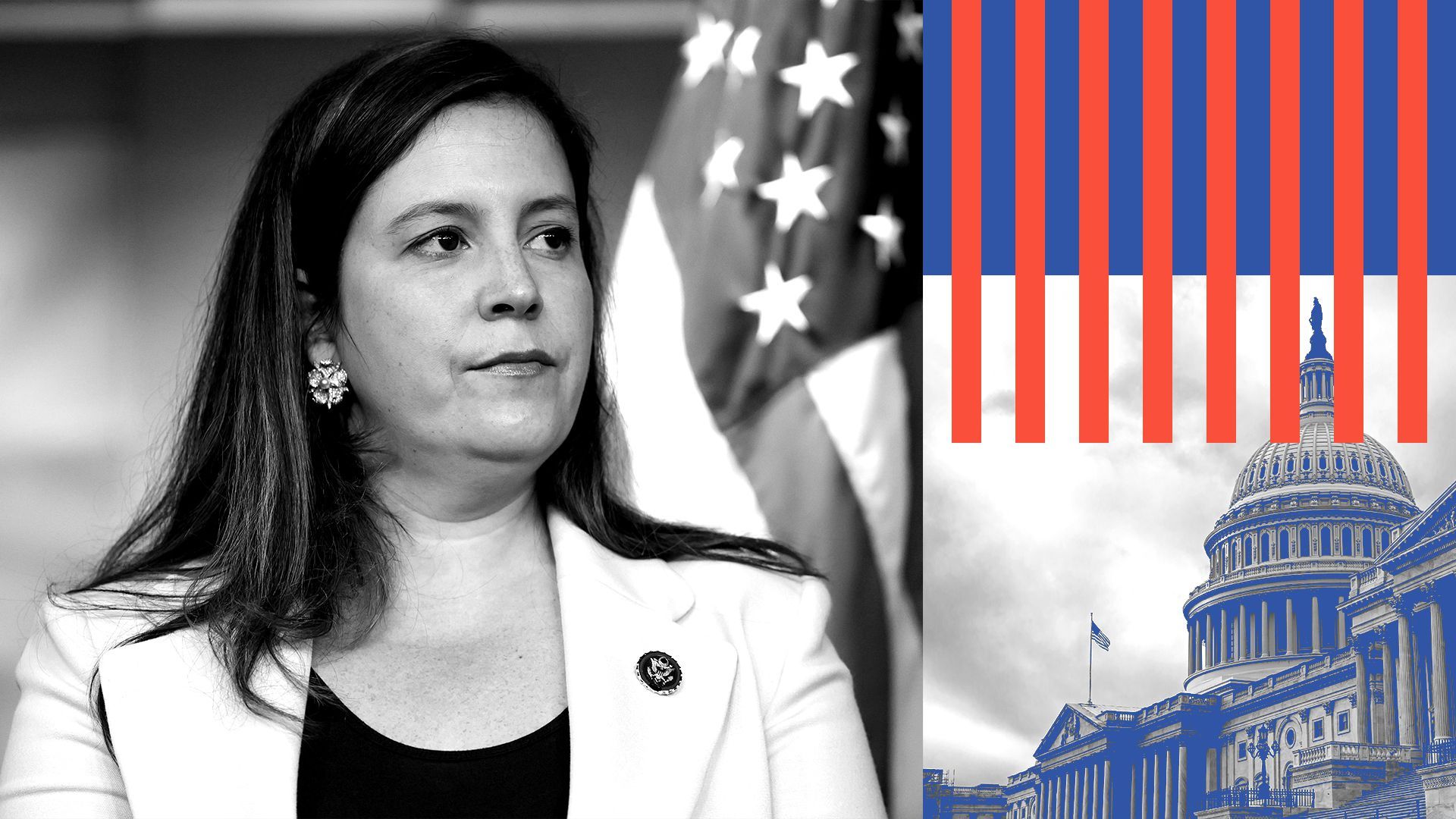 Rep. Elise Stefanik, who became a GOP favorite by aggressively defending former President Trump, is in position to be a bigger player on the national stage — possibly as his 2024 running mate.
Why it matters: Stefanik (R-N.Y.) will be a prominent voice on the high-profile House panel investigating what Republicans call the "weaponization" of U.S. law enforcement and security agencies against conservatives.
The panel, which began hearings Wednesday, aims to probe federal law enforcement and national security agencies over what Republicans see as government bias in investigations of Trump, school board protesters, and other conservatives.
In an interview with Axios, Stefanik said the panel — led by House Judiciary chair Jim Jordan (R-Ohio) — will do "some of the most important work of the 118th Congress, and these federal agencies are ripe for oversight."
Democrats have cast it as a "tin foil hat" subcommittee whose mission is to settle scores for Trump and advance far-right conspiracy theories.
Driving the news: Trump recently fueled speculation in GOP circles about his interest in Stefanik, 38, by saying she could be elected president in 2028. He called her a "rocket ship" and a "strong boss."
"I want to congratulate Elise on her success," Trump said at a fundraiser in Florida. "Man, is she moving fast. At this rate she'll be president in about 6 years."
The big picture: Stefanik, widely seen as a moderate Republican when elected as the House's youngest member (30) in 2014, became one of Trump's top defenders at his first impeachment trial, putting herself at the forefront of the MAGA movement.
She has embraced much of Trump's rhetoric, backing his efforts to overturn the 2020 election and accusing U.S. law enforcement of illegally targeting him and other conservatives.
Several people in Trump's orbit told Axios that he and Stefanik have a good personal relationship, and say he has mentioned he may want a woman as his running mate in 2024 to try to win support among suburban women — a potential weakness for him.
Behind the scenes: Stefanik's appointment to the 21-member "weaponization" panel was celebrated among some Republicans who were investigated during the congressional and criminal probes into the Jan. 6 insurrection and alleged Russian interference in the 2016 election on Trump's behalf.
Trump "is fond of her because, you know, tough likes tough," said Mike Caputo, a Trump friend and adviser. "The president respects her because he sees himself in her."
Stefanik has a direct line to Trump, a person familiar told Axios, and they speak on the phone regularly.
Flashback: During Trump's first impeachment hearings in 2019, her fiery defense of him on cable TV brought her more grass-roots contributions in a week than she had received during the previous five years of her congressional career, according to the New York Times.
"Elise really does excel at these types of hearings.  It's how she first built her name in MAGA world," Andy Surabian, a Republican strategist, told Axios.
"If you're a conservative who wants to make a name for yourself or increase your name ID, the weaponization of government committee is the place to be," he said.
What we're watching: Republican members of the committee met for the first time last Friday, where they discussed possible subpoenas and investigative topics, according to a person familiar with the matter.
Democrats just named their members, including Rep. Dan Goldman (D-N.Y.), who was a lead lawyer on Trump's first impeachment, and longtime oversight members Reps. Gerry Connolly (D-Va.) and Stephen Lynch (D-Mass.).
The panel's creation fulfilled a key promise House Speaker Kevin McCarthy (R-Calif.) made to a group of right-wing holdouts to become speaker.
Go deeper