House conservatives' big bargains meet harsh reality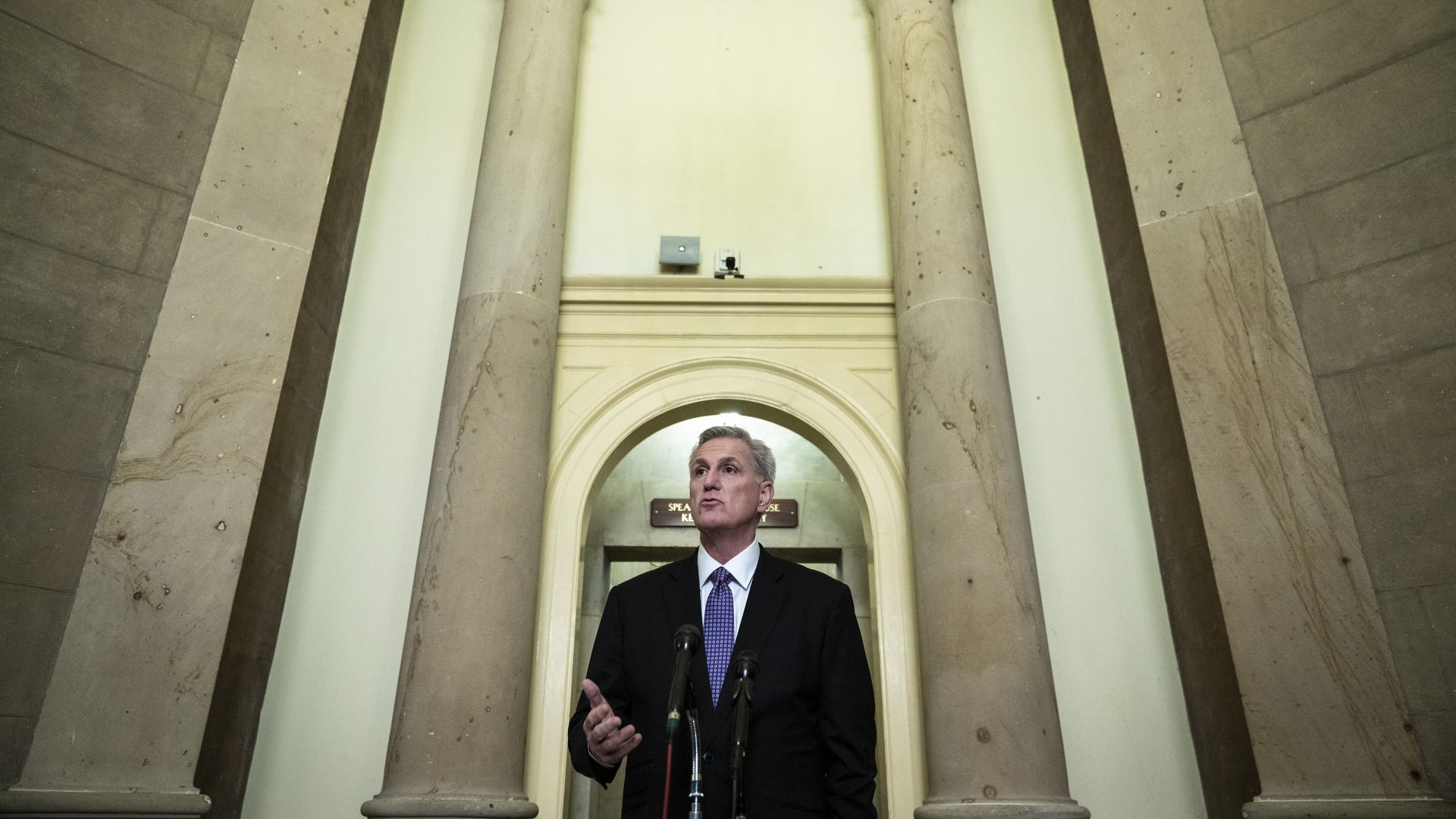 A raft of legislative promises that House Republican rebels secured in exchange for supporting House Speaker Kevin McCarthy (R-Calif.) are quickly crumbling in the spotlight.
Why it matters: McCarthy's historic concessions to the fringe right gave Democrats a golden opportunity to paint Republicans as extreme. But the Freedom Caucus' influence when it comes to substantive policy has — at least so far — appeared to be more bark than bite.
Yes, but: It's still early, and the coveted spots conservatives won on the Rules Committees and other plum panels will ensure the rebels maintain influence for the rest of the term — including for the debt-ceiling fight, in which the far-right's demands will be felt most acutely.
What's happening: McCarthy told reporters on Tuesday that he opposes a Republican bill to abolish the IRS and replace all federal taxes with a 30% national sales tax — effectively killing the controversial legislation before the floor vote that he promised.
A border bill that would grant the secretary of Homeland Security the power to deny entry to any foreign citizen has been delayed after opposition from moderate Republicans, including Rep. Tony Gonzales (R-Texas).
Attacks from Democrats have prompted many House Republicans to publicly pledge they will not touch Medicare, Social Security or the defense budget as part of their plans to force sweeping spending cuts.
The expected vote to remove Rep. Ilhan Omar (D-Minn.) from the House Foreign Affairs Committee — which can only afford four GOP defections — is in serious jeopardy after several Republicans voiced opposition.
Even the single-member "motion to vacate the chair" threshold — viewed as the most important concession that rebels extracted — is politically complicated, as ousting McCarthy likely would require hard-right Republicans to team up with Democrats.
What we're hearing: Rep. Don Bacon (R-Neb.) told Axios he and other members of the "pragmatic" Main Street Caucus lobbied McCarthy to ensure the Fair Tax Act and border bill go through committee rather than straight to a floor vote — predicting the former will be killed and the latter improved.
The Freedom Caucus "wanted to ensure everything should go through regular order — why shouldn't their bills," Bacon said. "I raise [a] bulls**t flag on that."
McCarthy's spokesman referred Axios to comments McCarthy made to reporters this afternoon: "You can't just throw something on the floor," the speaker said. "That's why the committee will be a better process."
Between the lines: Legislation championed by the most conservative rebels was never going to be palatable to a diverse and fractious GOP conference with a razor-thin majority. But the rhetorical risks for McCarthy still loom large.
Senate Majority Leader Chuck Schumer (D-N.Y.) and House Minority Leader Hakeem Jeffries held a press conference Wednesday bashing Republicans for the national sales tax proposal — despite the bill having no chance of passing.
"Everyone thought that Leader McCarthy would never go along with the MAGA Republicans as he ran for speaker," Schumer said when asked why he was highlighting the plan. "Don't underestimate the power over McCarthy of these extreme MAGA Republicans."
What to watch: If McCarthy weathers the early storm of attacks, he eventually will be able to turn his full focus to what was always Republicans' top priority in a divided Congress: investigations that damage President Biden.
Go deeper