GOP opposition to kicking Dems off committees grows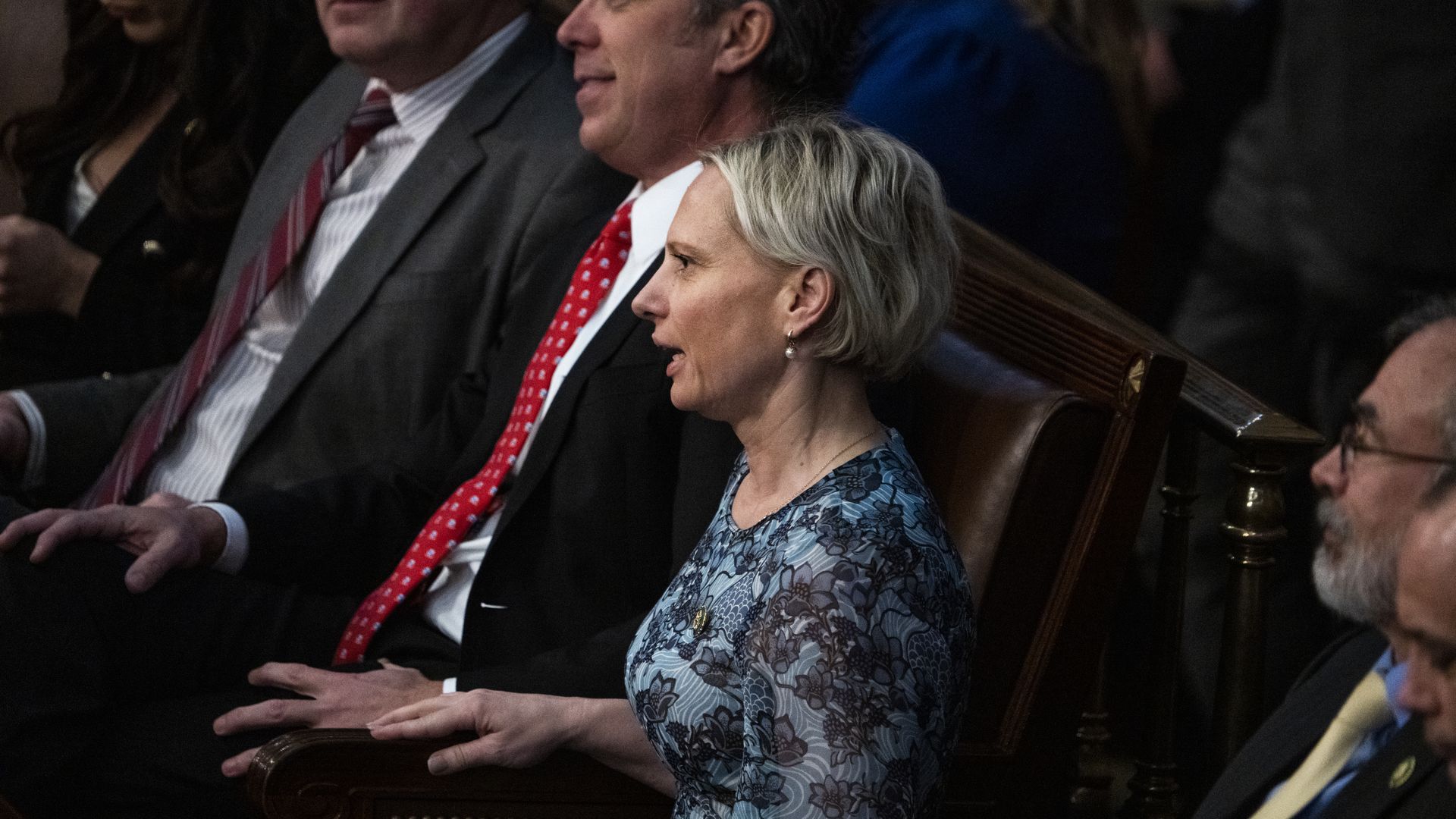 Another member of the House Republican conference, Rep. Victoria Spartz (R-Ind.), said Tuesday she opposes Speaker Kevin McCarthy's (R-Calif.) plan to strip committee assignments from several House Democrats.
Why it matters: Her comments put an expected vote to kick Rep. Ilhan Omar (D-Minn.) off the Foreign Affairs Committee in serious jeopardy as Republicans, with their narrow majority, can only afford to lose a handful of votes.
That vote could come as soon as this week: House Democrats' steering committee is meeting Tuesday evening to recommend committee assignments.
Compounding matters for Republicans is that Rep. Greg Steube (R-Fla.) has said he will be out of D.C. for "several weeks" as he recovers from injuries sustained from falling off a ladder.
Driving the news: Spartz, in a statement, cited her votes in 2021 against kicking Reps. Marjorie Taylor Greene (R-Ga.) and Paul Gosar (R-Ariz.) off their committees.
"Two wrongs do not make a right. Speaker Pelosi took unprecedented actions last Congress to remove Reps. Greene and Gosar from their committees without proper due process," she said.
"As I spoke against it on the House floor two years ago, I will not support this charade again."
Her statement also applied to McCarthy's plan to kick Reps. Adam Schiff (D-Calif.) and Eric Swalwell (D-Calif.) off of the House Intelligence Committee as well, but McCarthy can do that unilaterally without a House vote.
What we're hearing: Rep. David Joyce (R-Ohio), the chair of the moderate Republican Governance Group, told Axios on Tuesday that Omar "should at least be given the opportunity to defend her prior statements" on the House floor.
"I haven't taken a position on it because I haven't seen a case against her, but I think she's entitled to due process and she should be able to make her case on why she shouldn't be [removed]."
The backdrop: Spartz joins Rep. Nancy Mace (R-S.C.), who told Axios in December, "I'm not going to support it."
Rep. David Valadao (R-Calif.) also told Axios at the time, "I've never been a fan of that. Members are elected by their districts. ... To throw them off just seems inappropriate."
The other side: Rep. Mike Lawler (R-N.Y.), who represents a Biden district but also has many Jewish constituents, told Axios last month he supports booting Omar.
"Somebody like Ilhan Omar should not be serving on Foreign Affairs, especially with her stated positions with respect to the state of Israel. So I would absolutely vote to remove her," he said in a phone interview.
Two other freshmen in Biden districts, Reps. Marc Molinaro (R-N.Y.) and Nick LaLota (R-N.Y.), said they support kicking her off as well.
What caught our eye: Spartz also issued a broader rebuke of McCarthy's governance, stating: "Speaker McCarthy needs to stop 'bread and circuses' in Congress and start governing for a change."
She has proven increasingly independent in her second term, voting "present" on several ballots during the speaker election earlier this month and denying McCarthy a crucial vote before eventually flipping back to voting for him.
Editor's note: This article has been updated with further details, including comment from Rep. David Joyce.
Go deeper