Democrats tee up showdown with McCarthy on committee seats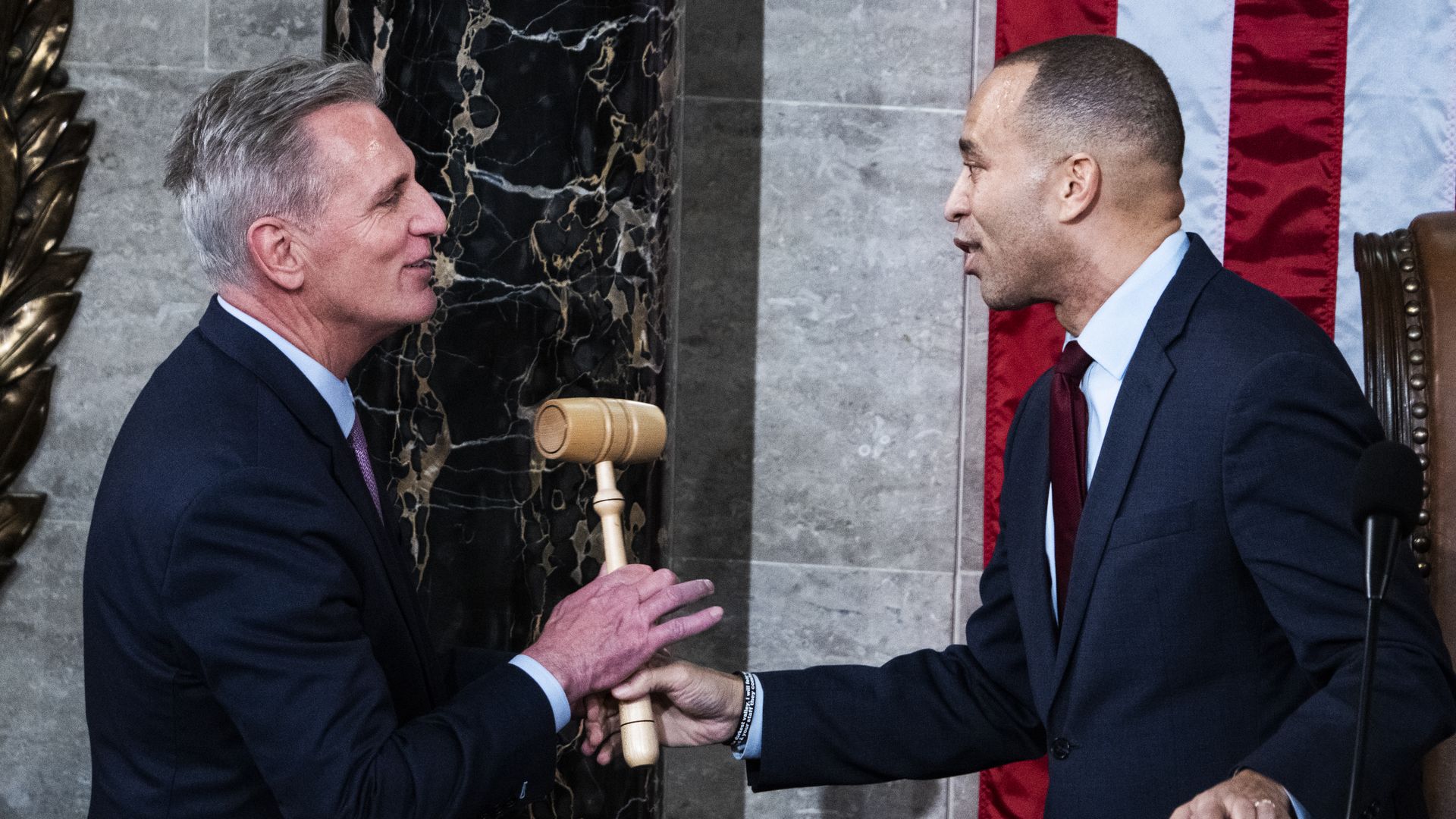 House Democrats are forcing House Speaker Kevin McCarthy (R-Calif.) to make good on his vow to remove several high-profile members from their committees – including one that would require a risky floor vote.
Why it matters: It's the latest battle in an increasingly heated partisan conflict over committee assignments that began when Democrats and a handful of Republicans voted to remove Reps. Marjorie Taylor Greene (R-Ga.) and Paul Gosar (R-Ariz.) from their panels in 2021.
Republicans said at the time that the votes to boot Greene and Gosar set a new precedent and vowed to take revenge.
Driving the news: House Minority Leader Hakeem Jeffries (D-N.Y.) sent McCarthy a letter on Saturday officially renominating Reps. Eric Swalwell (D-Calif.) and Adam Schiff (D-Calif.) to the Intelligence Committee despite McCarthy repeatedly pledging to remove them.
Because it's a permanent select committee, rather than an ordinary standing committee, McCarthy can unilaterally block Jeffries' appointments.
McCarthy has targeted Swalwell due to his past association with a Chinese spy, and Schiff for allegedly "lying" in his promotion of the Steele dossier.
"The denial of seats to duly elected Members of the House Democratic Caucus runs counter to the serious and sober mission of the Intelligence Committee," Jeffries wrote in the letter, which was first reported by Punchbowl News.
What caught our eye: Jeffries also took aim at Republicans for giving Rep. George Santos (R-N.Y.) committee seats despite revelations the Long Island freshman fabricated huge chunks of his resume and biography on the campaign trail.
But Jeffries has also indicated Democrats plan to let Republicans own Santos rather than taking action against him themselves.
What we're watching: Rep. Ilhan Omar (D-Minn.) on Monday sent a letter to House Democrats' steering committee asking to be reappointed to the Foreign Affairs Committee.
"I'd be able to continue to offer a unique perspective as a Somali-American, a refugee, and the only Africa-born Member of Congress," Omar wrote.
McCarthy has said he will try to remove her from that panel over comments she has made about Israel that colleagues in both parties labeled anti-Semitic.
Note: In a "dear colleague" letter on Sunday, Jeffries wrote, "It is my expectation that no returning member of the House Democratic Caucus will involuntarily lose a seat related to an existing committee assignment."
But the letter only covered standing committees – which excludes the Intelligence Committee – and Axios is told that the quote only referred to members keeping their seats even as the overall number of Democrats on committees shrunk.
What's next: Unlike with the Intelligence Committee, Republicans will either have to block every members' committee assignments or allow them to pass and then hold a floor vote on a resolution booting Omar from the panel.
That floor fight is all but certain to happen, sources say. "Ms. Omar currently serves on the House Foreign Affairs Committee and is expected to [be] re-appointed by the Steering and Policy Committee," a Democratic leadership aide told Axios.
It could also turn messy for Republican leadership, as several moderate House Republicans have voiced discomfort or even firm opposition to removing Democrats from committees. They can only lose a handful of votes.
Go deeper