Jeffries says GOP has "double standard" on committee assignments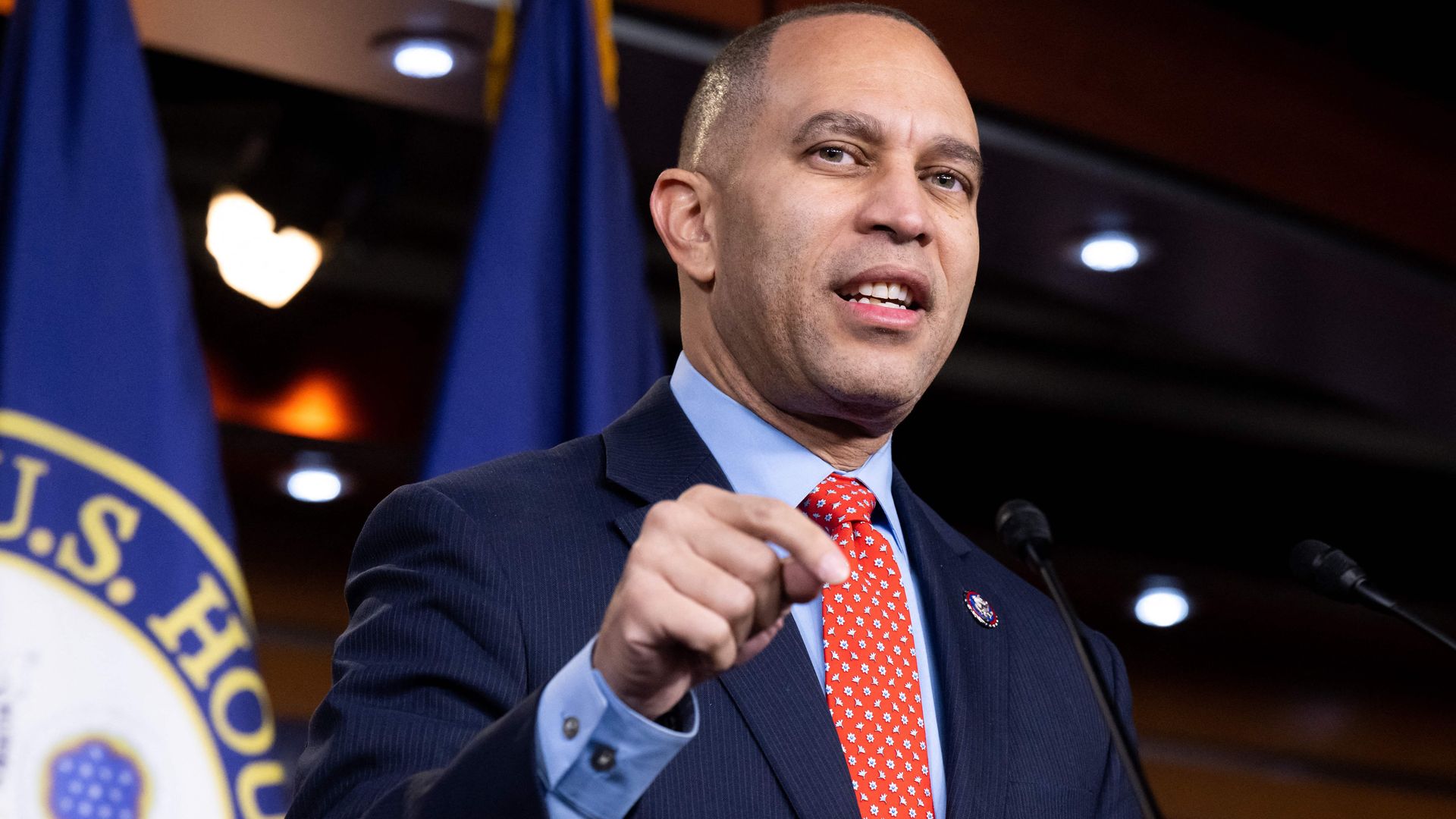 House Minority Leader Hakeem Jeffries (D-N.Y.) nominated Reps. Adam Schiff (D-Calif.) and Eric Swalwell (D-Calif.) to the Intelligence Committee in a letter to House Majority Leader Kevin McCarthy (R-Calif.) on Saturday first obtained by Punchbowl News.
Why it matters: McCarthy has said he will deny Schiff's and Swalwell's nominations to the committee, though Jeffries told McCarthy in the letter that doing so would run "counter to the serious and sober mission of the Intelligence Committee" and would lay bare Republican's "apparent double standard" in designating committee assignments.
What they're saying: "At the same time that Republicans have threatened to deny seats on the Intelligence Committee to clearly qualified democratic members, serial fraudster George Santos has been placed on two standing committees of the House and welcomed into your conference," Jeffries letter to McCarthy reads.
"The apparent double standard risks undermining the spirit of bipartisan cooperation that is so desperately needed in Congress," it continues.
"I urge you to honor past practice of the House of Representatives and our mutual interest in working together for the good of the American people by accepting my recommendation of Adam Schiff to serve as Ranking Member and Eric Swalwell to continue his service as a Member of the Intelligence Committee."
Schiff said on social media he was "proud" of Jeffries' nomination to the committee and that McCarthy threatened his removal "to placate his right-wing" but following through with it "will damage the committee's independence."
"Along with his committee on conspiracy theories, he is doing grave damage to national security," Schiff tweeted on Monday.
The big picture: Jeffries defended Greene's and Gosar's committee assignment removals, saying the actions were bipartisan and justified after the Jan. 6 Capitol riot.
McCarthy, however, has said their removals set a new standard, which Republicans would not hesitate to use to remove Democrats from assignments.
McCarthy has maintained that Swalwell's brief association with a Chinese spy made him ineligible for a seat on the committee, though he's never been accused of wrongdoing and cut ties with the spy after being alerted by federal investigators.
McCarthy also considers Schiff, one of the longest-serving members on the Intelligence Committee, disqualified from serving as ranking member for promoting the Steele dossier, which alleged extensive ties between former President Trump and Russia but was unverified.
Rep. Ilhan Omar (D-Minn.) has also been targeted by McCarthy for removal from the House Foreign Affairs Committee over her 2019 comments on a pro-Israel lobbying group's influence on Congress, which members of both parties criticized at the time as anti-Semitic.
Omar, who has apologized for the remark, is expected to be named to the committee by Democrats this week according to Punchbowl News, though the full House would have to vote to remove her from the panel.
Go deeper: White House slams far-right Republicans' committee assignments
Editor's note: This story has been updated with a tweet from Rep. Adam Schiff.
Go deeper