Reps. Paul Gosar and Marjorie Taylor Greene are back on House committees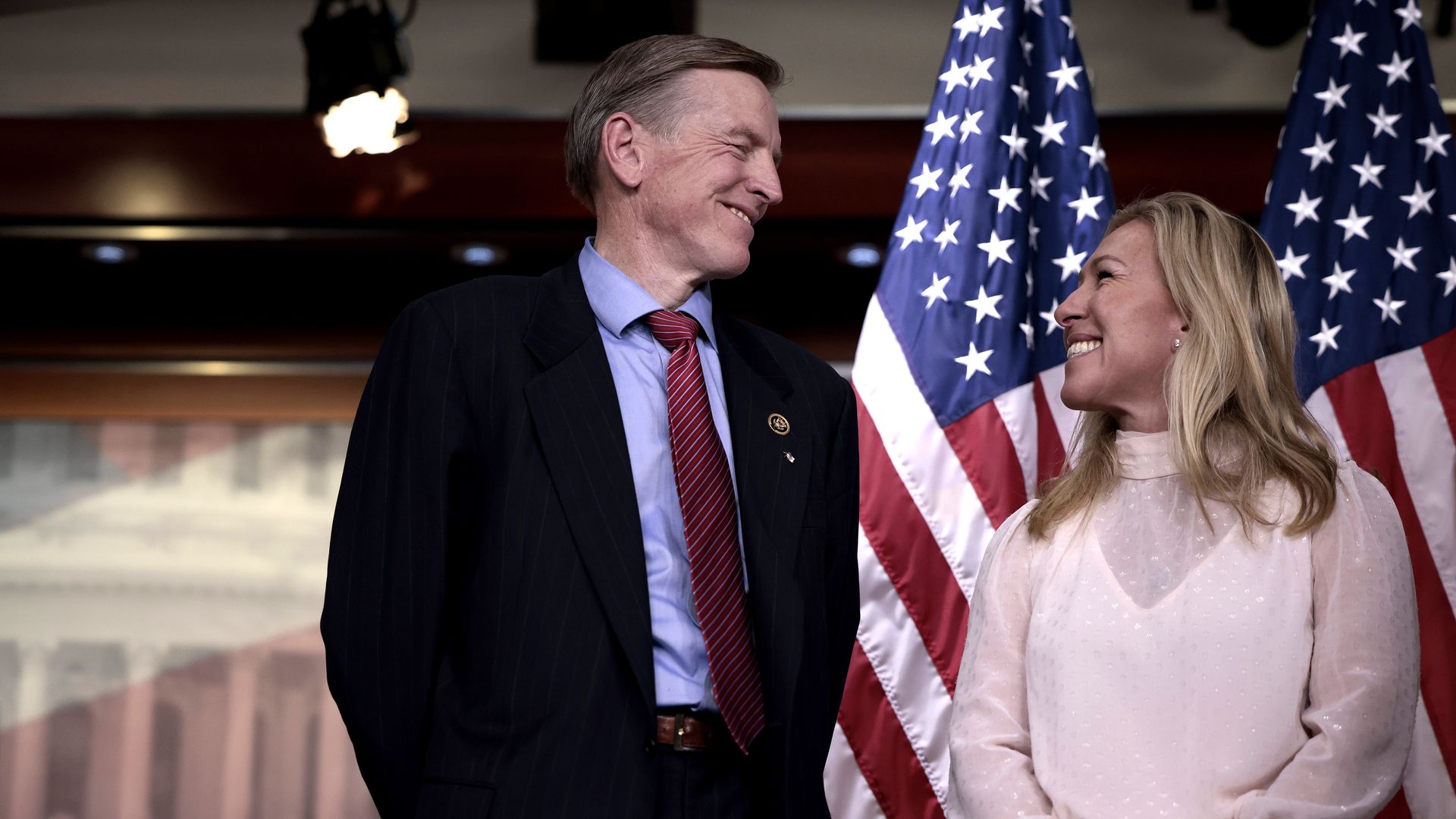 Reps. Marjorie Taylor Greene (R-Ga.) and Paul Gosar (R-Ariz.) will serve on congressional committees once again after Democrats kicked them off during the previous Congress.
Why it matters: The assignments, announced Tuesday, fulfill a past promise by House Speaker Kevin McCarthy (R-Calif.) to restore the members' committee seats, and will allow the far-right lawmakers to help investigate and oversee the Biden administration.
McCarthy said in 2021 that Greene and Gosar may even "have better committee assignments" if the GOP won the majority.
He's also said he could potentially block some Democrats from committees.
Driving the news: Greene secured seats on the House Committee on Oversight and Accountability and the House Committee on Homeland Security, which the Republican majority will likely use to investigate Homeland Security Secretary Alejandro Mayorkas.
What they're saying: "Joe Biden, be prepared. We are going to uncover every corrupt business dealing, every foreign entanglement, every abuse of power, and every check cut for The Big Guy," Greene said in a statement.
"Our Southern border is being invaded ... Our Border Patrol and ICE agents have their hands tied and have been turned into a welcoming committee by the Biden administration," she added. "Cyber attacks continue on our nation's people and businesses along with many more threats to our homeland."
"We will investigate the Biden administration's violations of our laws and fund (and defund) programs to defend our border and American sovereignty."
The big picture: The Democratic majority in the last Congress voted to strip Gosar of his committee assignments in 2021 after he posted a photoshopped video on Twitter that showed him attacking President Biden and appearing to kill Rep. Alexandria Ocasio-Cortez (D-N.Y.).
Go deeper: McCarthy says he'll remove Ilhan Omar from committee assignment
Go deeper