GOP hardliners reap benefits of McCarthy speaker deal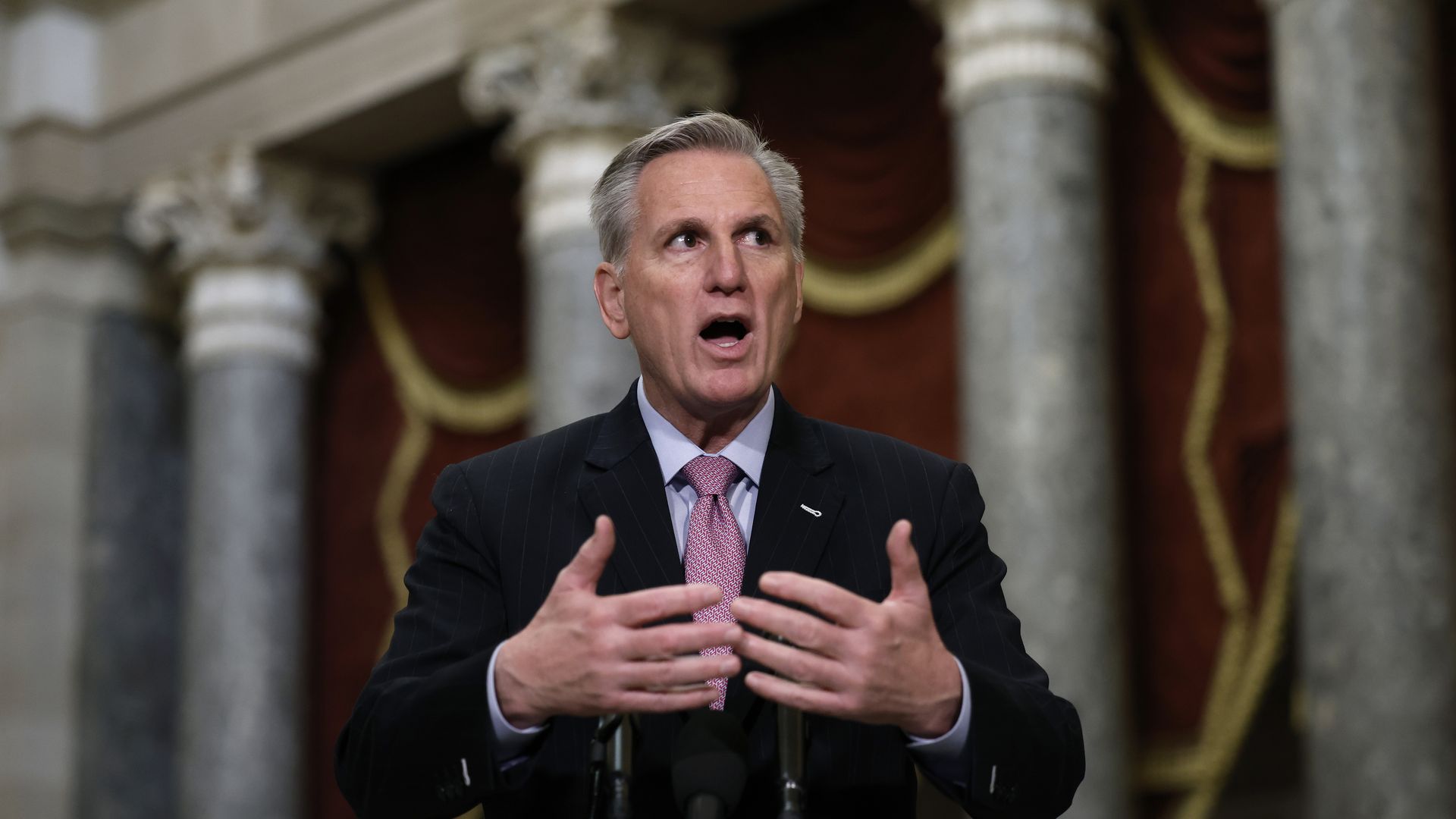 Members of the right-wing House Freedom Caucus are seeing the first dividends from the deal they struck to give House Speaker Kevin McCarthy (R-Calif.) his gavel: prime committee assignments.
Why it matters: The plum postings for Republican rebels fulfill a key concession McCarthy made, handing conservatives greater influence over the GOP conference's congressional probes and legislative agenda.
Driving the news: The powerful House Oversight Committee, which is set to be the clearinghouse for many of the GOP's marquee investigations into the Biden administration, is adding half a dozen Freedom Caucus members and McCarthy rebels to its ranks.
That includes Reps. Byron Donalds (R-Fla.), Paul Gosar (R-Ariz.), Scott Perry (R-Pa.) and Anna Paulina Luna (R-Fla.) — who initially opposed McCarthy during the speaker election before striking a deal — and Rep. Lauren Boebert (R-Colo.), who refused to vote for him.
Another addition is Rep. Marjorie Taylor Greene (R-Ga.), a right-wing McCarthy ally who, like Gosar, was booted from committees by Democrats and a handful of Republicans in 2021.
The Freedom Caucus nabbed a new committee gavel — on top of Rep. Jim Jordan's (R-Ohio) chairmanship of the Judiciary Committee — with Rep. Mark Green (R-Tenn.) beating out more moderate Rep. Dan Crenshaw (R-Texas) to lead the Homeland Security Committee last week.
Greene and Rep. Eli Crane (R-Ariz.) — a freshman who, like Boebert, refused to back McCarthy for speaker and instead voted present — received seats on that committee.
Rep. Andy Harris (R-Md.), another McCarthy detractor who eventually got in line, won the gavel of the House Appropriations subcommittee on agriculture.
Leading rebel Rep. Matt Gaetz (R-Fla.) retained his seats on the Judiciary Committee, where articles of impeachment against Biden officials would originate, and Armed Services.
And nearly every "A" committee — the four most desirable panels — got new members associated with the Freedom Caucus: Reps. Andrew Clyde (R-Ga.) and Michael Cloud (R-Texas) will serve on Appropriations, while Donalds and Rep. Andy Ogles (R-Tenn.) will be on Financial Services.
What they're saying: Members of the GOP steering committee argued that McCarthy's foes in the speaker election — including those who held firm in refusing to vote for him — were richly rewarded in the committee assignment process.
"I was watching that and I thought, 'Maybe there will be some retribution,'" Rep. Mike Kelly (R-Pa.) told Axios. "Honestly, it was so fair, right across the board ... there's no residual from [the speaker election], nobody had a hangover."
Rep. Richard Hudson (R-N.C.) said: "We as a steering committee focused on making sure there was balance on all the committees. I think the speaker did a good job with it."
What we're watching: One of the biggest concessions McCarthy gave to hardliners was a commitment to appoint three conservatives to the Rules Committee, which holds considerable sway over what legislation is brought to the House floor.
Unlike with most committees, members of the Rules Committee are tapped by their party's leaders, giving McCarthy sole discretion over which Republicans get appointed.
Go deeper