McCarthy's weaponization committee already discussing subpoenas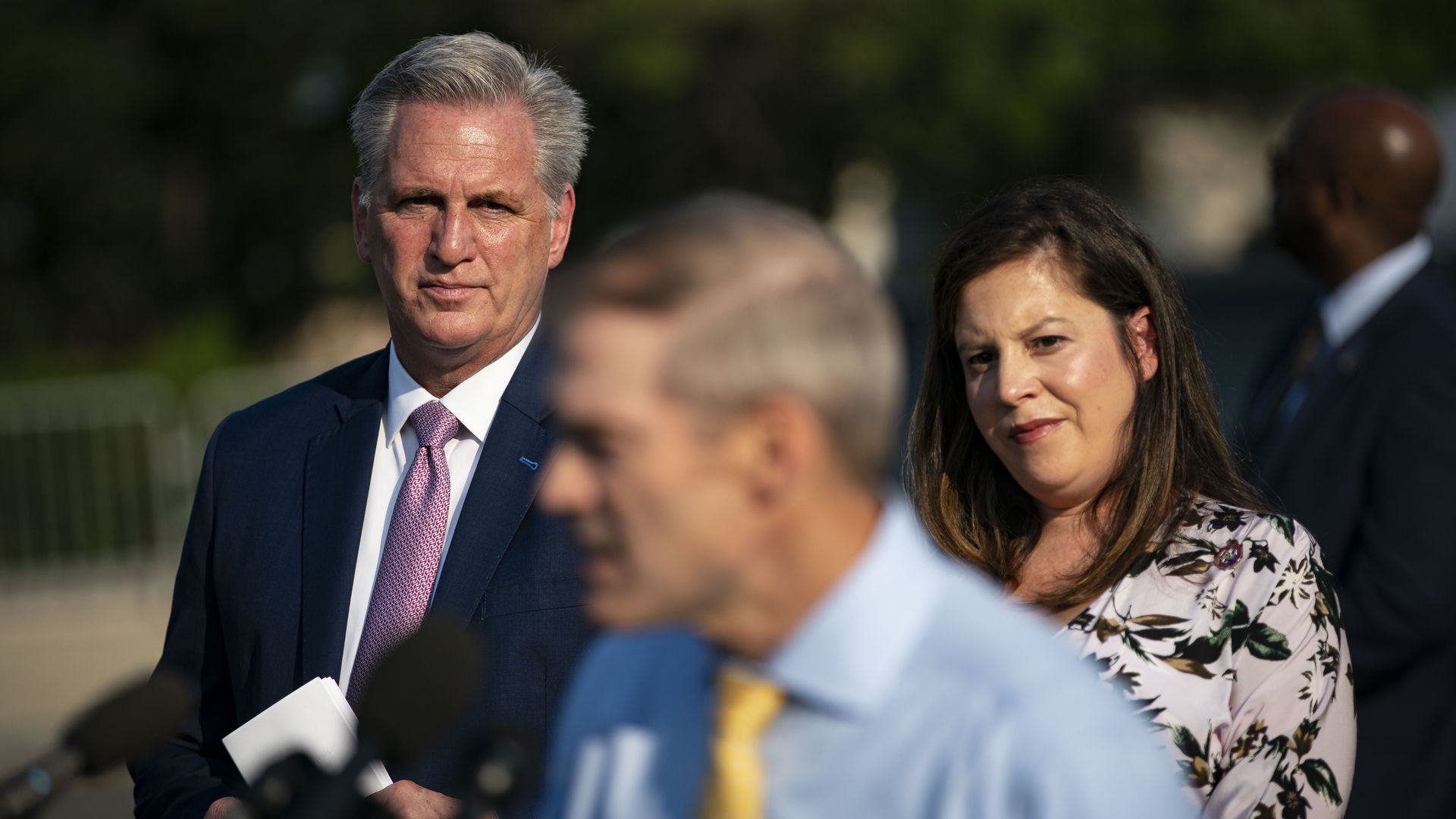 GOP members of the newly created House subcommittee investigating the "weaponization" of the federal government discussed the possibility of issuing subpoenas during their first closed-door meeting on Friday.
Why it matters: It's a clear indication of the aggressive posture and approach that the committee has been expected to take in probing federal law enforcement including the Justice Department and FBI.
What we're watching: Republican members of the House Select Subcommittee on the Weaponization of the Federal Government also discussed investigative topics they want to pursue, Axios has learned.
The big picture: The panel's creation fulfilled a key promise House Speaker Kevin McCarthy (R-Calif.) made to a group of right-wing holdouts during his historic speaker fight.
Republicans have stocked the committee with an assortment of lawmakers with varied degrees of experience ranging from GOP conference chair Rep. Elise Stefanik (R-N.Y.) and former House Oversight Chair Rep. Darrell Issa (R-Calif.) to less senior members like Rep. Kat Cammack (R-Fl.).
House Democratic leadership has indicated they will participate in the committee but have not yet named their members. They will have no substantive influence on the direction of the subcommittee's oversight work.
Between the lines: Congressional committees conducting oversight generally send out requests for documents and witness testimony before threatening to issue subpoenas to enforce those requests.
The intrigue: On Friday, Ohio Rep. Jim Jordan — who leads the weaponization panel — also floated the possibility of subpoenas in a series of letters requesting interviews with potential witnesses as part of several investigations.
Those inquiries include alleged misconduct at the Department of Justice and FBI, and what Republicans see as the federal government's effort to go after protesters at school boards.
Jordan's targets include a current and a former FBI employee, two people associated with the National School Boards Association, and the former head of the disbanded DHS Disinformation Governance Board.
Though Jordan sent the letters as chair of the House Judiciary Committee, it's still unclear which issues will be taken up by that panel and which will be handled by the weaponization committee.
Editor's note: This story has been updated with details about the letters sent by the House Judiciary Committee on Friday.
Go deeper