FBI director: Buffalo shooting an "act of racially motivated violent extremism"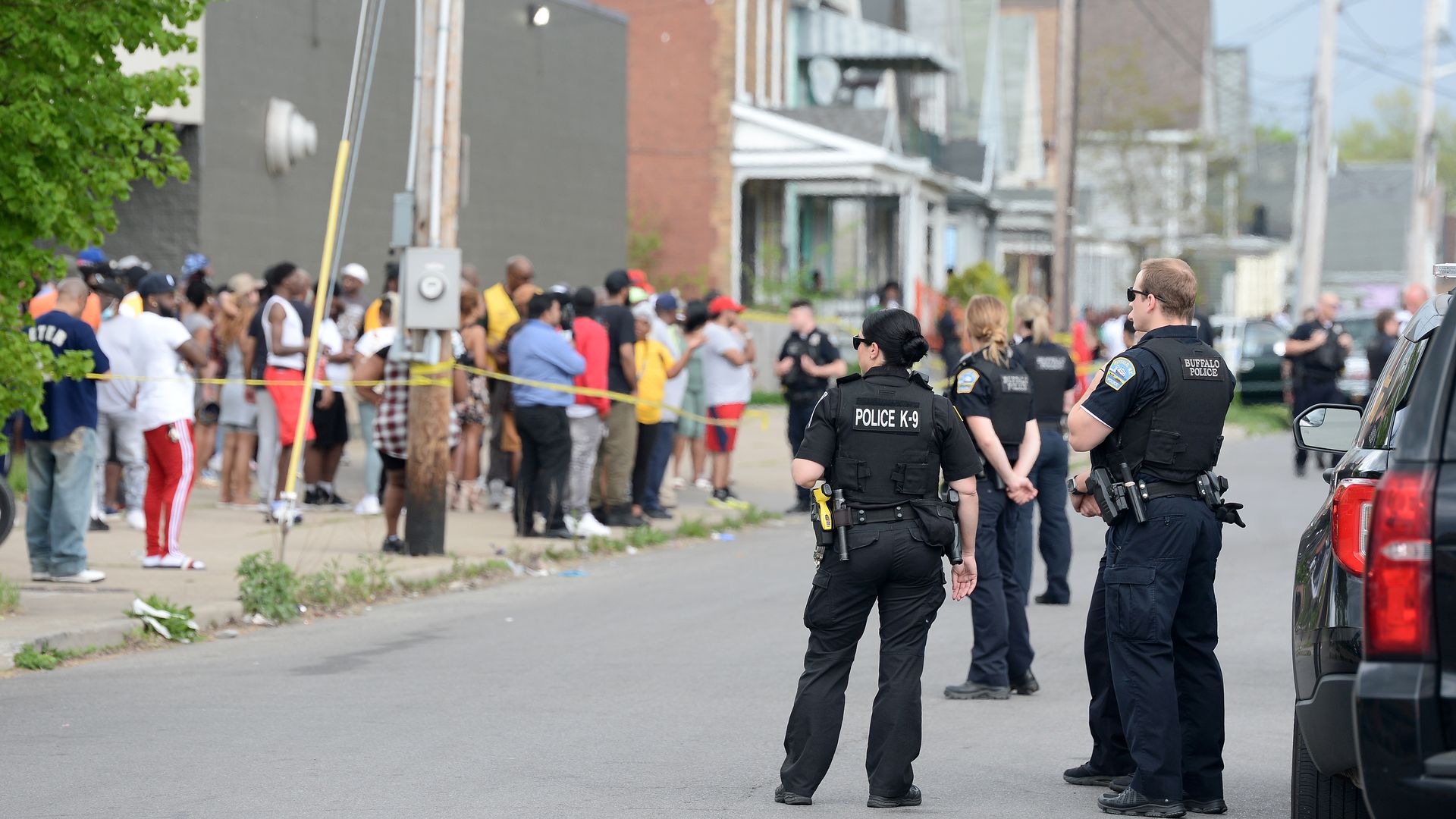 FBI Director Chris Wray released a statement Monday calling the Buffalo shooting that killed 10 people, most of whom were Black, a "targeted attack, a hate crime, and an act of racially motivated violent extremism."
Driving the news: The alleged shooter, an 18-year-old white man, drove from "hours away" in tactical gear and opened fire in the store in a predominantly Black neighborhood of Buffalo on Saturday afternoon.
The latest: "I want to be clear, for my part, from everything we know, this was a targeted attack, a hate crime, and an act of racially motivated violent extremism," Wray said in comments that echoed local law enforcement officials.
"While there remain a lot of unknowns, as there always do in an investigation at this stage, what is absolutely certain is that we at the FBI are committed to comprehensively and aggressively investigating Saturday's attack."
Erie County Sheriff John Garcia had called the attack a "straight-up racially motivated hate crime, while Stephen Belongia, the special agent in charge of the FBI Buffalo field office, confirmed that the FBI is investigating the mass shooting as a hate crime and a case of "racially motivated violent extremism."
Trini Ross, the U.S. attorney for the Western District of New York, had also said the shooting would be investigated as a hate crime.
The suspect was identified in court as Payton Gendron from Conklin, New York, per the Erie County district attorney's office. He pleaded not guilty to murder in the first degree. Buffalo is a more than 200-mile drive from Conklin and police said he'd traveled "many hours" to conduct the attack.
Law enforcement confirmed the suspect was livestreaming the shooting.
13 people in total were shot, 3 of whom are expected to survive. Eleven of the 13 people were Black, police said.
Buffalo Mayor Byron Brown told NBC on Sunday that the suspect "drove here with the express purpose of taking Black lives."
Tops operations manager Shonnell Harris told the Buffalo News that the shooter was a white man wearing camouflage. "He looked like he was in the Army," Harris said.
Police said a security guard fired at the shooter as he entered the store but due to the shooter's body armor, the bullet was not able to stop him. The security guard, described by police as "beloved," was later killed.
Buffalo Police Commissioner Joseph Gramaglia told ABC on Sunday that the suspect was in Buffalo a day before the shooting to "scope out the area, to do a little reconnaissance work on the area before he carried out his evil, sickening act."
The latest: Mayor Brown on Sunday called on the federal government to pass "sensible" gun control laws and to end hate speech on the internet.
"Lawmakers in Washington say that there's something that must be done. And then there are some on one side of the aisle that block anything from being done. It seems like there are those that believe owning a gun is more precious than the sanctity of human life," he said.
"I believe that what happened in Buffalo, New York, yesterday is going to be a turning point. I think it's going to be different after this, in terms of the energy and the activity that we see."
What they're saying: "The First Lady and I are praying for the victims and their families, and hearts all across this country are with the people of Buffalo," President Biden said in a statement released on Saturday night.
"We still need to learn more about the motivation for today's shooting as law enforcement does its work, but we don't need anything else to state a clear moral truth: A racially motivated hate crime is abhorrent to the very fabric of this nation," the president added.
"Law enforcement is proceeding with its investigation, but what is clear is that we are seeing an epidemic of hate across our country that has been evidenced by acts of violence and intolerance," Vice President Kamala Harris said in a statement on Sunday.  
"We must call it out and condemn it. Racially-motivated hate crimes or acts of violent extremism are harms against all of us, and we must do everything we can to ensure that our communities are safe from such acts," she added.
"It is my sincere hope that this individual, this white supremacist who just perpetrated a hate crime on an innocent community, will spend the rest of his days behind bars. And heaven help him in the next world as well," Gov. Kathy Hochul said on Saturday.
Editor's note: This story has been updated throughout.
Go deeper