Republicans' escalating war with the feds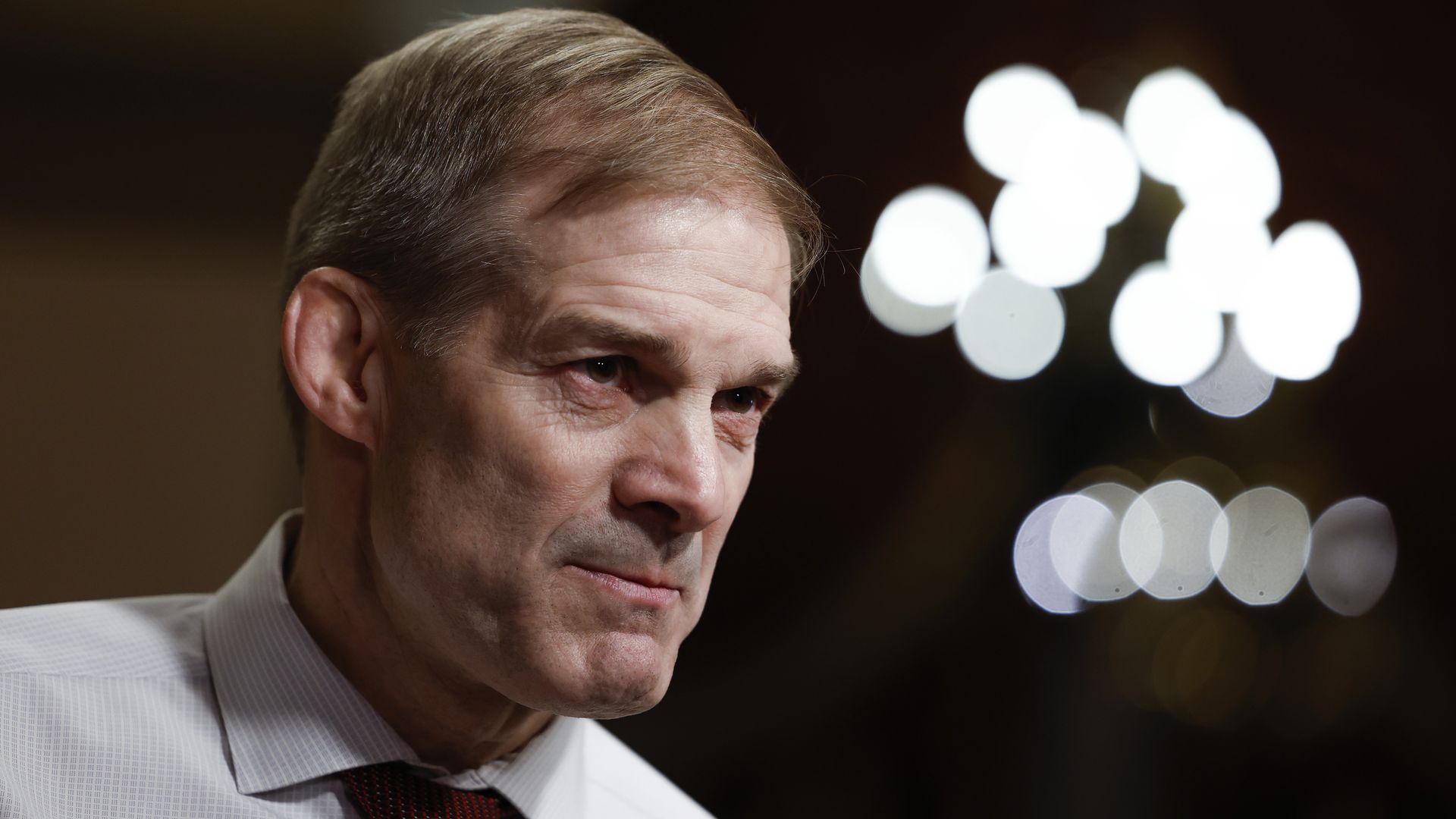 House Republicans are gearing up for a sprawling, multi-pronged investigation into federal law enforcement agencies, voting on Tuesday to establish a select committee to investigate the "weaponization" of the federal government.
The big picture: The committee is the culmination of a growing antipathy among Republican lawmakers — and, crucially, their grassroots base — toward federal law enforcement and intelligence agencies.
That sentiment reflects years of public grievances by former President Trump and his allies, who allege career government officials have unfairly targeted conservatives.
DOJ investigations into the events surrounding the Jan. 6 Capitol riot and Trump's handling of sensitive documents after leaving office — both now under the purview of special counsel Jack Smith — have more recently stoked GOP fury.
Some right-wing Freedom Caucus members have also championed the cause of defendants in Jan. 6 cases, alleging mistreatment and political persecution by federal prosecutors.
What they're saying: Rep. James Comer (R-Ky.), the chair of the House Oversight Committee, told Axios the GOP's eroding trust in the federal bureaucracy dates back to Bush-era intelligence failures during the Iraq War.
"We're going to invite them to come to the committees. … If they come, maybe the trust will be re-established. But right now there is a very low level," Comer said.
Rep. Thomas Massie (R-Ky.), a libertarian-minded conservative long skeptical of the federal security apparatus, pointed to IRS targeting of Tea Party groups in the 2010s and Trump's sparring with the FBI as inflection points.
"For [Republicans] who had always been willing to overlook some of the shortcomings of the federal police function, it was hard for them to keep overlooking while at the same time supporting President Trump," Massie said.
Between the lines: Some of the animosity has also been fueled by an outcry from the base. "I would tell you I get a lot more questions [from constituents] about decisions the Department of Justice makes than I used to," said Rep. Dusty Johnson (R-S.D.).
Yes, but: Not every Republican is ready to concede that the select subcommittee is in response to the alleged persecution of conservatives, arguing it's about law enforcement abuses that transcend partisanship.
Rep. Brian Fitzpatrick (R-Pa.), a former FBI agent who said he is a "big supporter of the Bureau," told Axios: "There have been a lot of problems in a lot of federal agencies. Part of Congress' job is oversight."
"We should presume members of the committee are going to do their job in a responsible way, and if they don't, then we'll deal with it," Fitzpatrick said — nodding to the open hostility toward federal law enforcement from some on the right. He said he would be open to serving on the panel.
Rep. Mike Lawler (R-N.Y.), a moderate serving in a Biden district, told Axios: "The evidence of these agencies and departments abusing their authority has built up quite significantly in recent years. ... That should disturb everybody, regardless of who it was against."
The other side: Oversight ranking member Jamie Raskin (D-Md.), quipping to a colleague that the panel is "insurrection protection," told Axios: "It's an anti-law enforcement committee. It's meant to be obstructing law enforcement."
House Minority Leader Hakeem Jeffries (D-N.Y.) said he hasn't made a decision on whether he will appoint Democrats to the committee.
Zoom out: The select subcommittee, which falls under the Judiciary Committee and is expected to be chaired by Judiciary Chair Jim Jordan (R-Ohio), is far from the only panel set to investigate federal law enforcement.
In August — following the FBI's search of Mar-a-Lago — Comer, House Republican Conference Chair Elise Stefanik (R-N.Y.) and House Intelligence Committee Chair Mike Turner (R-Ohio) sent a letter to FBI Director Chris Wray scrutinizing his use of a government plane.
Turner has also questioned the FBI directly about the raid, and on Tuesday sent a letter to the office of the director of national intelligence requesting a damage assessment of classified documents found at Biden's think tank.
Comer has also sent letters to officials at the Department of Homeland Security (on Afghanistan), FBI (on Hunter Biden) and office of the director of national intelligence (on COVID origins).
Go deeper