Progressives get energy boost after Chicago and Wisconsin elections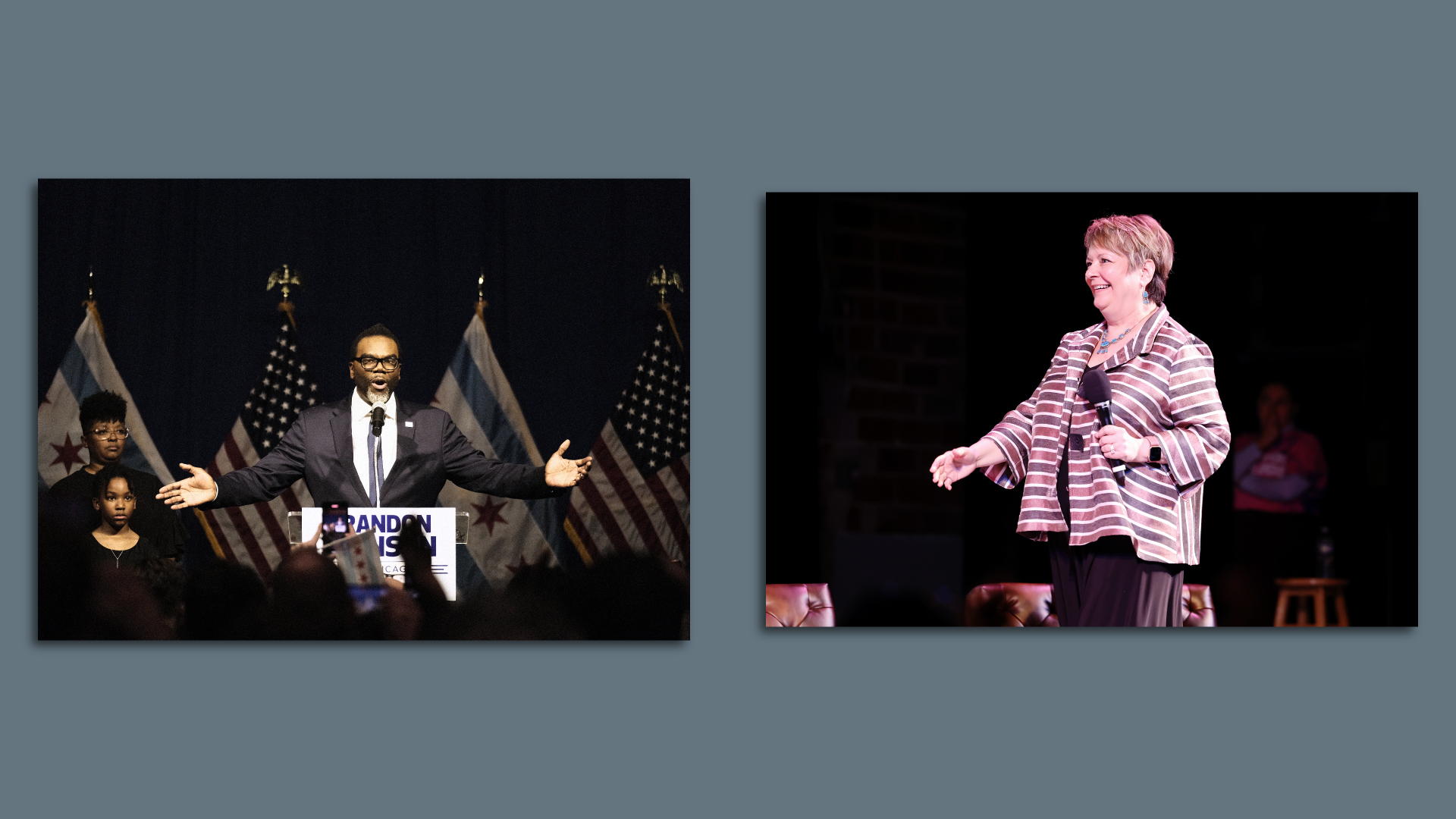 Big progressive wins in Wisconsin and Chicago elections this week show the staying power of left-wing positions on abortion and crime as issues heading into 2024.
Why it matters: After Democrats became the surprise winners of the 2022 midterms, the twin Midwest results Tuesday in widely watched mayoral and state Supreme Court races showed how the party could energize its base.
"Everybody needs to understand this, everybody advising candidates, everybody running, everybody looking at putting ballot initiatives forward: Abortion rights are a winning issue," Democratic strategist Jess McIntosh told Axios.
Driving the news: In Wisconsin, Janet Protasiewicz won in the most expensive state judicial race in U.S. history, giving liberals the state Supreme Court majority for the first time in more than a decade. The crucial election carried implications for abortion rights and redistricting in the perennial swing state.
Protasiewicz won by roughly 11 points, and turnout broke the previous record for a spring election not coinciding with a presidential primary, AP notes.
Voters "went to the ballot because they understood that the right to abortion depended on this seat," she said.
Though the election was technically nonpartisan, Protasiewicz was backed by Democrats and abortion rights groups including Emily's List.
In Chicago, progressive Democrat Brandon Johnson beat the more moderate Paul Vallas, who campaigned on a platform focused on public safety as the city grapples with high violent crime.
Johnson's victory handed progressives control over two of America's largest three cities, following L.A. Mayor Karen Bass' win last year.
State of play: Tuesday's results — paired with strong Democratic performance in the midterms — underscore that voters "turn out and are responsive to" the party's messaging on key issues including abortion, the integrity of U.S. democracy and addressing crime, Colin Seeberger, a senior advisor at the Center for American Progress Action Fund, told Axios.
Protasiewicz's victory in Wisconsin shows that "when the American people's fundamental rights are at stake, they really show up resoundingly," Seeberger said.
Seeberger added that he was "really heartened by just the breadth of the victory."
Abortion proved to be a salient issue in other races last year.
Meanwhile, the results in Chicago were an "affirmation of how Democrats are approaching the issue of crime, which is that they are standing resolutely in support of both accountability and prevention," he added.
Zoom out: The Midwest victories come after other local elections and legislation have highlighted fissions in the Democratic Party over issues including crime. Republicans have also looked to capitalize on what's been cast as a major wedge issue for Dems.
A D.C. crime law that would've reduced maximum penalties for some violent crimes entered the national spotlight when it was overturned by Congress and President Biden.
Last year, San Francisco residents voted to recall progressive District Attorney Chesa Boudin in a divisive election that motivated further party discussion on criminal justice reform.
New York City's 2021 mayoral election dealt a major blow to progressives with the Democratic primary win of now-Mayor Eric Adams, a moderate who promised to be tough on crime.
The backdrop: The elections came the same day former President Trump turned himself in and was arraigned following a historic indictment in a hush-money case. He pled guilty to 34 counts of falsifying business records.
The sharp contrast between the public spectacle of Trump's arrest and Biden's relatively calm day evoked the split-screen of the 2020 election.
Voters ultimately backed Biden's return-to-normalcy campaign — and the White House hopes they will again in 2024, should he face Trump in a historic rematch.
Go deeper:
Go deeper