House Dems curb their enthusiasm on Trump arrest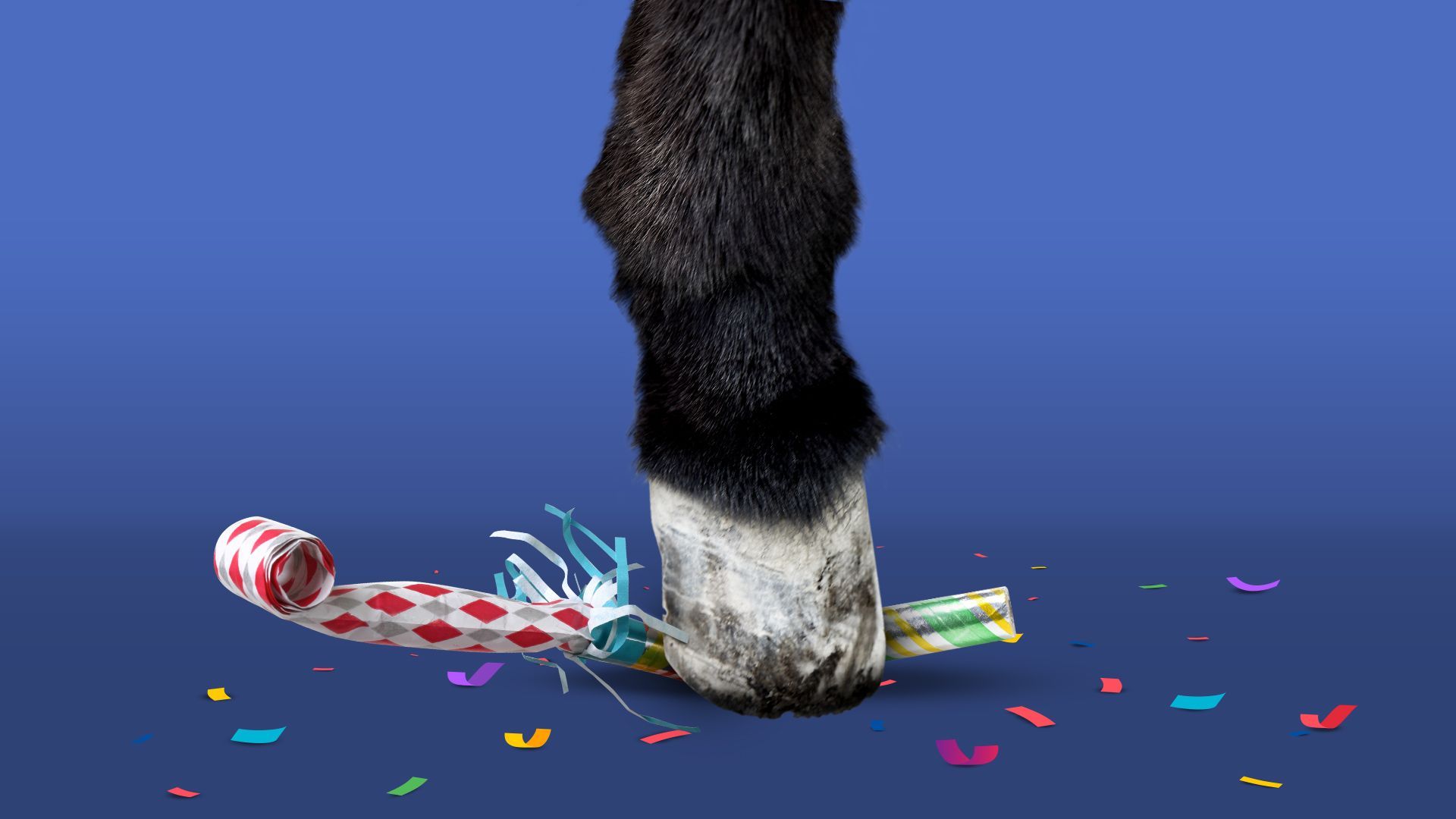 Former President Trump's arrest is causing as much consternation as celebration among Democratic lawmakers.
Why it matters: Despite some overjoyed reactions, many Democrats don't want to risk further emboldening Trump or his GOP allies by adding oxygen to an already explosive criminal case.
Some also worry that weighing in too heavily only serves to fuel GOP allegations that the case is politically motivated.
"I think we all have to be very careful. There is a high risk of Donald Trump becoming a victim," one House Democrat, speaking on the condition of anonymity, told Axios.
"We don't need to put kerosene on a fire."
Behind the scenes: House Democratic leadership staff has been counseling offices that there's no expectation for them to weigh in publicly, according to a Democratic leadership aide.
If they do want to issue a statement, offices are advised to be circumspect – with a basic message of "nobody is above the law."
Materials offering guidance on messaging during the two-week April recess, reviewed by Axios, focus on touting President Biden's policy agenda and attacking GOP plans on abortion and the budget.
What we're hearing: Rep. Greg Landsman (D-Ohio) turned a lot of Democrats' heads on Friday in a statement on Trump's indictment: "Folks need to be done with Trump ... [we] have to keep our attention on the actual work of leading this country."
Rep. Debbie Dingell (D-Mich.) told Axios many of her colleagues concur with Landsman that "we need to be focused on what the issues are."
"There isn't a role for Congress in this," said Rep. David Cicilline (D-R.I.), a former Trump impeachment manager. "You will see Democrats stay very focused on the things that matter in people's lives. I think most people are beyond Donald Trump ... [and are not] following these legal proceedings."
"I don't know what the balance is," said Rep. Mike Quigley (D-Ill.). "You have to respond because everybody wants a statement."
Between the lines: The House Democrat who expressed concern about Trump becoming the victim said, "When you think about [that dynamic] playing out for the next two years – I think that is why you're going to see a lot of people keeping their mouths shut. And I think it's smart, too."
The other side: Rep. Jamaal Bowman (D-N.Y.), one of several "squad" progressives who has offered more unequivocally positive reactions to Trump's prosecution, has said his constituents have fueled his vocal response.
"From what I've been hearing throughout my district, New Yorkers are happy about this indictment," he said in a NY1 interview.
What we're watching: While House Democratic, House Republican and Senate Democratic leadership have all weighed in on Trump's indictment, the top two Senate GOP leaders were yet to do so as of Tuesday evening.
But some Senate Republicans have, including Sen. Mitt Romney (R-Utah). The fierce Trump critic said in a statement on Tuesday, "I believe the New York prosecutor has stretched to reach felony criminal charges in order to fit a political agenda."
Sen. Thom Tillis (R-N.C.), a member of McConnell's leadership team, blasted the prosecution as "politically motivated" on Tuesday after saying Friday it merely didn't "pass the smell test."
The bottom line: Quigley, who was closely involved in Trump's first impeachment as a member of the House Intelligence Committee, said of the idea of moving on from Trump, "Yeah, good luck."
"I've been trying to do that since 2016," he said, "But people ask about him … He dominates the conversation whether anybody likes it or not. And he plays on that."
Go deeper