Scoop: Congress comes for D.C. crime laws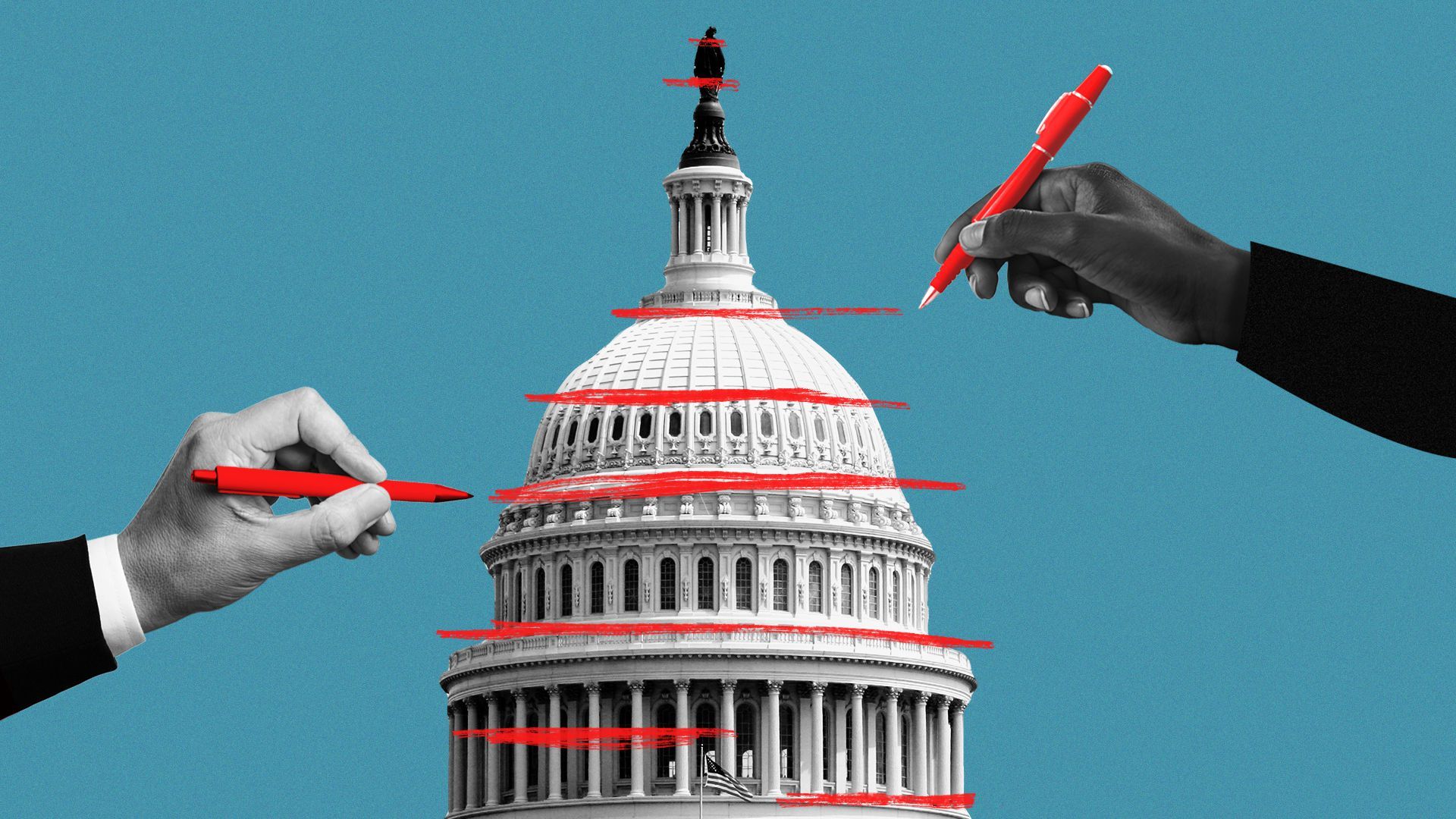 House Republicans are ushering in a new era of intervention in local D.C. affairs, and their first target is the city's handling of crime.
What I'm hearing: Wielding the authority that Congress has final say over the capital city, Rep. Andrew Clyde (R-Ga.) is leading the charge with a bill that would block the D.C. Council's attempts to lessen penalties for some violent crimes.
Why it matters: Even if Clyde's bill is unlikely to succeed — it would need to pass the Democratic Senate and gain President Biden's signature — Republicans hope to drum up attention against the District with headlines and hearings.
The bill combats the District's recent criminal code reform — passed unanimously by the D.C. Council and unsuccessfully vetoed by Mayor Muriel Bowser this month.
Opponents locally and in national conservative media alike have criticized the council's reforms for dropping maximum sentences for carjacking and gun possession.
Clyde tells Axios he will introduce a resolution in the coming weeks to block those reforms and "stop this insanity in its tracks." In the Senate, Bill Hagerty (R-Tenn.) plans to introduce an identical version.
Clyde is part of the hardline House Freedom Caucus and wants to repeal D.C. home rule entirely.
The big picture: Even during the early Trump years when Republicans controlled Congress, the District did not face this level of an assault on local laws.
The new Republican interest in D.C. coincides with back-to-back years of more than 200 murders and five years of increasing carjackings.
The crime issue has led Republican lawmakers on the Hill to seek an education in D.C. affairs, through Fox News segments about city crime and conversations with local Republicans like Pat Mara, the longtime chair of the D.C. GOP.
"These Republican staffers don't know the difference between the Home Rule Act and the Magna Carta," says Chuck Thies, a local Democratic consultant who has recently fielded calls from nationally minded politicos seeking intel about D.C. minutiae.
What we're watching: Already, the chair of the powerful House Oversight Committee, Rep. James Comer (R-Ky.), has introduced legislation that would block the District from allowing noncitizen residents to vote in local elections. Sen. Tom Cotton (R-Ark.) is expected to introduce a Senate version shortly.
And if those resolutions fail, a less splashy but more efficient method to intervene in D.C. laws is through budget riders. Conservatives are more emboldened than ever under Speaker Kevin McCarthy to slip riders into funding bills, daring Democrats to shut down the government in order to defend D.C. self-governance.
Republicans could also target a police reform law that was recently sent to Congress. Opposed by Mayor Bowser and the D.C. police union, the bill weakens arbitration rights for police officers.
The other side: Even though the criminal code reform reduces maximum penalties and drops maximum minimums, proponents say average prison sentences for crimes like carjacking are unlikely to change.
For carjackings, the current maximum sentence would drop from 40 years behind bars to 24 years. Nearly all D.C. convictions of armed carjacking result in about 15.5 years in prison, way below the new maximum.
Strange bedfellows: While decrying congressional intervention, Bowser is simultaneously distancing herself from the D.C. Council, which she views as increasingly too left-leaning.
"I don't support a litany of pieces of legislation that came out of the council related to public safety," the mayor told me Tuesday on the Hill.
Republicans like Clyde are in turn directing most of their rhetoric against the council.
Yes, but: Bowser still needs to work with the D.C. Council to amend the revised criminal code.
She is seeking to work with council member and Judiciary Committee chair Brooke Pinto, who plans to introduce legislation expanding penalties for gun possession offenses.
The challenge will be Bowser and Pinto finding six other council members in support.
💬 Town Talker is a weekly column on local politics and power. Drop me a line about the talk of the town: [email protected]
More Washington D.C. stories
No stories could be found
Get a free daily digest of the most important news in your backyard with Axios Washington D.C..