Inside Jeff Zient's zen White House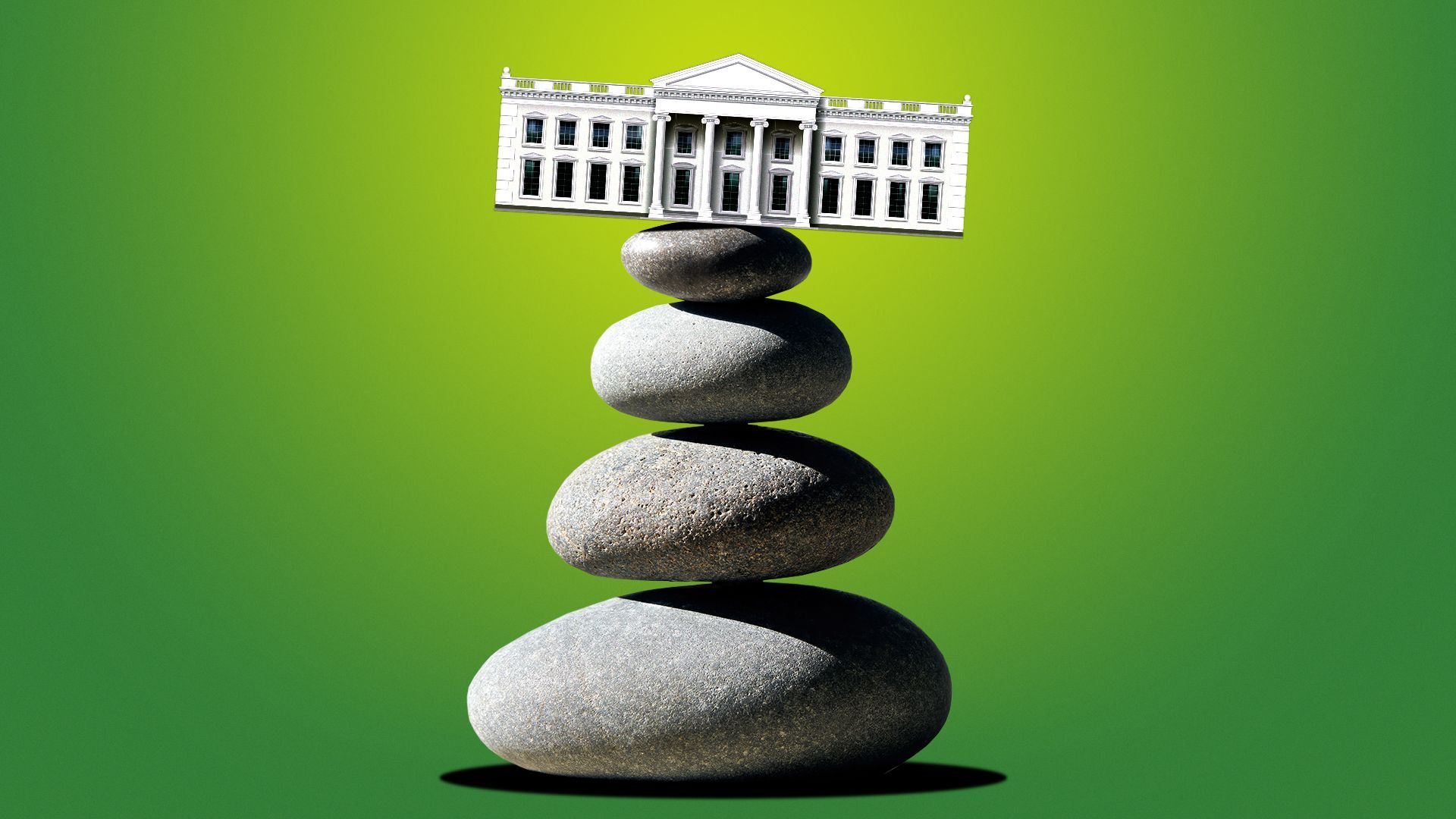 White House Chief of Staff Jeff Zients's first appointment in the morning is reserved for himself: 20 minutes of transcendental meditation at 4:30am. For the rest of the day, inclusivity is his mantra.
Why it matters: As White House officials adjust to new management under Zients, who succeeded Ron Klain in early February, they're in more meetings than before, according to administration officials. Zients, a longtime management consultant, is a big believer in delegating.
The new approach puts more officials directly before the president and appears to be leading to some faster decisions from Biden.
Two early examples: The announcement of Julie Su for Labor secretary and Ajay Banga to lead the World Bank, just weeks after their predecessors indicated they were leaving. That's lightning speed for a personnel decision in Biden world.
Yes, but: There has been at least one unforced error in Zients' tenure so far — Biden infuriated vulnerable House Democrats when he announced that he would not veto Republicans' D.C. crime bill after first indicating he opposed it.
Some progressives, who counted Klain as an ally, have been grumbling about Zients' political instincts, according to Politico.
Behind the scenes: After his daily meditation and ritual workout, Zients is at the White House by about 7am.
His first official meeting takes place in his corner office at 8:15am, with fewer than a dozen participants, including senior adviser Anita Dunn; counselor Steve Ricchetti; deputy chiefs of staff Mike Donilon, Jen O'Malley Dillon, Bruce Reed, and Natalie Quillan; communications director Ben LaBolt; press secretary Karine Jean-Pierre; director of Oval Office operations Annie Tomasini; first lady adviser Anthony Bernal; and, on occasion, national security adviser Jake Sullivan.
At 8:40 a.m., the meeting expands to around 30 and moves to a crowded Roosevelt Room, with roughly two-thirds of the participants attending in person and the rest, like Treasury Secretary Janet Yellen, attending virtually.
Midmorning, it's time to brief Biden in the Oval. Zients starts on his own, but then policy experts or senior advisers are summoned to discuss specific issues.
Presentations are tight — as short as two minutes — but the president can always linger on an issue if he wants to. The goal is to reach a decision.
Between the lines: Klain's morning sessions with Biden tended to be more one-on-one.
Current officials are reluctant to publicly compare the two leaders, but privately, the differences are obvious and frequently discussed.
Klain — supremely confident in his abilities to do just about every White House job — made many decisions on his own, or in direct consultations with the president.
The intrigue: At Klain's happy hours, french fries from the White House mess were washed down with beers.
Zients offers charcuterie boards and South African wines (as well as beer).
What they're saying: "Different times require different chiefs of staff," Dunn told Axios.
"There are as many ways to do the job as there are chiefs of staff, and Jeff's approach will succeed for him just as it succeeded when he ran OMB and NEC," said Klain.
Zients "structures very tight meetings when dealing with the day-to-day operations of the government," said former Sen. Ted Kaufman (D-Del.), also Biden's longtime chief of staff in the Senate.
"At the same time he understands when making decisions, President Biden requires many disparate views to assure that he makes quality decisions for the future of the country," he said.
Go deeper: Officials point to the collapse of Silicon Valley Bank as the first test of Biden's new team, with both Zients and National Economic Council Director Lael Brainard new on the job.
The bank failure rattled Wall Street and the tech community. In the end, the Biden's administration's solution, which emphasized protecting deposits, prevented the spread of a systemic contagion.
Two thirds of Americans, including a majority of Republicans, approve of Biden's approach, according to a Yahoo poll.
The bottom line: Bringing more people into White House meetings doesn't always guarantee faster decisions or smooth sledding.
But Zients is convinced that it does.
Go deeper