Scoop: White House's lunchroom back in business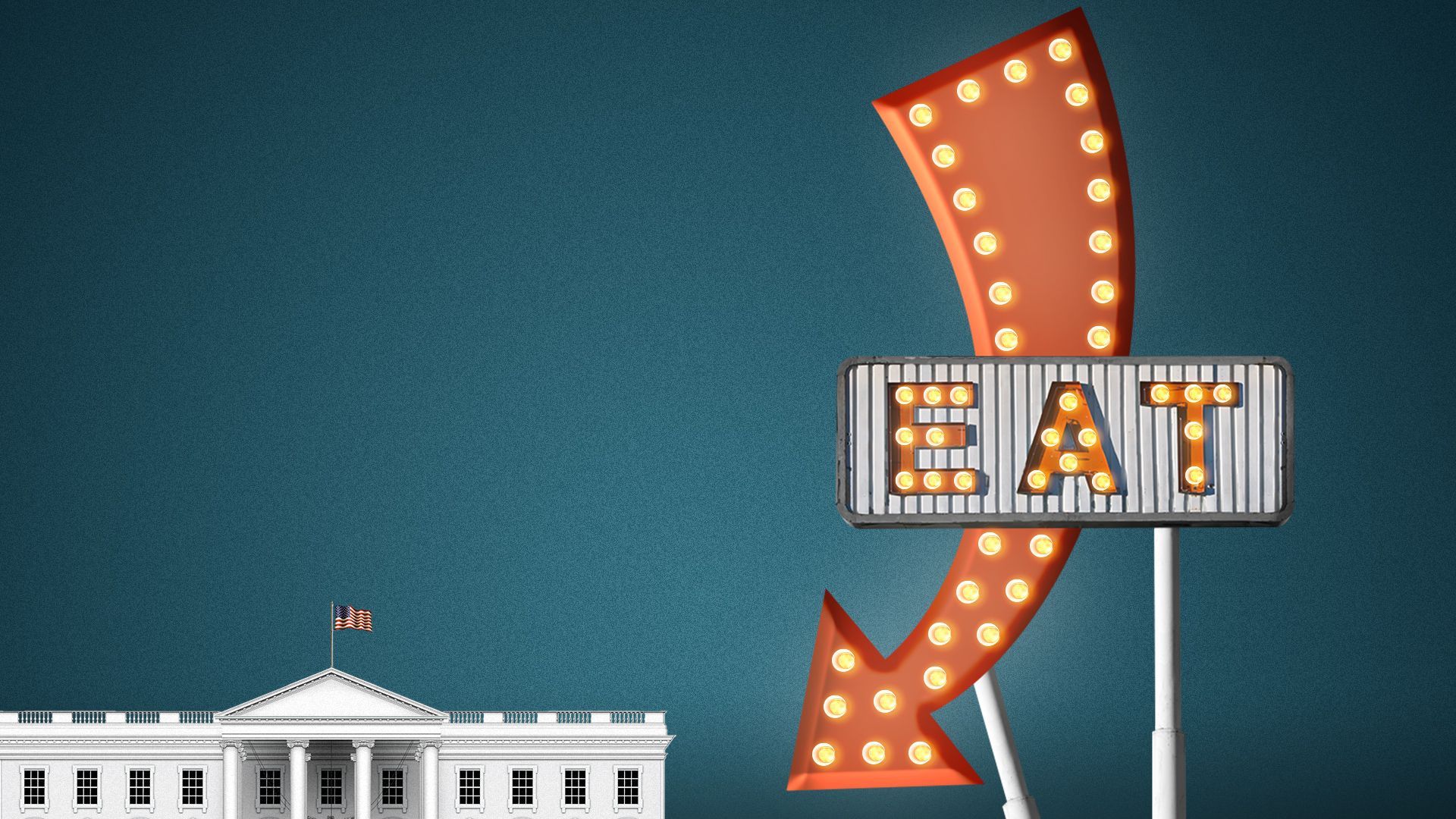 The White House mess will open for in-person dining for the first time in President Biden's White House on March 6, according to an internal email viewed by Axios.
Why it matters: The wood-paneled room with a nautical theme has been closed since the winter of 2020 under COVID restrictions, and its re-opening is the latest sign of the White House's embrace of a post-pandemic world.
In March, officials with the rank of assistant to the president and deputy assistant to the president can invite guests for breakfast and lunch, right outside the situation room. Cabinet officials also will be welcomed.
The dining room has been closed for three years, with only the take-out window open, depriving top officials of the simple pleasure of cutting through crispy chicken tenders on White House china.
State of play: Casually called the "Navy mess" by those with access, it's run by Navy personnel and includes standard American fare.
The main menu is predictable, but the specials can be ambitious.
Yesterday, in a nod to Mardi Gras, creole corn chowder and "ragin' cajun gumbo" were offered.
By D.C. standards, prices are low. A BLT costs $6. The West Wing burger is $7, with French fries another $2.50.
The service is excellent and Navy personnel are known to remember customers' favorite orders.
Between the lines: Like parking on West Executive Avenue, having dining-room privileges in the mess is a coveted perk in the West Wing.
Later in April, special assistants to the president will be able to make reservations.
Junior aides working in the West Wing can still order take-out. The frozen yogurt is a hit.
The intrigue: In the last few administrations, it was rare for most reporters to dine there. Invitations typically were reserved for celebrated columnists, particularly sympathetic journalists, or TV personalities.
In the Trump era, beat reporters dined there more frequently, both in the main dining room (for everyone to see) or the more discreet side rooms.
The bottom line: The best part about dining in the White House mess: Telling people you dined in the White House mess.
Go deeper