Biden to nominate Julie Su to head Labor Department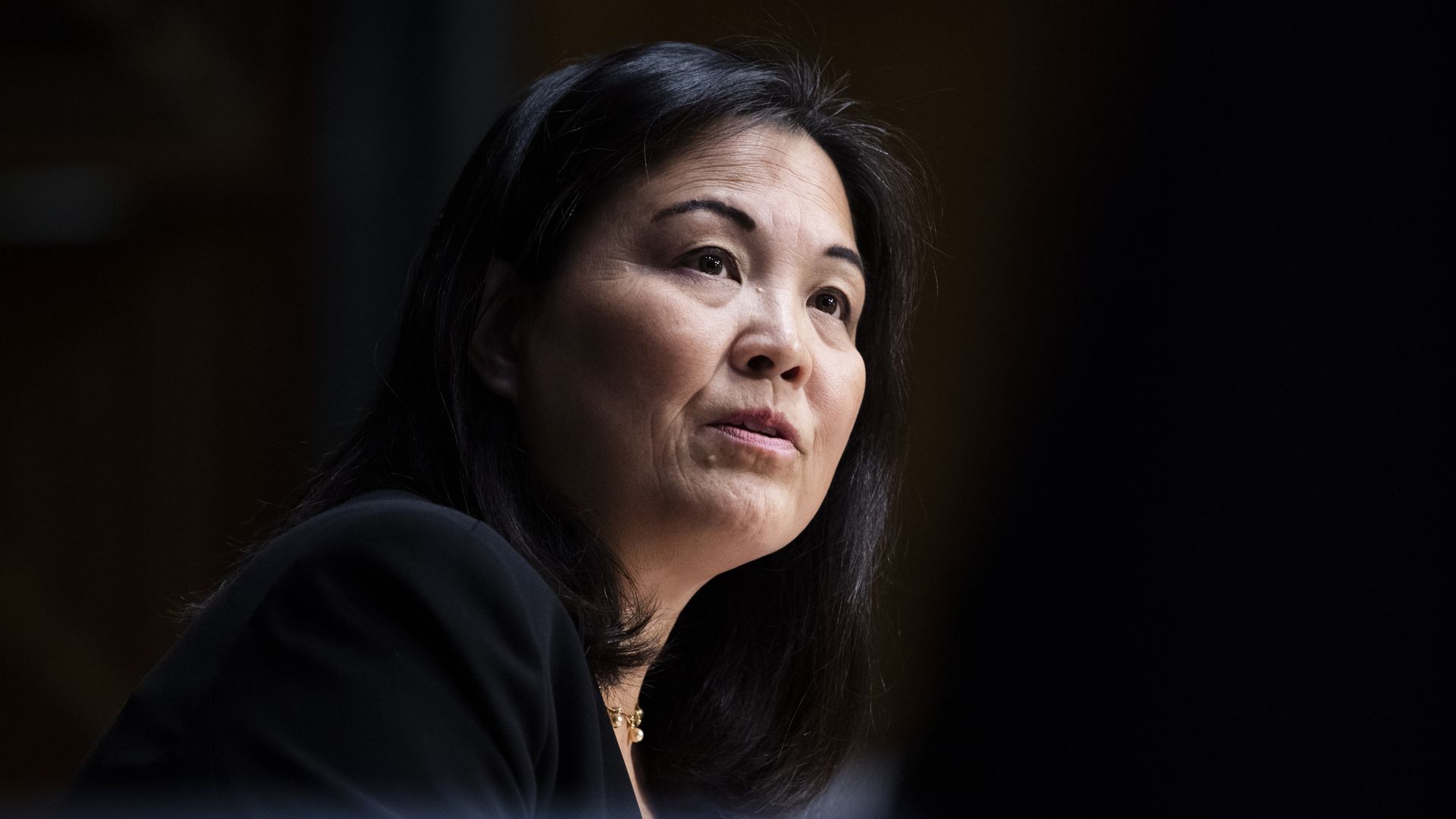 President Biden announced Tuesday that he plans to nominate Julie Su, a longtime advocate for workers' rights, to lead the Labor Department.
Why it matters: If confirmed, Su, who currently serves as the department's No. 2, will replace outgoing labor secretary Marty Walsh, making her the first Cabinet-level secretary of Asian heritage in the Biden administration.
Asian American lawmakers and advocates, who first pushed for Biden to nominate Su after his election in 2020, had renewed their calls in recent weeks.
Biden's Cabinet was the first in 20 years without an Asian American or Pacific Islander secretary — despite his promise to build the "single-most diverse" Cabinet in U.S. history.
What he's saying: "Julie has spent her life fighting to make sure that everyone has a fair shot, that no community is overlooked, and that no worker is left behind," Biden said in a statement Tuesday.
Alongside Walsh, Su "helped avert a national rail shutdown, improved access to good jobs free from discrimination through my Good Jobs Initiative, and is ensuring that the jobs we create in critical sectors like semiconductor manufacturing, broadband and healthcare are good-paying, stable and accessible jobs for all," Biden added.
"I look forward to continuing to work with Julie to build an economy that works for working people, and I respectfully ask the Senate to take up this nomination quickly."
The big picture: The daughter of Chinese immigrants, Su served as California's labor secretary before joining the federal government.
She has "worked closely with unions" and "spent 17 years as a civil rights attorney representing workers who are often invisible," per Biden's statement.
During that time, she represented "workers who are often invisible," Biden said, including dozens of Thai garment workers who were trafficked into the U.S.
What's next: Biden will formally nominate Su for the job during a White House ceremony this week, according to Senate officials briefed on the decision.
Her nomination will then go to the Senate for approval, where it will be taken up by the Senate Committee on Health, Education, Labor and Pensions.
Sen. Bernie Sanders (I-Vt.), the committee chair, said in a statement Tuesday that he is "confident Julie Su will be an excellent Secretary of Labor."
Sanders had backed Sara Nelson, president of the Association of Flight Attendants, or former Labor Secretary Robert Reich to step into Walsh's role, Punchbowl News reported. But Sanders noted Tuesday that he looks forward to working with Su.
Yes, but: Su is likely to face some opposition from Republicans, who previously questioned her handling of fraud during her time leading California's unemployment insurance office.
In a statement Tuesday, Sen. Bill Cassidy (R-La.), ranking member of the HELP committee, called Su's record "troubling."
Cassidy, who voted against Su's nomination for her current job, said she "is currently overseeing the Department of Labor's development of anti-worker regulations that will dismantle the gig economy. This does not inspire confidence in her ability to hold her current position, let alone be promoted."
Her nomination is nonetheless a win for Asian American Democrats, two of whom at one point threatened to oppose Biden's "non-diversity" nominees due to tensions over the absence of an AAPI Cabinet-level secretary.
Don't forget: Three Asian Americans — Vice President Kamala Harris, U.S. Trade Representative Katherine Tai, and Arati Prabhakar, director of the Office of Science and Technology Policy — currently serve as Cabinet-level officials but are not Cabinet secretaries.
Editor's note: This story has been updated with new details throughout, including statements from Sens. Sanders and Cassidy.
Go deeper