Biden's new chief of staff to set a course for '24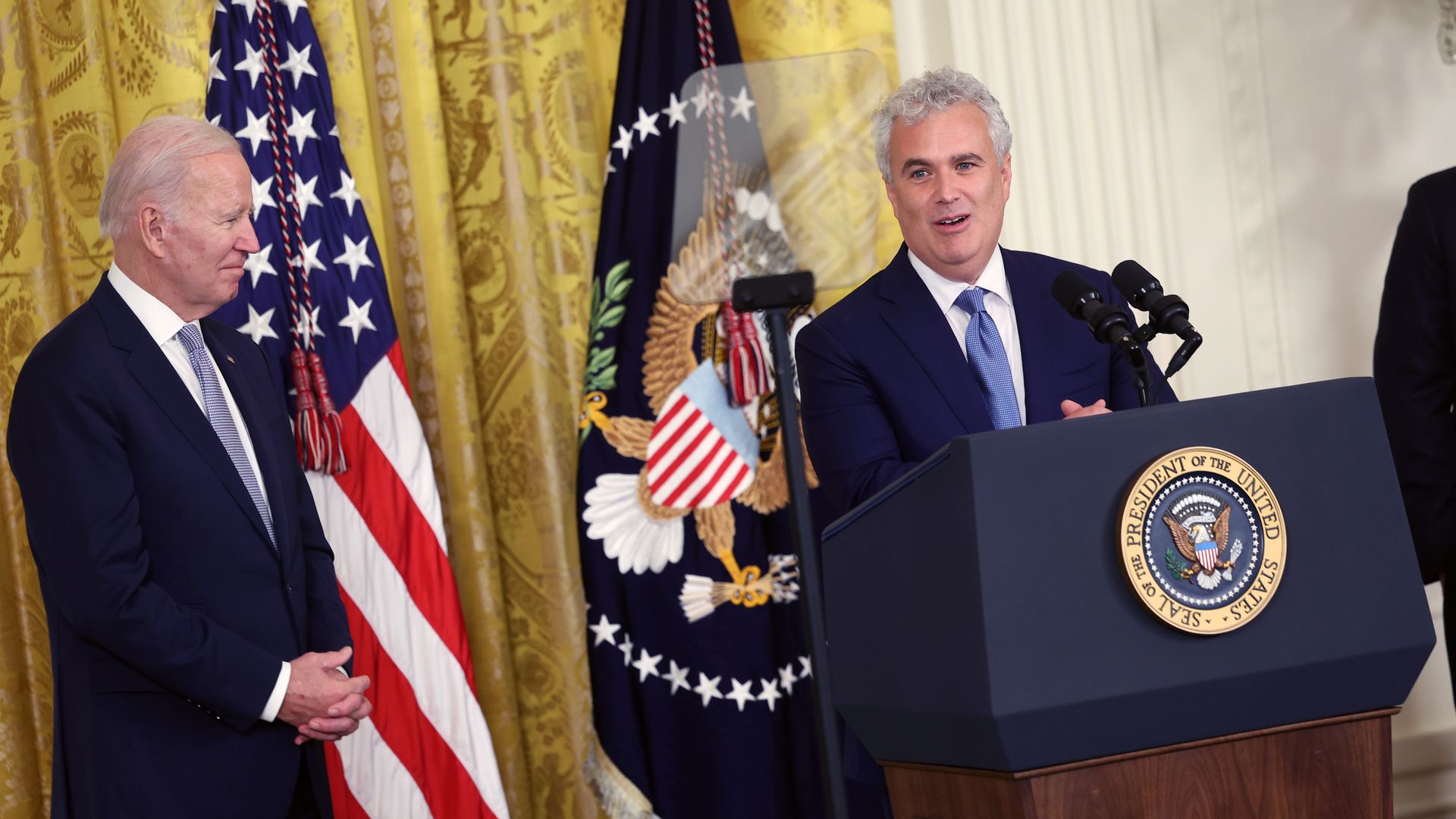 In Jeff Zients' White House, meetings will start (and end) on time, decks and slides will replace memos, and subordinates will be empowered to make decisions.
Why it matters: As Chief of Staff Ron Klain's successor, Zients will bring a decidedly different management style to the position, with ripple effects across an administration pointing toward the 2024 election, current and former officials say.
Klain, who started working for Biden in the late 1980s, brought years of D.C. experience — and strong views — to his dream job.
Zients, who led Biden's pandemic response, isn't as opinionated and will delegate much more. That will give the core members of Biden's team, most notably senior adviser Anita Dunn, greater influence on daily tactics and long-term strategy.
Zients also will rely more on counselor Steve Ricchetti, senior adviser Mike Donilon, deputy chiefs of staff Jen O'Malley Dillon and Bruce Reed, and Louisa Terrell, the head of legislative affairs.
Driving the news: At a ceremony Wednesday, Biden praised Klain's grit, intellect and integrity.
"He is willing to jump in front of a bus for you," Biden said.
Zients will focus more on implementing existing laws than working with Congress to write new ones, Biden suggested.
The White House will spend much of the next two years focused on ensuring that the $1.2 trillion infrastructure package and the $740 billion tax, climate and health care law passed during Biden's administration are implemented "efficiently and effectively and fairly," the president said.
Klain's last official day is Feb. 8. He leaves on a high note, having helped pass three consequential pieces of legislation, retain the Senate for Democrats and minimize the party's losses in the House in November's election.
Between the lines: Zients manages like Mike Krzyzewski coached at Zients' beloved Duke University. He scouts talent, assembles elite teams, then demands results.
"Governing is never easy," Zients said at the White House. "But when you have the right team, you can accomplish anything. It all comes down to people."
What we're watching: Zients doesn't think every issue requires its own meeting. Sometimes, a short phone conversation is more efficient. He has been known to schedule two-minute calls.
What we're hearing: Zients manages up, as well as down. Obama still speaks fondly of him. And he obviously has Biden's confidence.
Zients is unlikely to linger on Twitter like Klain, who was quick to amplify a piece of data — such as declining gas prices — to make political points.
The big picture: The changing of the guard is happening at a pivotal moment in Biden's presidency. He's facing GOP-led congressional investigations on everything from his handling of classified documents to the U.S. withdrawal from Afghanistan and actions by his son, Hunter.
The president's personal attorneys are cooperating with the Justice Department on how he handled classified information, and a special counsel is investigating.
Meanwhile, Biden is preparing to announce his plans to run for re-election, appearing to set a Rose Garden strategy that would amplify the power of the presidency.
Go deeper