Biden to nominate Ajay Banga to lead World Bank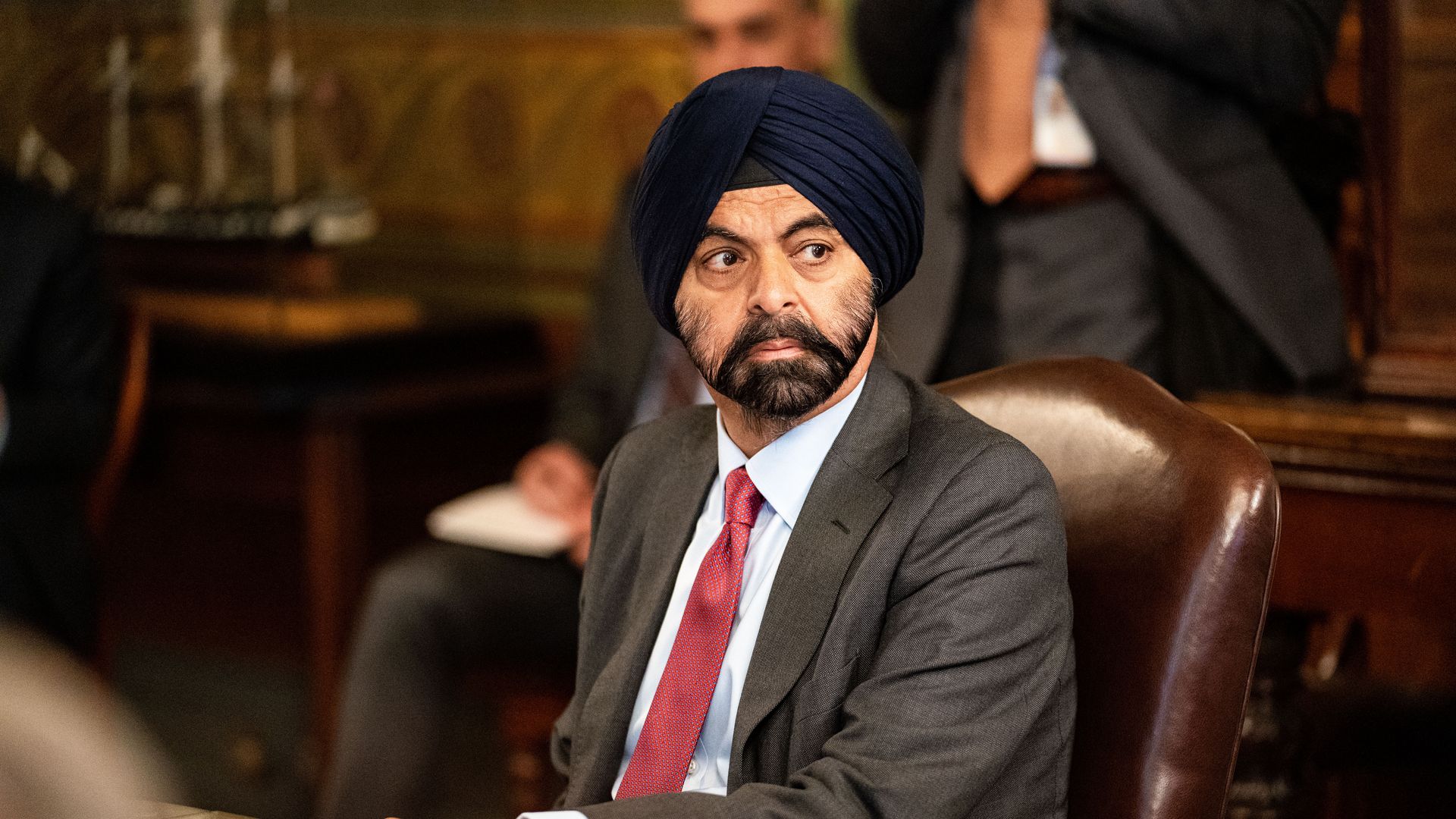 President Biden will nominate Ajay Banga, former president and CEO of Mastercard, to serve as president of the World Bank, the White House announced today.
Why it matters: Banga, who was born and educated in India before becoming a U.S. citizen in 2007, would replace David Malpass, a former Trump Treasury official who announced last week that he would be leaving his post early.
Malpass caused a furor last September when he appeared to question the causes of climate change, leading to calls for his resignation from prominent climate activists, including former Vice President Al Gore. Malpass later apologized and clarified his remarks.
The Biden administration was prepared to seize upon his departure to encourage the World Bank to be more aggressive in using its lending facilities to fund projects to fight climate change.
What they are saying: "Ajay is uniquely equipped to lead the World Bank at this critical moment in history," Biden said in a statement.
"He has spent more than three decades building and managing successful, global companies that create jobs and bring investment to developing economies, and guiding organizations through periods of fundamental change."
"As a renowned executive, Mr. Banga has led a global organization with nearly 20,000 employees, advocated for diversity and inclusion, and delivered results," Treasury Secretary Janet Yellen said in a statement.
"His efforts have helped bring 500 million unbanked people into the digital economy, deploy private capital into climate solutions, and expand economic opportunity through the Partnership for Central America."
"This guy is the right person, at the right place, at the right time," said David Beasley, head of the World Food Program and a former Republican governor of South Carolina. "He's a get-it-done kind of leader."
The intrigue: By tradition, the United States gets to nominate the head of the World Bank and European members reserve the right to pick the head of the International Monetary Fund.
But leaders from the developing world have been questioning this arrangement and calling for a non-American to be selected as head of the World Bank.
Other countries can still nominate their own candidates for the World Bank's board to consider. The U.S. is the bank's largest shareholder.
In Banga —who's 63, born in Pune and the son of an Indian Army officer — the Biden administration appears to be nodding to those concerns.
"Raised in India, Ajay has a unique perspective on the opportunities and challenges facing developing countries, and how the World Bank can deliver on its ambitious agenda to reduce poverty and expand prosperity," Biden said.
Flashback: The Biden administration installed another Indian-American, Gita Gopinath, as the number-two at the IMF in 2021. That position also historically goes to a U.S. citizen.
Go deeper: During his international career, Banga has done everything from introducing the Pizza Hut and Kentucky Fried Chicken franchises to India to managing Citigroup's overseas credit card operations.
He took the top job at Mastercard in 2010 and then left at the end of 2021. He currently is vice chairman at General Atlantic, a private equity firm.
The bottom line: The White House wants the World Bank to leverage public funds to attract more private investment for climate projects. It also wants to give the developing world more access to basic banking and lending services.
Banga's experience reflects those goals.
Editor's note: This story has been updated to include Banga's age and additional comments on his selection.
Go deeper