Biden set to pounce on much-wanted surprise at World Bank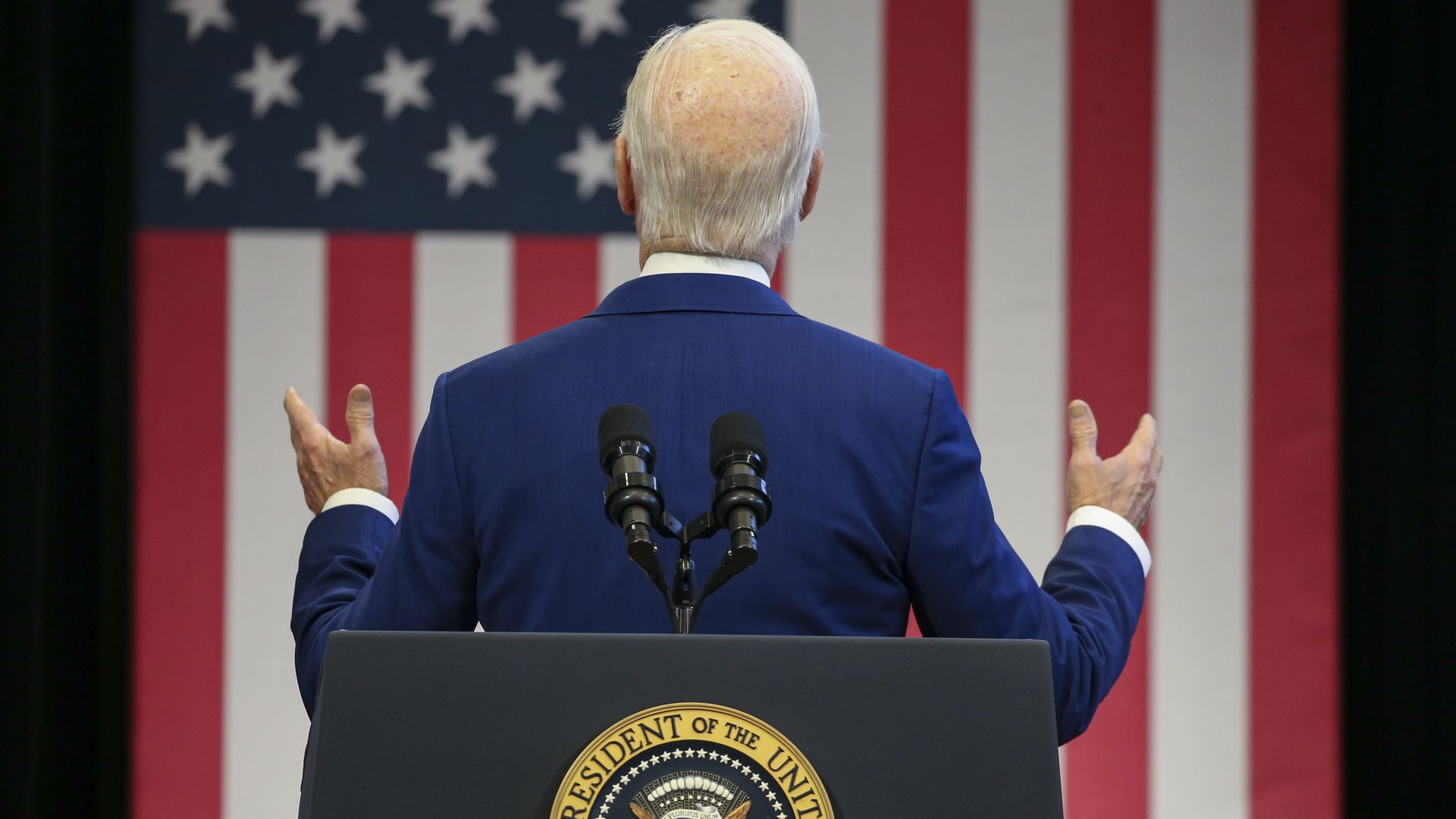 President Biden plans to move quickly to replace David Malpass as president of the World Bank Group, seizing on his departure to transform the bank into an institution dedicated to fighting climate change, White House advisers say.
Why it matters: Malpass' surprise decision to leave his term early gives the Biden's administration something it wanted even before the president was inaugurated: A chance for Biden to pick a new World Bank leader.
Team Biden wants a candidate who is committed to expanding the bank's lending facilities to finance more renewable energy projects in the developing world.
Climate needs to be one of its central missions, advisers say.
Flashback: In September, Malpass, a former Trump official who was installed at the bank by the former president, caused a furor when he appeared to question the causes of climate change.
Malpass apologized and tried to clarify his remarks, saying he wasn't a scientist. Biden officials considered removing him before his term was scheduled to end in April 2024.
Ultimately, they decided against publicly ousting him, partly because they didn't want to upset an informal agreement that allows the U.S., the bank's largest shareholder, to pick the president.
The intrigue: Minutes after Malpass informed the bank's board on Wednesday that he was leaving, Treasury Secretary Janet Yellen was out with a statement — a sign that top officials were aware of Malpass' early exit plans.
After thanking Malpass for his service, she indicated the U.S. wanted to preserve its prerogative to pick the president.
"We will put forward a candidate to lead the World Bank and build on the bank's long-standing work," she said.
What we're hearing: Whispers about Malpass' plans have been quietly circulating in Washington for a few weeks, giving team Biden time to consider potential replacements.
News of his announcement flew across Washington, leading to speculation on who Biden would reward with the plum — and powerful — position.
As with his approach to his Cabinet, Biden is interested in diversity, according to advisers.
The big picture: The Biden administration has been working on a broader effort to transform the World Bank, and other multilateral development banks, to expand their mission beyond poverty alleviation and focus on a range of global issues.
The plan, described by Yellen last week at the Center for Strategic and International Studies, calls for "decisive action on global challenges like climate change."
Along with implementing some $370 billion in domestic climate provisions in the Inflation Reduction Act, Biden advisers are focused on reducing carbon emissions around the globe.
With little congressional appetite for additional spending, the White House plans to rely on institutions like the World Bank to help developing countries transition to renewable energy.
Be smart: Reforming the World Bank was an undercurrent to Yellen's 10-day tour of Africa in January.
She was also explicit on her criteria for who should lead the bank.
"I would not want to see a new head of the World Bank appointed who is really dismissive of that kind of agenda," she told Axios in an interview in Johannesburg, South Africa.
Go deeper