Yellen's message in Africa: We're here to stay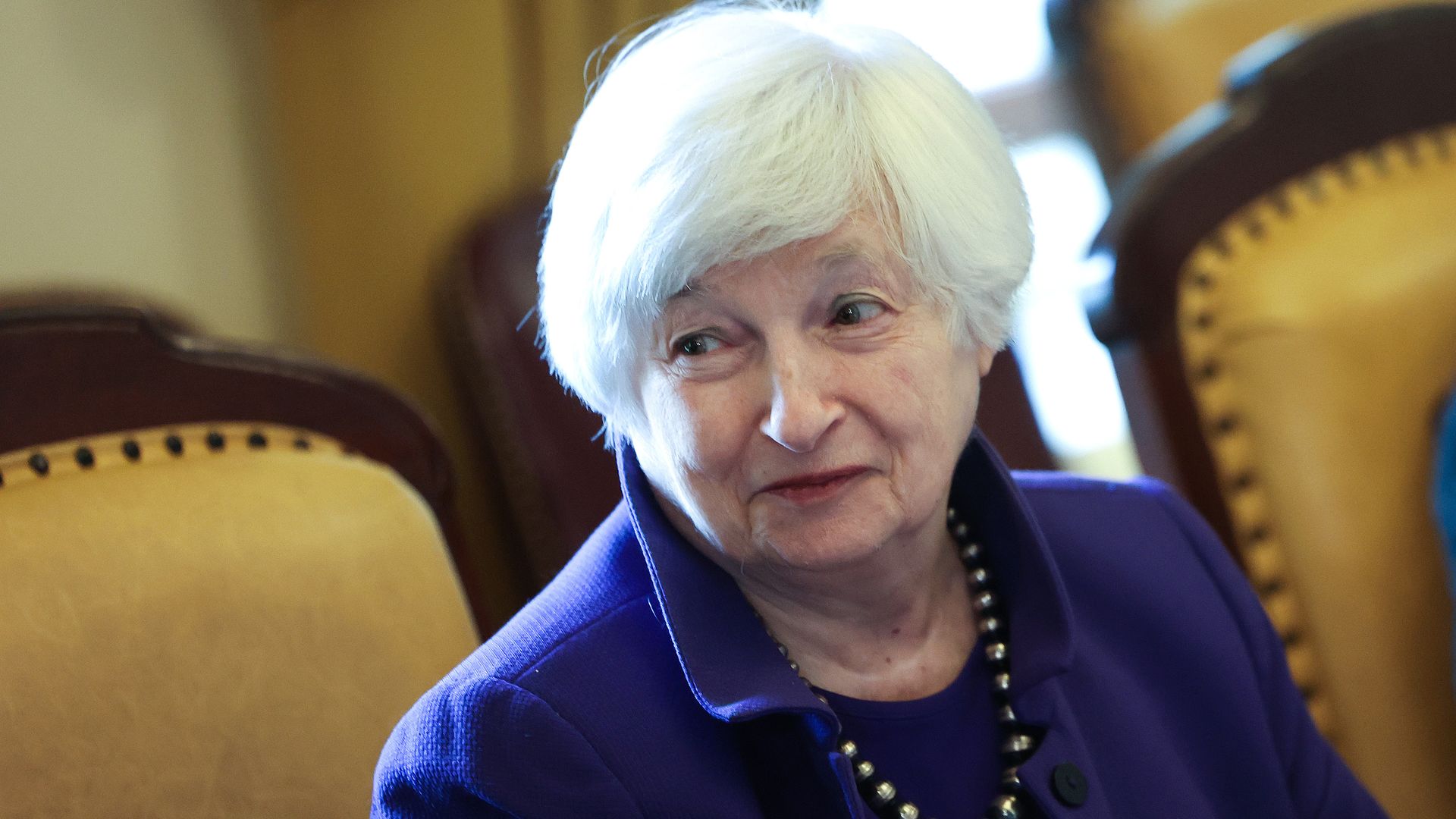 Treasury Secretary Janet Yellen is kicking off her 10-day trip to Africa with a promise that America is committed to the continent through good times and bad.
Why it matters: The Biden administration is trying to counter China's entrenched influence and infrastructure in the region by offering African countries an alternative path on economic and political security.
Underneath the continent are some of the world's biggest reserves of critical minerals, crucial to the Biden's administration's plans to transition the world to greener energy.
At the same time, Africa's exploding population will demand a bigger share of the world's jobs and energy resources.
While China has deployed billions of dollars in Africa in its belt and road initiative, some leaders have bristled at the debt burdens of doing business with Beijing, with leaders calling the infrastructure projects "exploitative."
The Biden administration wants to offer an alternative.
What they are saying: "The United States is all in on Africa, and all in with Africa," Yellen will tell a group of women entrepreneurs tomorrow in Dakar, Senegal, in a speech meant to set the tone of the trip.
"Our engagement is not transactional, for show, or for the short-term," she will say, according to prepared remarks.
"The United States is here as a partner to help Africa realize its massive economic potential at home and advance its growing leadership abroad."
Driving the news: Yellen arrived in Dakar last night, fresh off a nearly three-hour meeting with China's vice premier Liu He, where both leaders tried to lower the temperature in bilateral relations and pledged better communications for the sake of the global economy.
Yellen's trip will be a mixture of soft diplomacy and firm offers on what the U.S. government and businesses can do to improve the quality of life for Africans.
But she'll also acknowledge the hardships -- and historical wrongs – Africans have suffered on America's path to prosperity, starting with the forced journey of enslaved people to America's shores.
On Saturday, she will visit Gorée Island, a UNESCO World Heritage site that served as a slave trading post in West Africa.
Between the lines: Yellen's trip to Africa will be shaded by high-profile visits from officials from the two countries – China and Russia – whose influence she is trying to check.
Qin Gang, China's new foreign minister, kicked off his tenure with a five-stop trip that ended Monday.
And Sergei Lavrov, Russia's foreign minister, will arrive in Pretoria, South Africa a few days ahead of Yellen for his own charm offensive.
Go deeper: Yellen's next stop is Zambia, which is facing its own debt crisis. There, she'll focus on global health and will tour a U.S. lab that employs locals to distribute anti-malarial medicine.  
She will end her trip in South Africa, long the economic anchor of the continent but which now faces significant challenges. The country's electricity grid is failing, causing regular blackouts and protests.
While there, she'll visit the coal mining region and discuss U.S. efforts to help South Africa transition to cleaner energy.  
Go deeper