California pulls $54M contract with Walgreens over abortion pill decision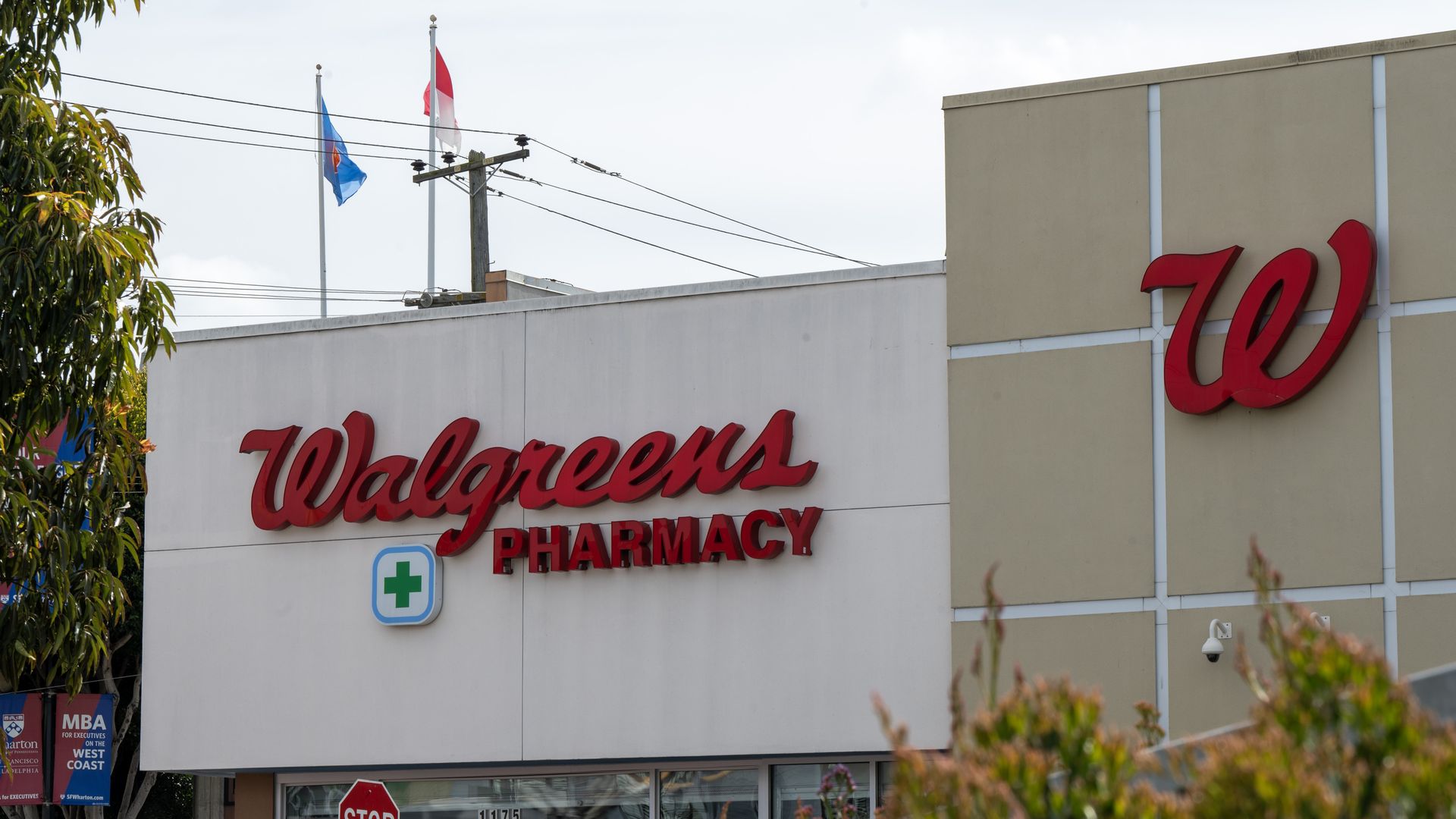 California will not renew a $54 million contract with Walgreens over the chain's decision to not dispense abortion pills in some states where abortion remains legal, Gov. Gavin Newsom's (D) office announced on Wednesday.
The big picture: Walgreens said that it would not be dispensing mifepristone — used in medication abortions — in some states where abortion remains legal in response to a letter from Republican attorneys general saying the pharmacy chain could face legal consequences for distributing the drug.
Walgreens responded to the Republican AGs' letter "indicating we will not dispense Mifepristone in their respective states," company spokesperson Fraser Engerman confirmed to Axios last week.
The chain has not started dispensing mifepristone, but it intends "to be a certified pharmacy and will distribute Mifepristone only in those jurisdictions where it is legal and operationally feasible," Engerman added.
Catch up fast: On Monday, Newsom tweeted that California was "done" with Walgreens. At the time, it was unclear what "business" with the company the state was ending.
Brandon Richards, a spokesperson for Newsom's office, told Axios on Monday that "California is reviewing all relationships between Walgreens and the state" — it's possible that other actions could follow.
Newsom said in an interview with Politico that this is the first step in an "exhaustive review" of all state ties with the pharmacy giant.
What they're saying: "California is on track to be the fourth largest economy in the world and we will leverage our market power to defend the right to choose," Newsom said in a statement.
"We are deeply disappointed by the decision by the state of California not to renew our longstanding contract due to false and misleading information," Walgreens said in a statement in response to Newsom's decision.
"Walgreens is facing the same circumstances as all retail pharmacies, and no other retail pharmacies have said that they would approach this situation differently, so it's unclear where this contract would now be moved," the company added.
"Our position has always been that, once we are certified by the FDA, Walgreens plans to dispense Mifepristone in any jurisdiction where it is legally permissible to do so, including the state of California."
Between the lines: Walgreens did not clarify whether that meant it would in fact be providing mifepristone in some red states where abortion is legal.
Some of the Republican-led states where abortion remains legal that warned Walgreens against dispensing mifepristone include Alaska, Iowa, Montana and Kansas.
Axios reached out to the AGs of the aforementioned states, and got responses from Kansas and Alaska, both of which indicated they were unaware of any actions from Walgreens dismissing their initial plan to not offer mifepristone in their states.
Alaska and Iowa have laws in place stating that abortion pills must be provided by a physician. On the other hand, similar laws in Kansas and Montana have been blocked, per the Guttmacher Institute.
Details: The contract in question is between the California Department of General Services and Walgreens, and it allows the state to "procure specialty pharmacy prescription drugs, primarily used" by California's correctional health care system, according to Newsom's office's press release.
The department gave formal notice that it is "withdrawing a planned renewal of that agreement set to take effect on May 1, 2023, and instead will explore other options for furnishing the same services."
Under this decision, Walgreens will no longer provide medications to inmates in California's correctional system.
Newsom's office says that as a result of this partnership, Walgreens has received about $54 million from California.
What we're watching: California is the only state to take such action, so far.
Minnesota Gov. Tim Walz (D) told Axios' Torey Van Oot on Tuesday that he has "deep concerns" about Walgreens' abortion pill decision, but added that his state is "not making that move" at this time.
Don't forget: A judge in Texas could rule at any point to dismiss the Food and Drug Administration's approval of mifepristone, which would effectively end access to the drug nationwide.
Go deeper:
Editor's note: This story was updated with a statement from Walgreens.
Go deeper