20 Dem governors form coalition to protect abortion access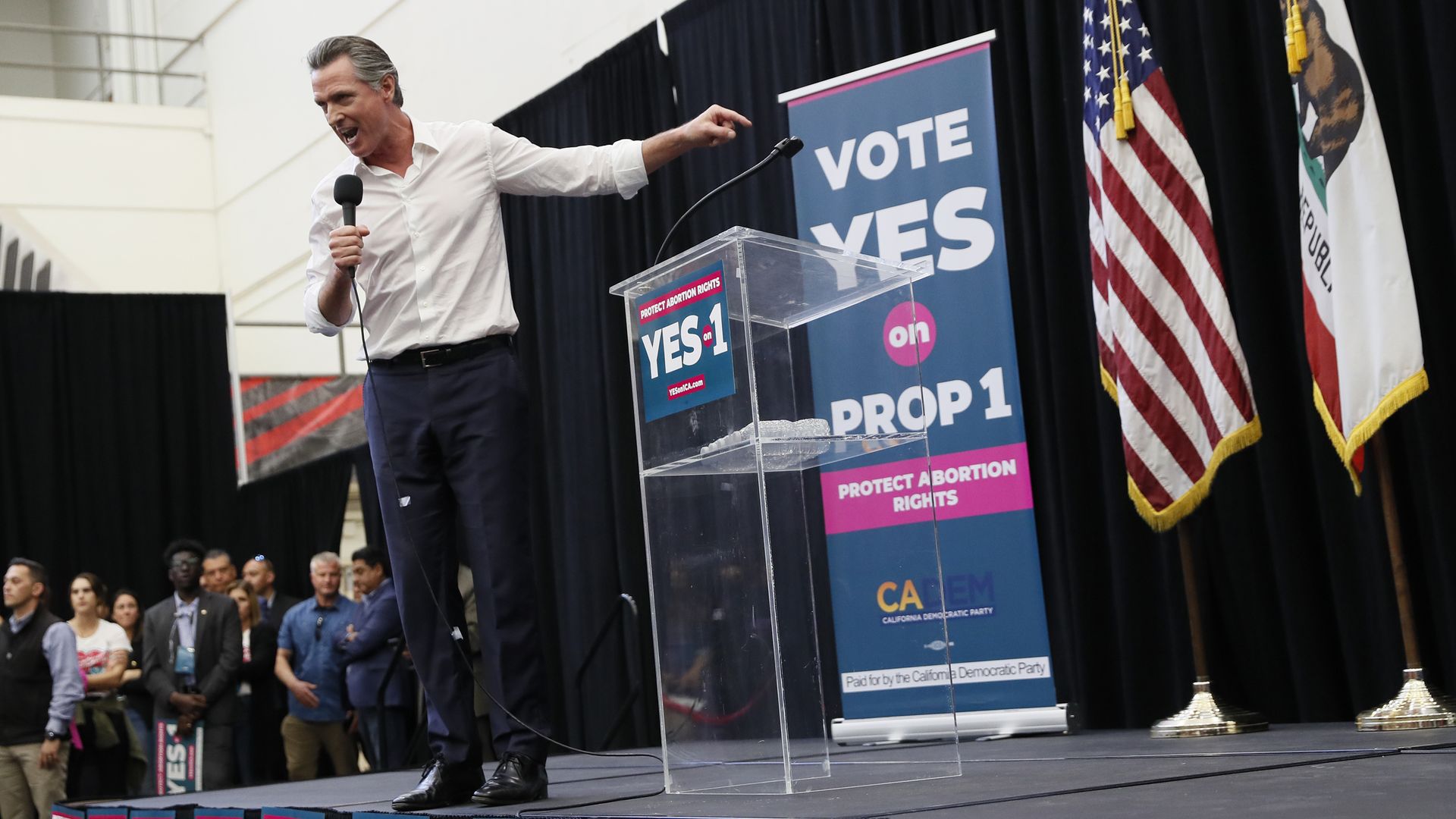 A group of 20 Democratic members on Tuesday announced they are forming a coalition to protect and expand abortion access in their states as bans continue to be enacted following the fall of Roe v. Wade.
The big picture: The Reproductive Freedom Alliance works as a formal structure for governors to respond together to bans coming from red states and "judges who are advancing their ideological agenda" — particularly the upcoming ruling from a judge in Texas that could end access to abortion pills nationwide.
While the group — which was initiated by California Gov. Gavin Newsom (D) — calls itself nonpartisan, so far only Democratic governors have joined.
Democratic governors that have yet to join the group include: Arizona Gov. Katie Hobbs, Kansas Gov. Laura Kelly, Kentucky Gov. Andy Beshear and Louisiana Gov. John Bel Edwards — the last of which notably does not support abortion rights.
Members include the governors of Pennsylvania and Wisconsin, states with Democratic governors but Republican-controlled legislatures, as well as states that already have legal protections in place.
State of play: Staff of the governors are expected to meet at least once a month and the governors themselves would instead meet once or twice a year to discuss abortion protective measures, according to The Washington Post.
Zoom in: The group builds on California, Oregon and Washington's "West Coast offense" efforts to expand access to abortion as the states prepared to receive an influx of patients following the Supreme Court's Dobbs decision.
What they're saying: "As governors representing nearly 170 million people across every region of the country, we are standing with all people who believe in reproductive freedom and health care," the governors said in a joint statement.
"In the last year alone, over 36 million women have lost access to critical health care with the overturning of Roe v. Wade," they said, adding that they are concerned about attempts to ban medication abortion, laws that criminally prosecute health providers, and potential restrictions on birth control.
Go deeper: Where abortion access is protected without Roe v. Wade
Go deeper