Michigan State University campus shooting leaves 3 dead, 5 critically injured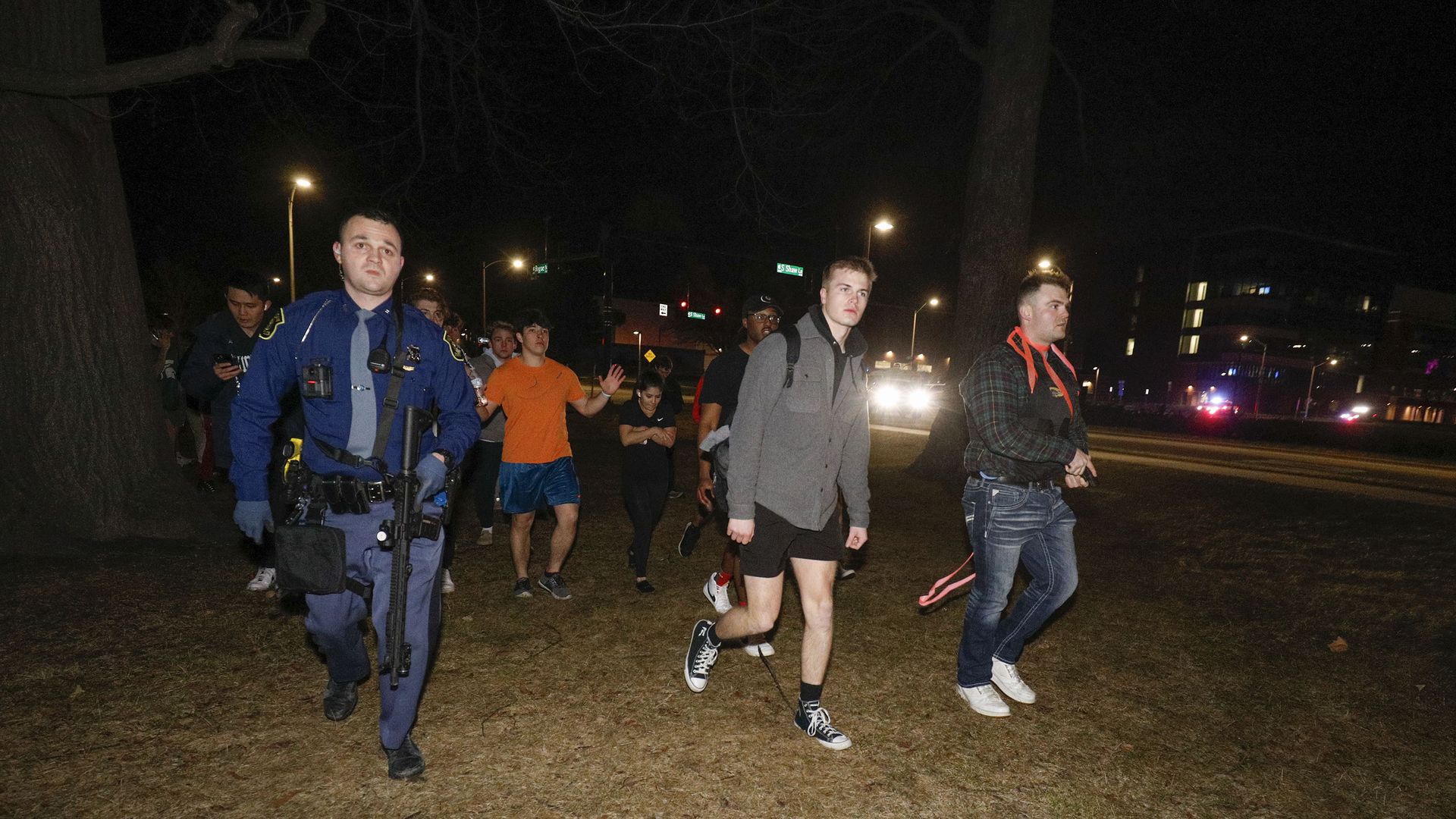 Michigan State University police said a shooting in two locations around the school's East Lansing campus on Monday night left three students dead and five other students hospitalized in critical condition.
The latest: Authorities on Tuesday identified the three students who died — junior Arielle Anderson of Grosse Pointe, sophomore Brian Fraser of Grosse Pointe and junior Alexandria Verner of Clawson. The other five students remain in the hospital in critical condition.
Chris Rozman, an interim deputy chief of the campus police, said at a news conference early Tuesday that the 43-year-old suspect, who later died off campus of self-inflicted gunshot wounds, was not affiliated with the university. "We have no idea why he came to campus," he said.
Rozman said the suspect's name was Anthony Dwayne McRae in another press conference Tuesday morning.
A pair of schools in Ewing, N.J., were closed Tuesday "out of an abundance of caution" after an investigation found McRae had ties to the town and "had a note in his pocket that indicated a threat to" the schools, the Ewing Police Department said in a statement Tuesday.
Police said further investigation found the incident was "isolated to Michigan" and there was "no threat to Ewing."
McRae "had not resided in the Ewing for several years," police said after further investigation. He also "had a history of mental illness."
What they're saying: "We're all broken by an all too familiar feeling — another place that's supposed to be about community and togetherness shattered by bullets and bloodshed," Michigan Gov. Gretchen Whitmer said in a press conference Tuesday morning.
"We know this is a uniquely American problem. Today is a fifth anniversary of the Parkland shooting. We're mere weeks past the Lunar New Year shooting at a dance hall, and a few months past a shooting at an elementary school in Uvalde. We're looking back on a year marked by shootings at grocery stores, parades and so many other ordinary, every-day situations," Whitmer said.
"We cannot keep living like this," she said. "We must act, and we will."
Rep. Elissa Slotkin, who represents the district MSU is located in, said she is "filled with rage" shootings after the Nearby Oxford High School November 2021.
"You either care about having an open, honest conversation about what is going on in our society, or you don't," she said. "But please don't tell me you care about the safety of children if you're not willing to have a conversation about keeping them safe in a place that should be a sanctuary."
"We have children in Michigan who are living through their second school shooting in under a year and a half," she said. "If this is not a wake up call to do something, I don't know what is."
Meanwhile, President Biden said he spoke to Whitmer on Monday night and "directed the deployment of all necessary federal law enforcement to support local and state response efforts."
"Our hearts are with these young victims and their families, the broader East Lansing and Lansing communities, and all Americans across the country grieving as the result of gun violence," Biden said in a statement Tuesday.
"The fact that this shooting took place the night before this country marks five years since the deadly shooting at Marjory Stoneman Douglas High School in Parkland, Florida, should cause every American to exclaim 'enough' and demand that Congress take action," Biden added.
Catch up quick: Police received reports of a shooting at 8:18pm and officers responded within minutes, Rozman said. Hundreds of officers were involved in the search for the suspect, who was not immediately identified.
Rozman said two people were killed at Berkey Hall, home to the College of Social Science, Institute for Public Policy and Social Research, and the Department of Sociology at the campus, some 90 miles northwest of Detroit.
A second shooting "immediately following the first incident" that occurred at the MSU student union left one person dead, he added.
"This truly has been a nightmare that we are living tonight," Rozman said.
Of note: The FBI's Detroit office said on Monday night that it was assisting in the law enforcement response.
The Bureau of Alcohol, Tobacco, Firearms and Explosives in Detroit tweeted moments earlier that it was "responding to an Active Shooter" on the campus.
Editor's note: This article has been updated with additional details throughout.
Go deeper