Media layoffs loom large over 2023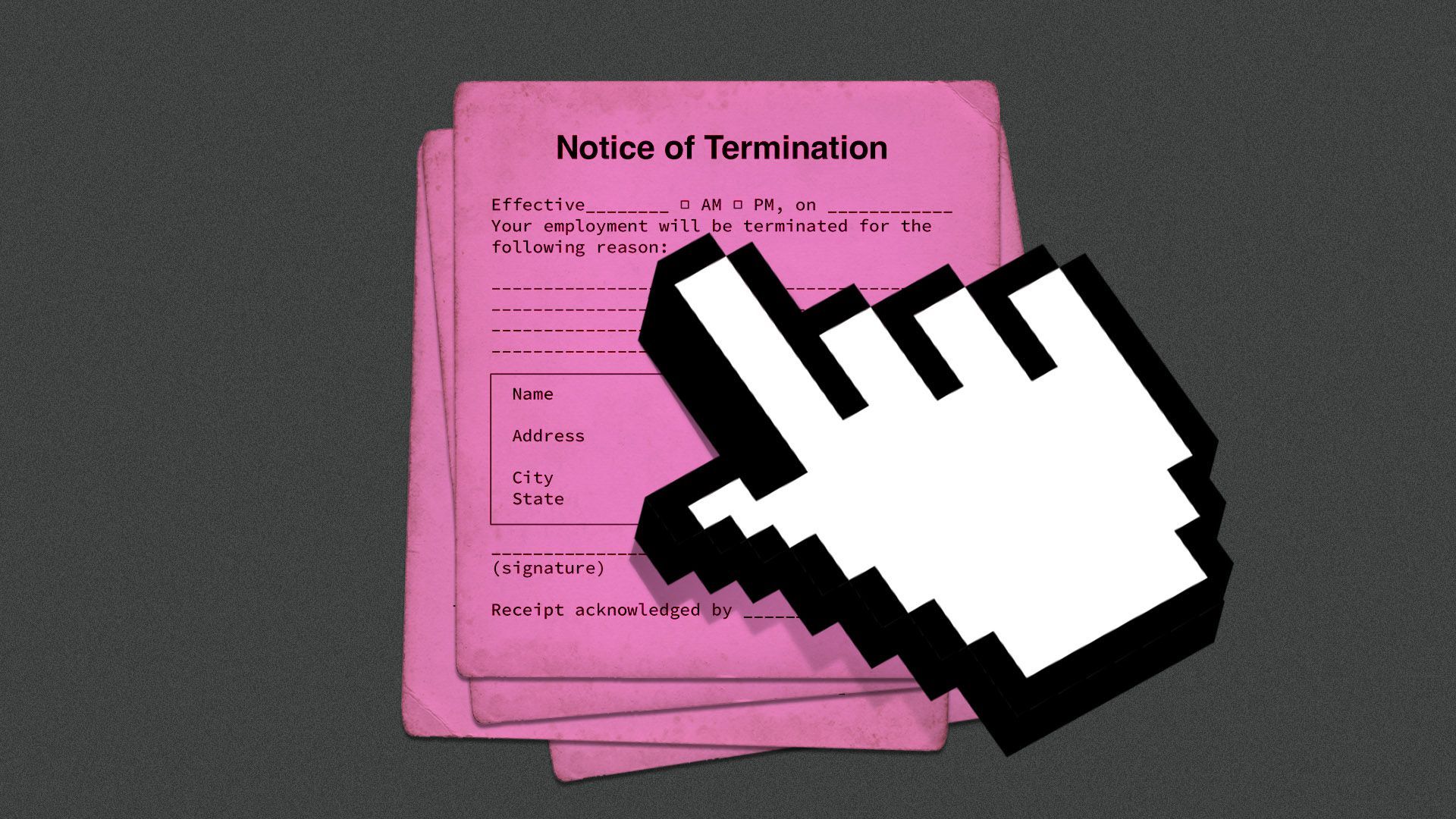 A slew of media companies and tech firms have begun to announce sweeping job cuts as the economy continues to face uncertainty.
Why it matters: For millions of people across both industries, the layoffs feel like whiplash.
Flashback: An unprecedented number of jobs were cut early on in the pandemic, as a response to temporary advertising headwinds. Now, it looks like those fears are trickling back.
Details: After a rough winter with cuts at entertainment giants like Warner Bros. Discovery and Disney, digital media brands like Morning Brew and Vice Media and newspapers like Gannett, more media companies started the year with news of layoffs.
Adweek, a trade publication covering the ad industry, told staff it was cutting about 10% of its workforce, impacting 14 people.
Vox Media, which owns The Verge, Thrillist and New York magazine, laid off 7% of its staff. That amounts to about 133 roles.
Fandom, an entertainment news company, laid off workers across some brands it had acquired last year including Giant Bomb, GameSpot and Metacritic. The company had employed fewer than 500 people and the cuts affected less than 10%, per Variety.
NBC News and MSNBC laid off about 75 staffers across divisions, per Adweek. These cuts followed a broader structural reorganization.
The Washington Post has been bracing for layoffs. The Jeff Bezos-owned company is expected to cut a single-digit percentage of its workforce soon, as announced by the paper's publisher and CEO in December.
The big picture: Dramatic cuts also have extended across the tech industry. Several companies have attributed the layoffs, in part, to over-hiring during the pandemic.
In January alone, Spotify (600), Google (12,000), Microsoft (10,000), Salesforce (8,000), Amazon (18,000), Coinbase (950) and Vimeo (140) have let go of staffers, amounting to nearly 50,000 tech workers in total.
Twitter, now under the management of Elon Musk, has continued to cut staff. Musk said Twitter has about 2,300 employees, down from 7,500 when he took over in October.
What we're watching: Companies have enacted other cost-cutting measures. In November, Vice Media CEO Nancy Dubac said her company planned to cut costs by "up to 15%."
In December, NPR canceled its summer internship program as it attempts to make $10 million in budget cuts.
Go deeper:
Go deeper