Washington Post braces for layoffs after surprise Jeff Bezos visit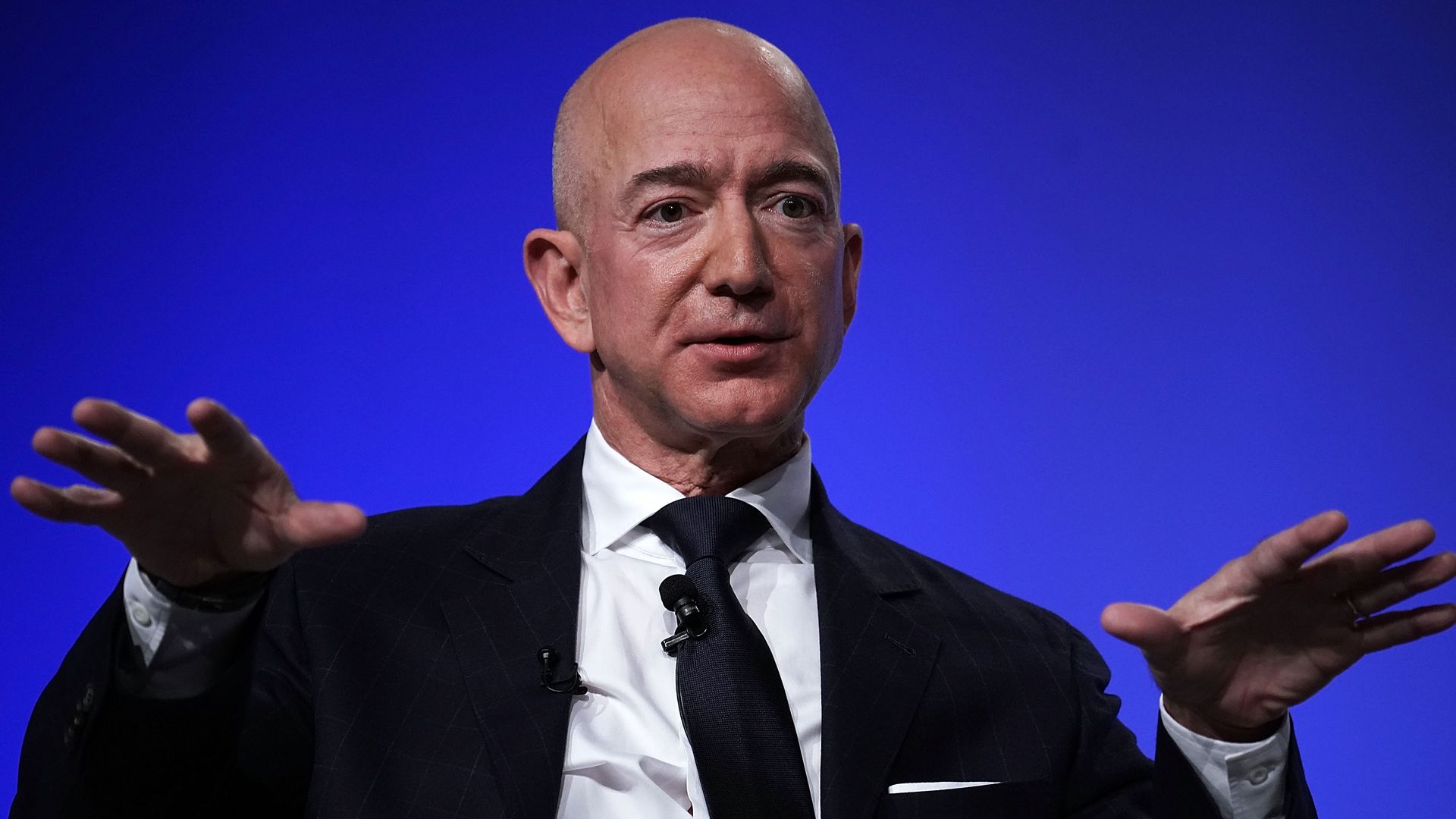 Washington Post owner Jeff Bezos made a surprise appearance at an editorial meeting with senior newsroom staffers on Thursday, reigniting tensions around pending layoffs at the company, sources told Axios.
Why it matters: Bezos was heralded at The Post as an innovator whose deep pockets and investments in technology helped the paper move towards a digital future. Amid broader business and cultural challenges at the company, his presence is being regarded differently.
Catch up quick: The Post's publisher Fred Ryan announced in a chaotic meeting last month that the storied paper was planning layoffs this quarter.
Those layoffs are expected to impact the Post's newsroom, which has caused an uptick in staffers joining the company's union. At least 60 people have joined since that December meeting, according to The Washington Post Guild.
The union has about 670 members, roughly 67% of the eligible staffers, according to the union. Of those members, some 580 are from the newsroom with about 76% of eligible newsroom staffers represented.
The union has been bargaining with management over a new contract since last summer, meeting about every week last year and every other week now.
Details: Bezos joined Ryan and The Post's executive editor Sally Buzbee at the company's morning meeting for senior editorial staffers in a large glass conference room within the company's newsroom.
The meeting, a source said, was cordial. Bezos complimented the journalists on the job they've been doing but declined to provide any commentary on pending layoffs.
Yes, but: Outside of the meeting, the mood was grim. During the meeting, several newsroom staff members began grabbing and putting on red union T-shirts, as a way to show force as Bezos walked through the building.
The Post's news guild was communicating to staffers during the meeting via Slack where to find the T-shirts.
Of note: Bezos was first seen at The Post on Wednesday, according to a source in the building. Puck News reported Wednesday that Bezos met with Ryan then.
Around noon on Thursday, the union held a meeting with members to offer guidance about what they knew regarding upcoming layoffs.
"We know everyone is feeling anxious, unsettled and afraid, and we want to help however we can," one Post staffer posted in the union's Slack with information about the meeting.
Union leadership and members are not exactly sure of when the layoffs will be, or which roles will be impacted, despite repeated asks during December's town hall, bargaining meetings and via emails. Union leaders have advised staffers to stay in contact with each other.
The big picture: Tensions surrounding business and culture challenges have been escalating at the Post for months, but came to a head when Ryan announced the upcoming layoffs during the December town hall.
Layoffs have spread across the news media industry with CNN, Vice Media, Gannett and others cutting hundreds of jobs overall. Other newsrooms have enacted other cost-cutting measures like hiring freezes.
What to watch: The Post was not profitable last year, following heavy investments in certain editorial departments, like climate and wellness.
The roles that are targeted as a part of future layoffs will be a strong indicator of the direction Post management and Bezos want the company to move in.
Go deeper