Justice Department sues Google for "corrupting" ad market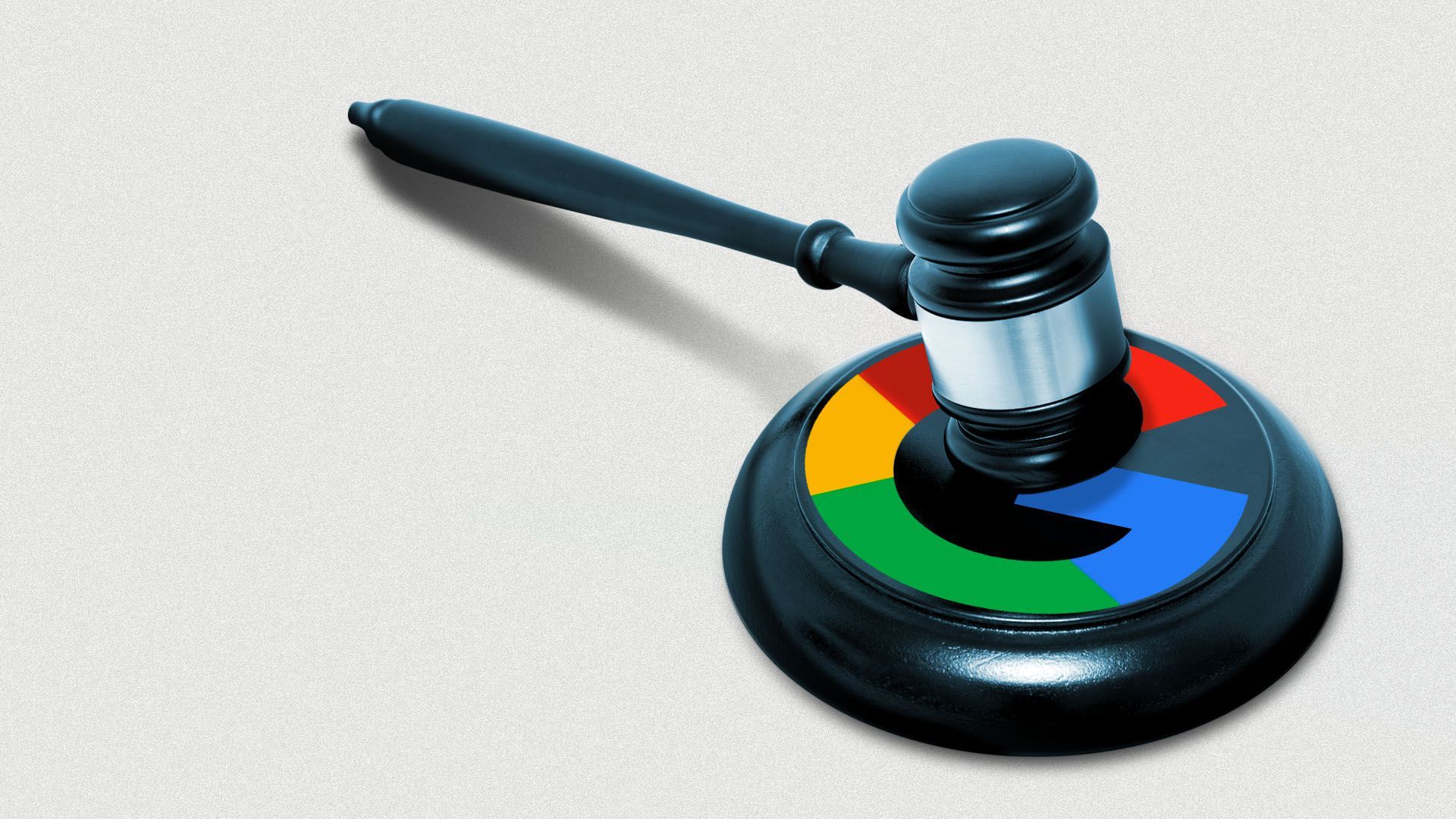 The Justice Department and eight states on Tuesday filed an antitrust lawsuit against Google's parent company Alphabet, accusing the tech giant of illegally abusing its dominance in digital advertising and violating the Sherman Antitrust Act.
Why it matters: It's the second major antitrust lawsuit filed against Google by the Justice Department in the last three years, and if successful it could force Google sell off much of its ad business.
The DOJ and a coalition of state attorneys general sued Google in 2020 for allegedly using anticompetitive tactics to illegally monopolize the online search and search advertising markets. That lawsuit is ongoing.
Details: "Competition in the ad tech space is broken, for reasons that were neither accidental nor inevitable," the filing reads. "One industry behemoth, Google, has corrupted legitimate competition in the ad tech industry by engaging in a systematic campaign to seize control of the wide swath of high-tech tools used by publishers, advertisers, and brokers, to facilitate digital advertising."
Bloomberg reported Monday that the lawsuit was imminent.
The suit is seeking a judgment that Google has unlawfully monopolized both the publisher ad server market and advertiser ad network in the U.S. and acted unlawfully by tying products together.
What they're saying: "Today's lawsuit from the DOJ attempts to pick winners and losers in the highly competitive advertising technology sector. It largely duplicates an unfounded lawsuit by the Texas Attorney General, much of which was recently dismissed by a federal court. DOJ is doubling down on a flawed argument that would slow innovation, raise advertising fees, and make it harder for thousands of small businesses and publishers to grow," a Google spokesperson said in a statement.
The big picture: Google is already under heavy antitrust scrutiny around the world and faces anger from U.S. lawmakers on both sides of the aisle.
The case is also a major test for President Joe Biden's antitrust officials, who have been vocal about wanting to rein in the power and dominance of the biggest tech companies.
By the numbers: Google earned $209 billion in ad revenue in 2021, making it the largest advertising company in the world. By comparison, Meta — the second-largest ad company globally — made around $115 billion in ad revenue that same year.
The vast majority of Google's revenue (81% in 2021) comes from advertising.
Last year, Google's ad business took a hit thanks to economic headwinds impacting the growth of the global ad market.
The company will report its full-year earnings report next week. It's still expected to bring in more than $200 billion in ad revenue for the full year.
Catch up quick: Google's advertising dominance stems, in part, from a handful of ad tech acquisitions that regulators argue have given it a leg up on ad-serving over its competitors.
In 2007, it purchased DoubleClick — an ad-serving company — for $3.1 billion, giving it access to a vast online marketplace where Google could sell display ads to place on the websites of thousands of online publishers.
In 2010, it acquired AdMob — a mobile ad network — for $750 million in stock, allowing Google to plant a flag in the quickly-growing mobile ad business that grew with the iPhone market.
Be smart: The lawsuit could meaningfully slow advances in Google's ad business at a time when it's starting to show signs of weakness thanks to the economy and growing competition from e-commerce companies like Amazon and streaming firms.
The company announced last week that it plans to lay off 12,000 workers to offset its rapid expansion during the pandemic.
The biggest proponents of antitrust action against Google's ad business have long been online publishers and smaller tech firms.
Flashback: Google has been hit with numerous antitrust penalties over the past five years in the U.S. and Europe, worth many billions of dollars. It has also paid hundreds of millions in data privacy settlements in the U.S.
What's next: Google now has a chance to respond to the DOJ's initial complaint, and the process will be slow. Typical antitrust suits of this scale can take years to resolve, and some have taken more than a decade.
Editor's note: This is a breaking news story and will be updated.
Go deeper:
Go deeper