The regulatory mistakes that let Facebook and Google buy ad dominance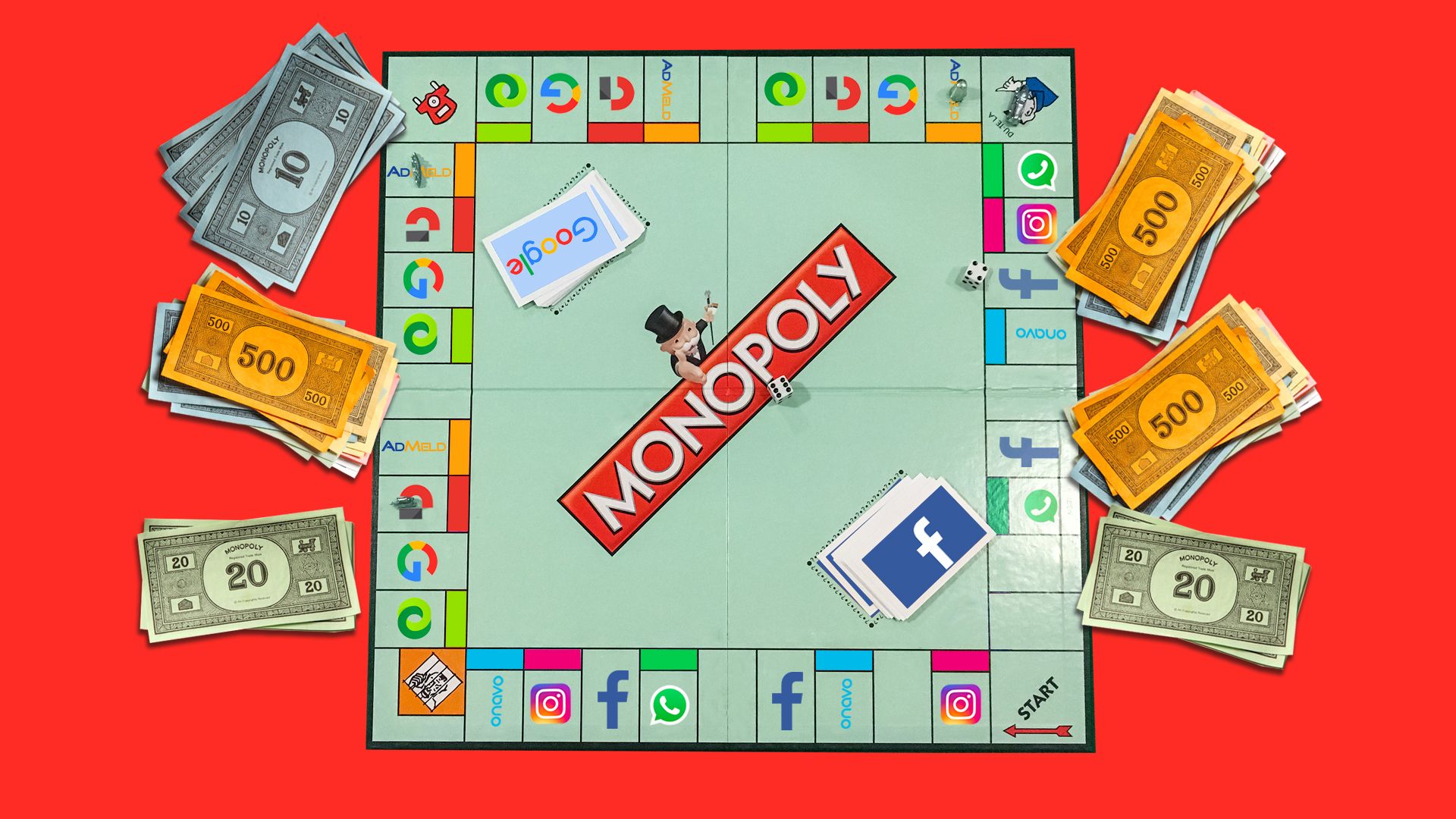 Several major acquisitions have helped Google and Facebook on their way to unprecedented dominance over the advertising supply chain, antitrust analysts argued at the Open Markets Institute forum in Washington last week.
Why it matters: Many blame these two companies for absorbing the majority of ad revenue that would've gone to traditional media.
The big picture: A new global advertising forecast from Magna, an Interpublic agency, forecasts that Google and Facebook's ad revenue will grow 31% this year. Every other traditional ad medium is seeing growth declines or plateaus.
"There's been key instances where both Google and Facebook that have engaged in practices that have a very distinct anti-competitive flavor... They both have built their dominance in part through acquisitions... [not just with] sheer virtue [and] fantastic technology."
— Lina Khan, Director of Legal Policy with the Open Markets Institute
There are six acquisitions that experts cited as missed opportunities by regulators at the Justice Department and the Federal Trade Commission to curb the advertising market dominance of Google and Facebook.
For Google, most of its acquisitions helped scale its ad-serving dominance.
1) Google's acquisition of DoubleClick for ad-serving: "If you go back to the DoubleClick acquisition in 2007, these are exactly the concerns that people raised," says Jonathan Kanter, a prominent antitrust lawyer who represents companies acting against Google's business practices on other types of issues related to Google. "They said if one company controls the buy side and the sell side in the exchange than they're going to be able to manipulate the market." The FTC permitted the acquisition on the false assumption that AOL and Yahoo would be able to keep the playing field level. 
2) Google's acquisition of AdMob for its own mobile ad-network: "The FTC got close to blocking that deal," but Kanter says it didn't because it felt Apple's acquisition at the same time of a likeminded company called "iAd" would even out competition. iAd has since been discontinued.
3) Google's acquisition of AdMeld: The DOJ approved a $400 million accusation of AdMeld, an advertising optimization platform for publishers in 2011. Kanter said the DOJ approved the deal after a six month investigation and wrongly assumed AdMeld would face competition from ad networks. Longtime tech reporter Julia Angwin agreed with Kanter that this premise was off because the technologies were not really competitors.
For Facebook, most of its acquisitions helped scale its ad inventory.
1) Facebook's acquisition of Onavo for VPN serving: "It (Onavo) now acts as it internal spy machine," Khan says. "In theory it allows users have more privacy but what also allows for Facebook to track in very close detail which rival applications are diverting attention from Facebook and allows them to identify this in very early stages and then go out and and either acquire those rival apps or build similar ones on their own."
2) Facebook's acquisition of Instagram for ad inventory: "With Instagram there was a sense they weren't even direct competitors," says Khan. "There was some naiveté about how actually Instagram would help Facebook extend its power over social networking space."
3) Facebook's acquisition of Whatsapp for expanded user base: "With Whatsapp, there were direct promises that Facebook made around keeping certain data separate, ensuring that Whatsapp acquisition would not be used in such a way to enhance Facebook's power overall," says Khan. (In Europe, regulators fined Facebook $122 million earlier this year for not being transparent enough around data disclosures in its 2014 WhatsApp acquisition.)
Be smart: Efforts to be more transparent in light of recent privacy news are shining a light on how dominant both platforms are over entities dependent on their networks, especially news publishers.
Google's interpretation of GDPR has the power to make or break for publishers, Khan argues. At issue is whether Google asking publishers to ask consumers for data consent put publishers in a tough position.
Facebook's policy of which content should be archived as political is receiving massive blowback from publishers.
This has created an unprecedented challenge for regulators that have for decades viewed antitrust policy from the lens of whether market dominance was used to raise prices on costumers. Data-driven businesses tend to offer advertising opportunities at scale, for cheaper rates than traditional advertising and their products are free for consumers in exchange for data.
Regulators struggle to do something now about Google and Facebook's massive advertising dominance because both companies use their scale — driven in part through big, approved acquisitions — to keep advertising rates fairly low.
But experts argued regulators have traditionally been slow to recognize the ways in which the acquisition of data can be anti-competitive, we're in a stage now that they are more aware of data's value in the new tech-driven economy.
What's next: A new slate of FTC commissioners that were just sworn in last month gives experts hope that data-driven dominance will be a larger focus for regulatory enforcers at the FTC.
Go deeper