House starts 15th ballot on dramatic night of speakership vote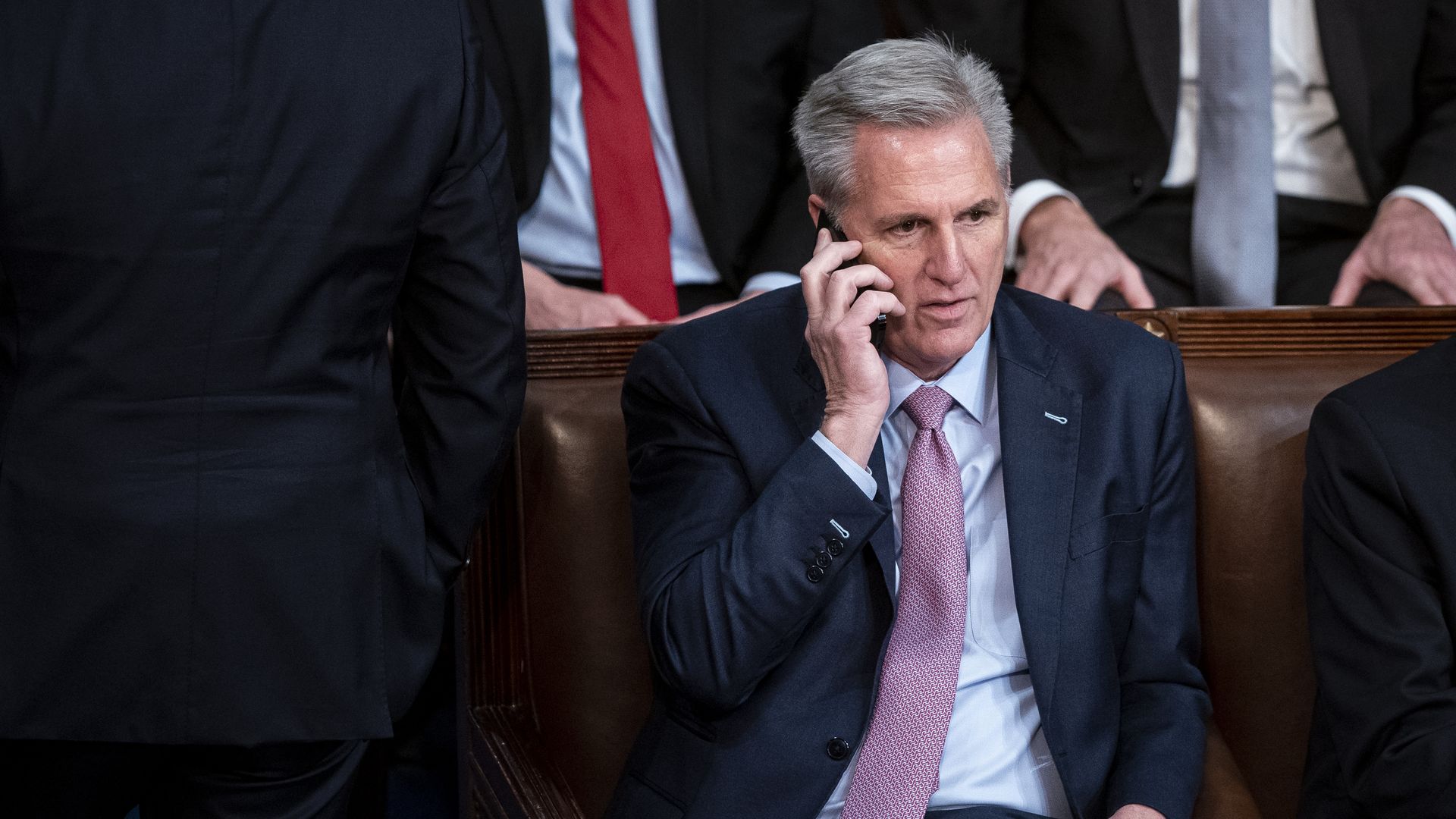 House GOP Leader Kevin McCarthy fell just short of a majority vote for the speakership after two holdouts voted "present" instead of "no" late Friday night.
Driving the news: In a historic 14th straight round of voting, Reps. Lauren Boebert (R-Colo.) and Matt Gaetz (R-Fla.) voted present, leaving McCarthy with 216 of the 432 total votes.
The House had reconvened at 10 p.m. after adjourning Friday afternoon to give McCarthy more time to seal the deal.
Former President Trump gave McCarthy a last-minute boost by calling both Gaetz and Rep. Andy Biggs (R-Ariz.) on Friday and telling them the speakership needed to be resolved, a source familiar with the calls tells Axios.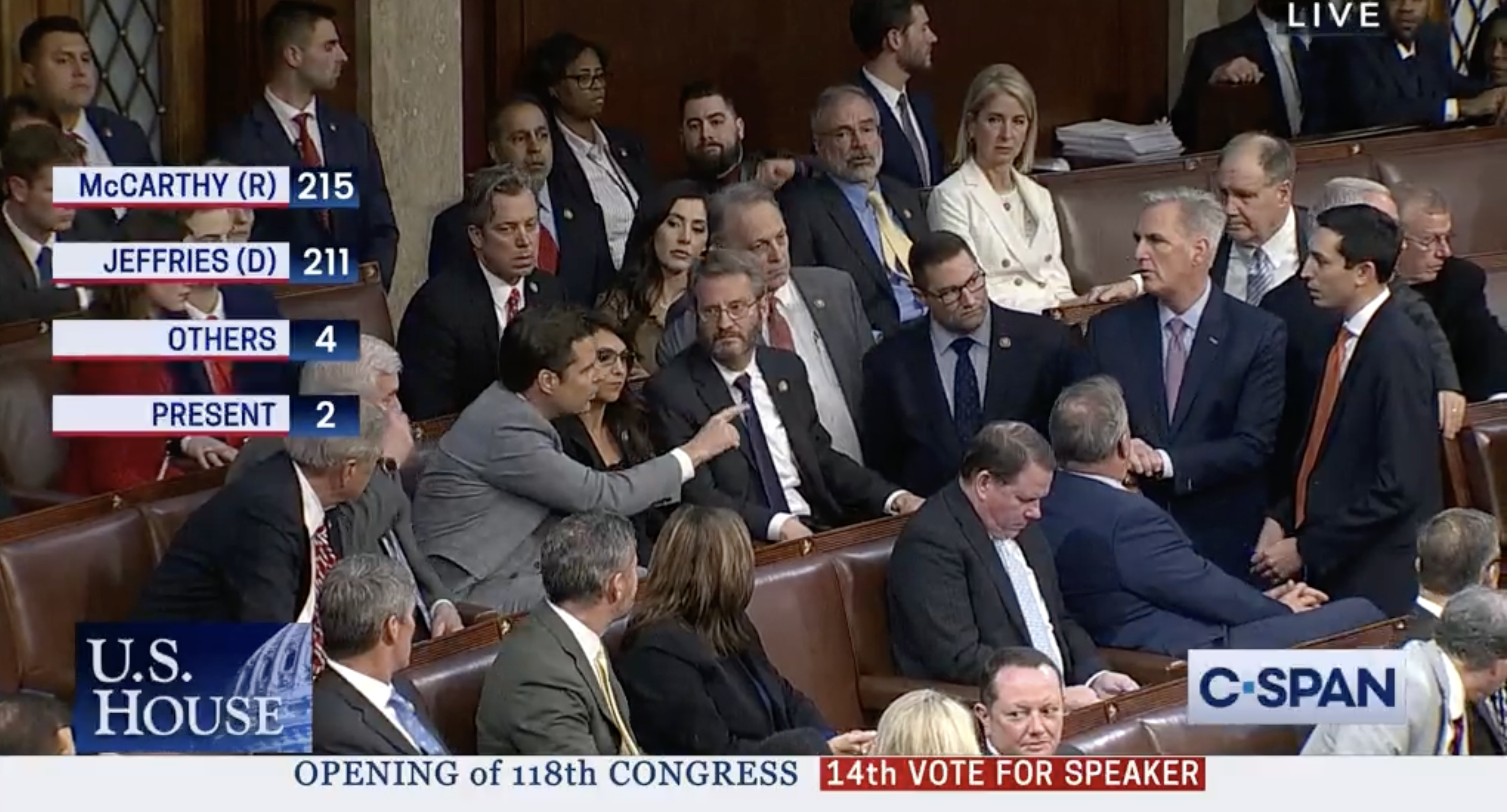 State of play: Most of the flips Friday came earlier during the chamber's 12th ballot and helped McCarthy move closer than he's ever been to securing the gavel.
During the 12th ballot, 14 Republicans changed their vote to support McCarthy: Reps. Dan Bishop, Scott Perry, Chip Roy, Paul Gosar, Michael Cloud, Byron Donalds, Andrew Clyde, Mary Miller, Andy Ogles, Ralph Norman and Victoria Spartz, as well as Reps.-elect Josh Brecheen, Anna Paulina Luna and Keith Self.
Rep. Andy Harris (R-Md.) switched his vote to McCarthy during the 13th round.
What they're saying: "Over the past several days, I've worked alongside Speaker Designate [Kevin McCarthy] and several of my colleagues in good faith to ensure accountability, representation, and commitments from House leadership in the 118th Congress," Donalds (R-Fla.) said on Twitter. "The progress we've made is significant."
"What we've witnessed is monumental and a testament to how government should function in our Constitutional Republic. As we continue negotiations, I'm confident our conference is positioned to get the ball over the finish line," Donalds added.
"The Speaker's Office must work for We The People, and I believe the concessions we've secured achieve this. Republicans are ready to govern and deliver results on behalf of our constituents and the nation," he said.
"There was no one moment that tipped the scales, they had been working in good faith," Norman (R-S.C.) told reporters. "Should it have been quicker? May have, but it worked out and now it's a good thing."
Context: The breakthrough earlier Friday came after McCarthy hosted a GOP conference call that morning and expressed optimism after a night of negotiations, two sources on the call said. But no official deal had been reached, and even an agreement with a handful of persuadable rebels would not clinch the votes McCarthy needs to become speaker.
McCarthy said on the conference call that more votes are possible over the weekend.
Because the speaker contest relies on a majority threshold, member absences could reduce McCarthy's magic number down from 218 votes. But if it's McCarthy supporters who are absent, that could further empower the rebels.
The big picture: On the second anniversary of the Jan. 6 Capitol riot, Republican infighting ground the House's work to a halt — with a viable path to consensus gradually coming into view.
Between the lines: While McCarthy's support expanded, some of his backers had previously indicated that they wouldn't blindly vote for him regardless of the vast concessions he made to his far-right detractors — creating an extremely fraught tightrope.
Asked if there was anything that could make him drop his support for McCarthy, Rep. Chris Stewart (R-Utah) had said on MSNBC Thursday: "There actually is. And honestly, there's many of us who feel like we're very, very close to that."
Gaetz (R-Fla.), a leading rebel who has been brutally honest in his hostility toward McCarthy, had told reporters that the standoff would end with either McCarthy withdrawing or agreeing to a "straitjacket" that fully constrains him as speaker.
Go deeper: McCarthy talks escalate as speaker vote adjourns on Day 3
Editor's note: This story is developing and will be updated.
Go deeper