House Democrats connect Jan. 6 to GOP's speakership fight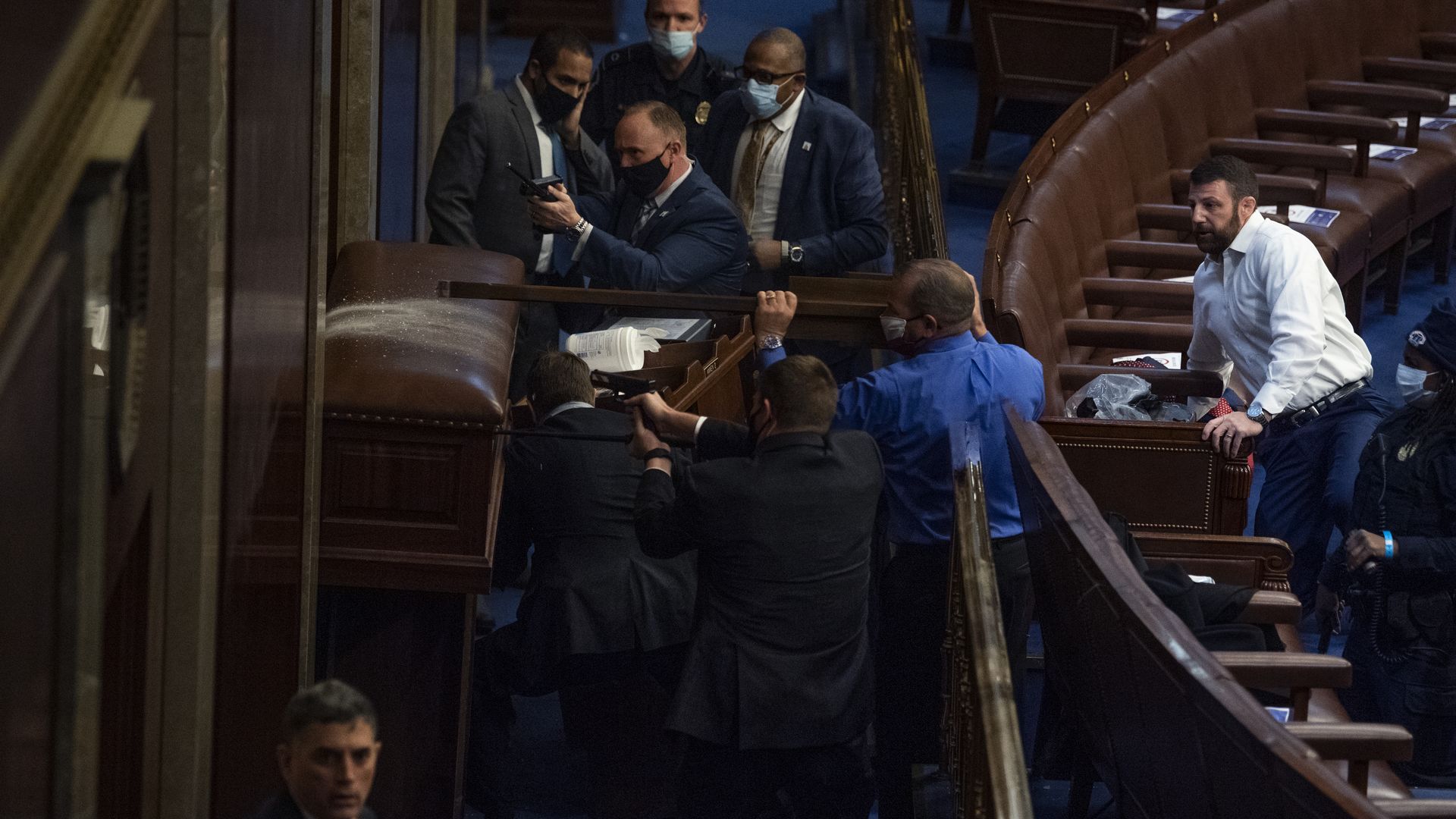 On the second anniversary of the Jan. 6 insurrection, House Democrats said the speakership fight waged by 20 House GOP rebels is a sign of how little progress has been made toward unity.
Between the lines: "The whole campus is aware of this juxtaposition of these two dates and what they're attempting to do, which is to disrupt our democracy," said Rep. Annie Kuster (D-N.H.).
Axios interviewed multiple Democrats on Thursday who are in the Gallery Group, the roughly 20 House Democrats who formed an impromptu support group after huddling together in the House Gallery on Jan. 6.
"I've been thanking my lucky stars all week that Republicans weren't in charge two years ago," said Rep. Sara Jacobs (D-Calif.).
Rep. Susan Wild (D-Penn.) said GOP Leader Kevin McCarthy cowered "into submission to the extreme fringe" after Jan. 6, "and today, his conference can't even come together to perform a threshold action."
"It was the government shutdown in '19, the insurrection of '21, and now the current chaos of '23," Rep. Jason Crow (D-Colo.) told Axios. "The common denominator ... is having a handful of Republicans in the House of Representatives who have no interest in governing."
"It's not lost on us that some of these people were the actors that were involved on January 6," Kuster said, referencing House Freedom Caucus Chair Scott Perry (R-Penn.), one of the GOP defectors. "Mr. Perry asked for a pardon because of illegal acts. That's a part of this that is so troublesome."
A spokesperson for Perry did not respond to a request to comment.
Between the lines: The House adjourned Thursday night after 11 failed ballots for McCarthy — but with Republican leadership saying they were optimistic about making progress.
"I'm not putting any timeline on it. We've got some progress going on. Members are talking," McCarthy said Thursday.
The last time a speaker fight went this many ballots was 1859.
Driving the news: President Biden will, for the first time in office, award the Presidential Citizens Medal to 12 people at a ceremony honoring "exemplary contributions to our democracy" on Friday.
Recipients include Capitol Police officers who were injured or died during the riot and election workers who fought off attempts from former President Donald Trump to overturn the 2020 election results.
Incoming House Democratic Leader Hakeem Jeffries will also lead an event in the Capitol at 10 a.m. ET, multiple lawmakers tell Axios.
Shortly after, members of the "Gallery Group" are hosting Capitol Police officers for a lunch to commemorate the work they did on the same day two years ago, members of the group said.
Go deeper