Deadly "once-in-a-lifetime storm" pummels Buffalo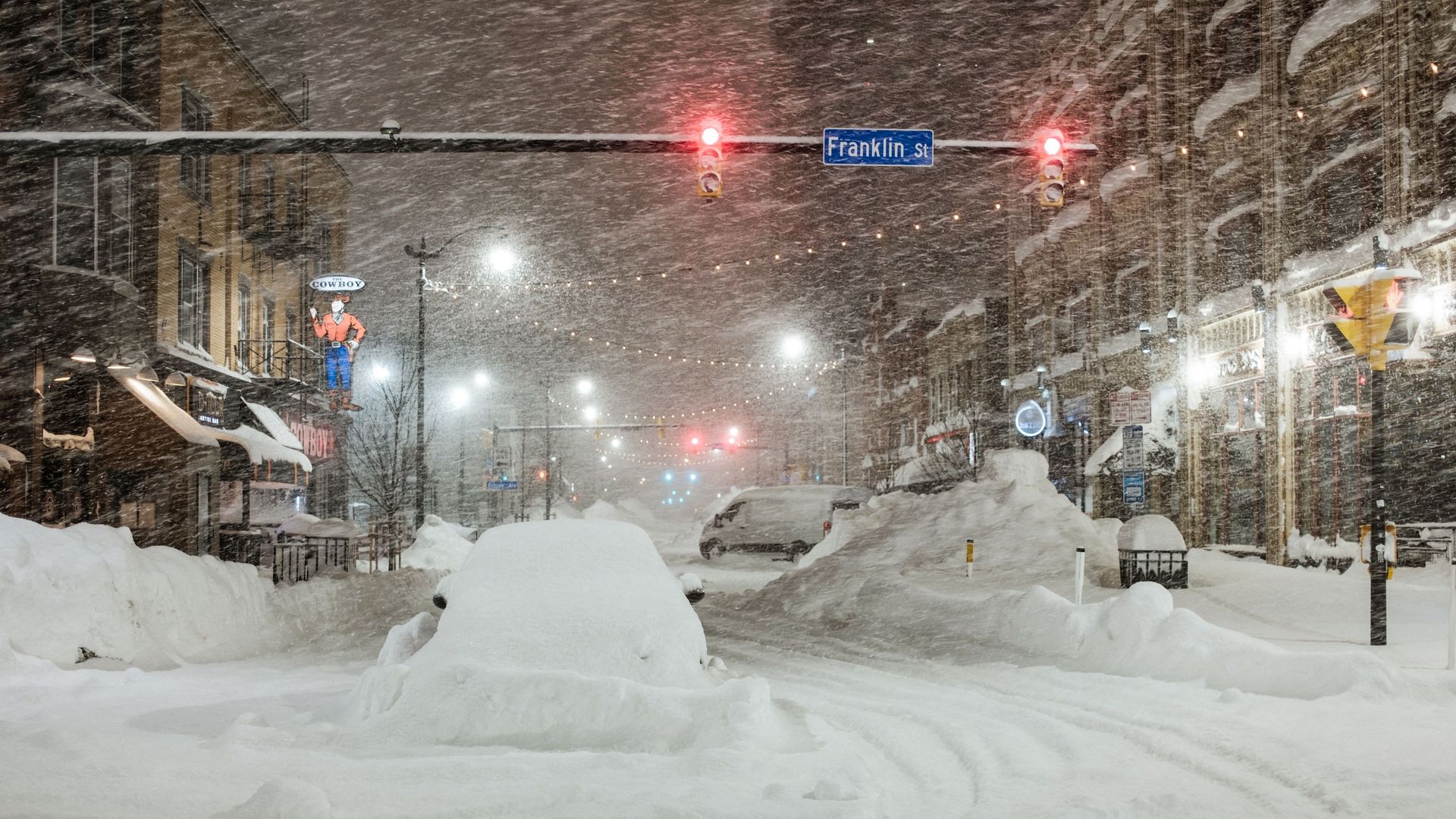 Editor's note: Follow new updates as New York responds to the extreme winter storm.
One of the worst blizzards in Buffalo's history has claimed the lives of at least 28 people in western New York, officials said Monday.
The latest: At least 27 of those people died in Erie County, many in the city of Buffalo, per a statement from county executive Mark Poloncarz Monday. Officials warned they expect the death toll to rise.
Another person was found dead in the Niagara County town of Lockport, apparently from carbon monoxide poisoning, according to a statement from the Niagara County sheriff's office.
State of play: New York Gov. Kathy Hochul said at a briefing Monday that it's "a dangerous situation to be out" driving, noting driving bans were in effect on many state roads as another batch of snow was expected to hit the Buffalo area.
Some of these bans were being lifted on Monday, but Poloncarz said they would remain in place in Buffalo, Lackawanna, and Cheektowaga overnight.
The suspension of bus, rail and paratransit services was continued until further notice.
Buffalo Niagara International Airport said it will remain closed until 11am Wednesday.
Meanwhile, President Joe Biden tweeted Monday he spoke with Hochul, who described the extreme weather event as a "once-in-a-lifetime storm." But FEMA had yet to issue a disaster declaration for the area.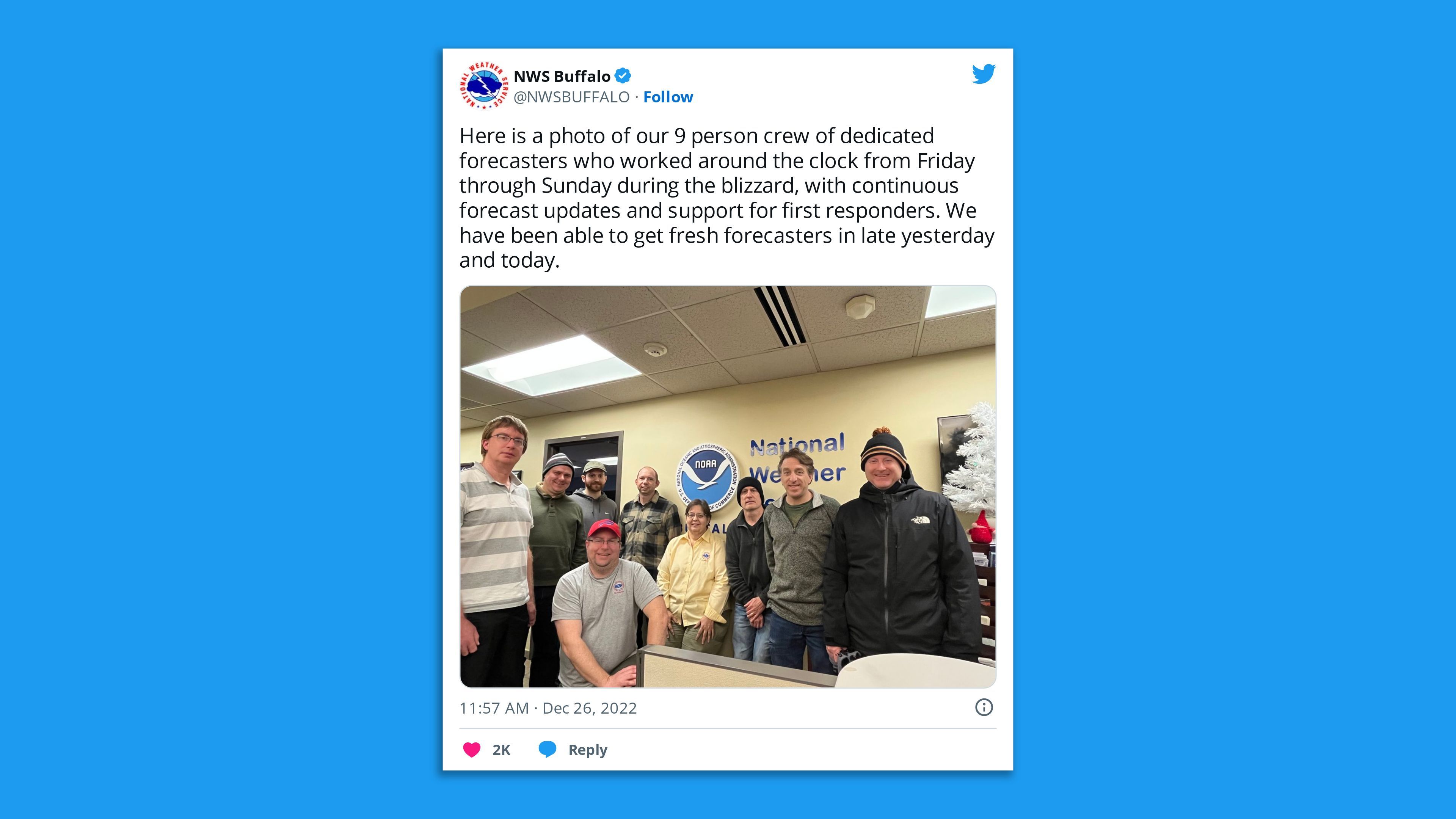 The big picture: The extreme winter storm that plagued much of the country last week brought a blizzard to the Buffalo area, freezing several substations and creating deadly conditions during the busy holiday travel period.
Hochul deployed the National Guard to Erie County on Friday to assist residents and noted Saturday that nearly every firetruck in Buffalo was stranded and unable to respond to emergencies.
Poloncarz said on Saturday that some bodies "were found in cars and some were found actually on the street."
Thought bubble via Axios' Andrew Freedman: What has made this event so dangerous and historic for Buffalo, which is a city used to heavy snow, has been the duration of extremely strong winds, frigid temperatures and heavy snow.
Buffalo has not previously endured blizzard conditions for so long, according to weather records dating back to 1950.
For Buffalo, this storm was akin to a winter hurricane standing still for a day and a half.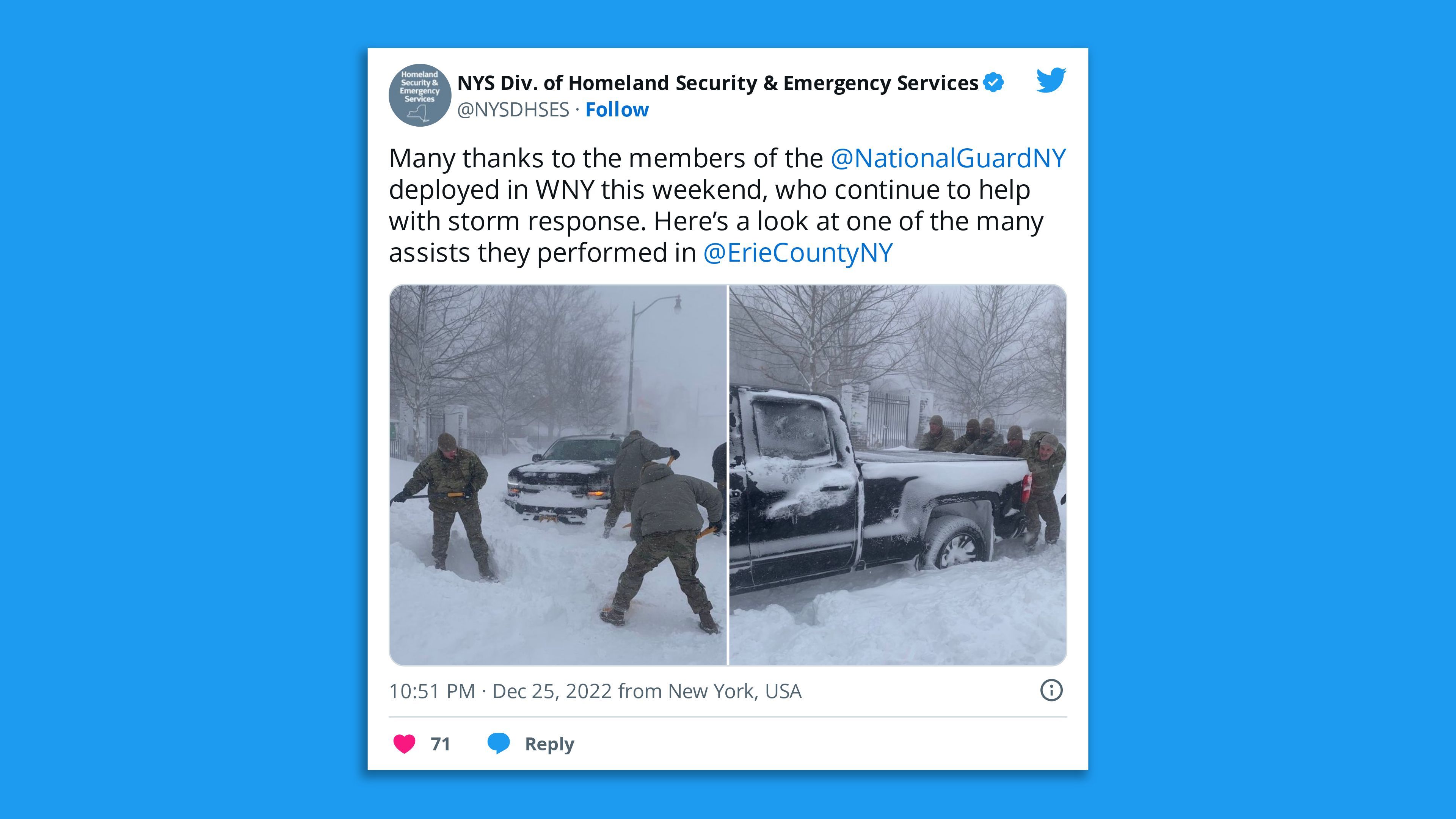 By the numbers: The Buffalo airport had recorded 49 inches of snow as of Monday, and the area could still pick up another 4 to 9 inches through Tuesday.
The NWS noted Sunday evening that the 97.2 inches of snowfall recorded in the area so far this season was not only the most snow to start the winter season through Christmas, "but also just 2.7 inches" behind the typical entire seasonal snowfall.
Zoom in: The Buffalo Fire Department's historian reported the storm as "the first time in Buffalo fire history that they were unable to respond to calls," Poloncarz said, adding "there was a period of hours straight in which we could not send out emergency service crews" because it was too dangerous.
Ambulances needed three hours to reach hospitals on Saturday, Poloncarz said Saturday.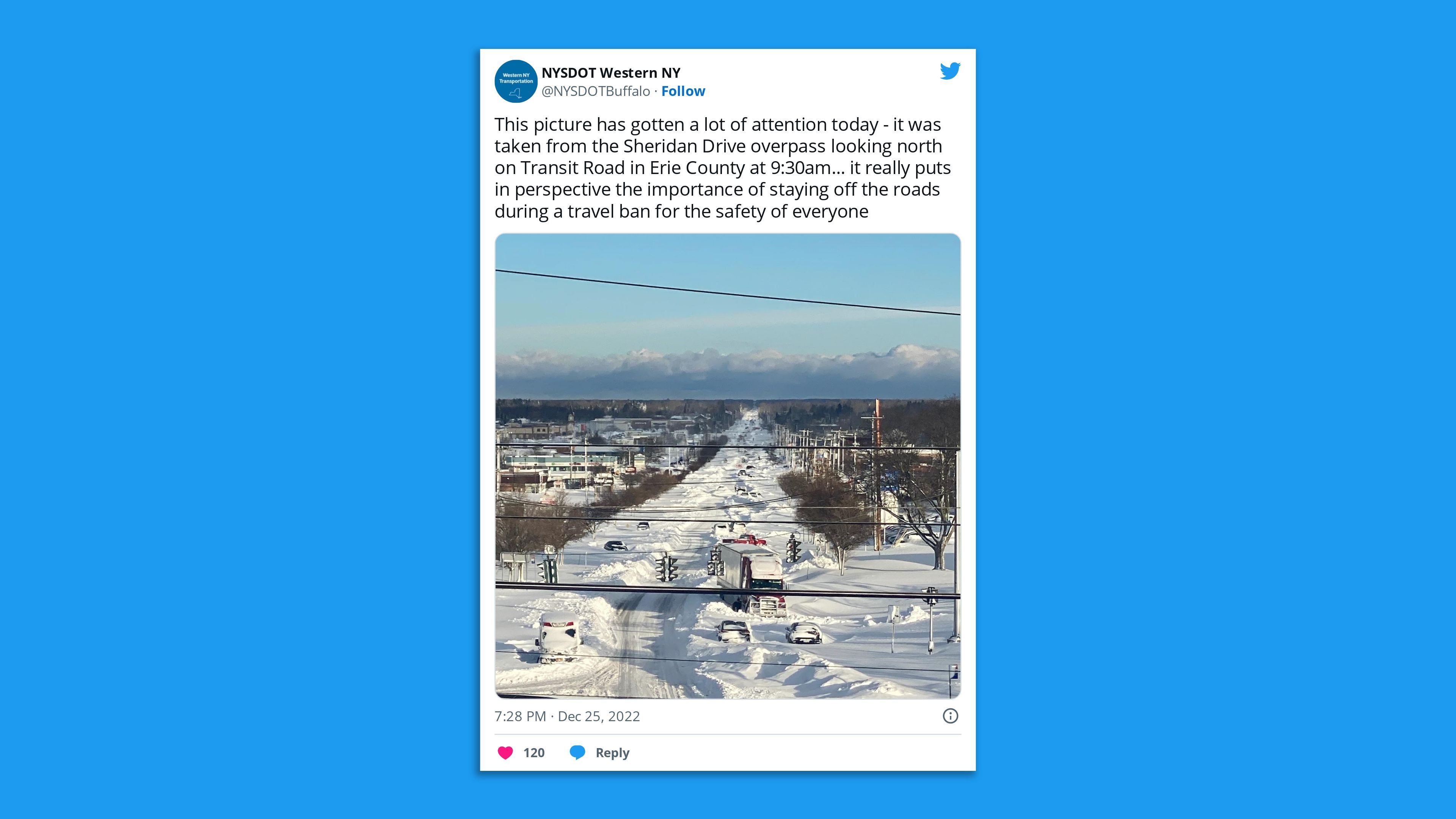 What to expect: "One last period of lake effect snow will develop Tuesday, then this storm will finally end by midweek with a significant warming trend late in the week," per a forecast discussion from the NWS Buffalo office Monday morning.
Flashback: Buffalo experienced a deadly historic storm in late November that shattered daily records and blanketed much of the surrounding areas.
The bottom line: "This will go down in history as the most devastating storm in Buffalo's long storied history of having battled many battles, many, many major storms," Hochul said at a Christmas morning briefing.
More from Axios:
Editor's note: This article has been updated with additional details throughout.
Go deeper