Massive winter storm freezes U.S. and strands travelers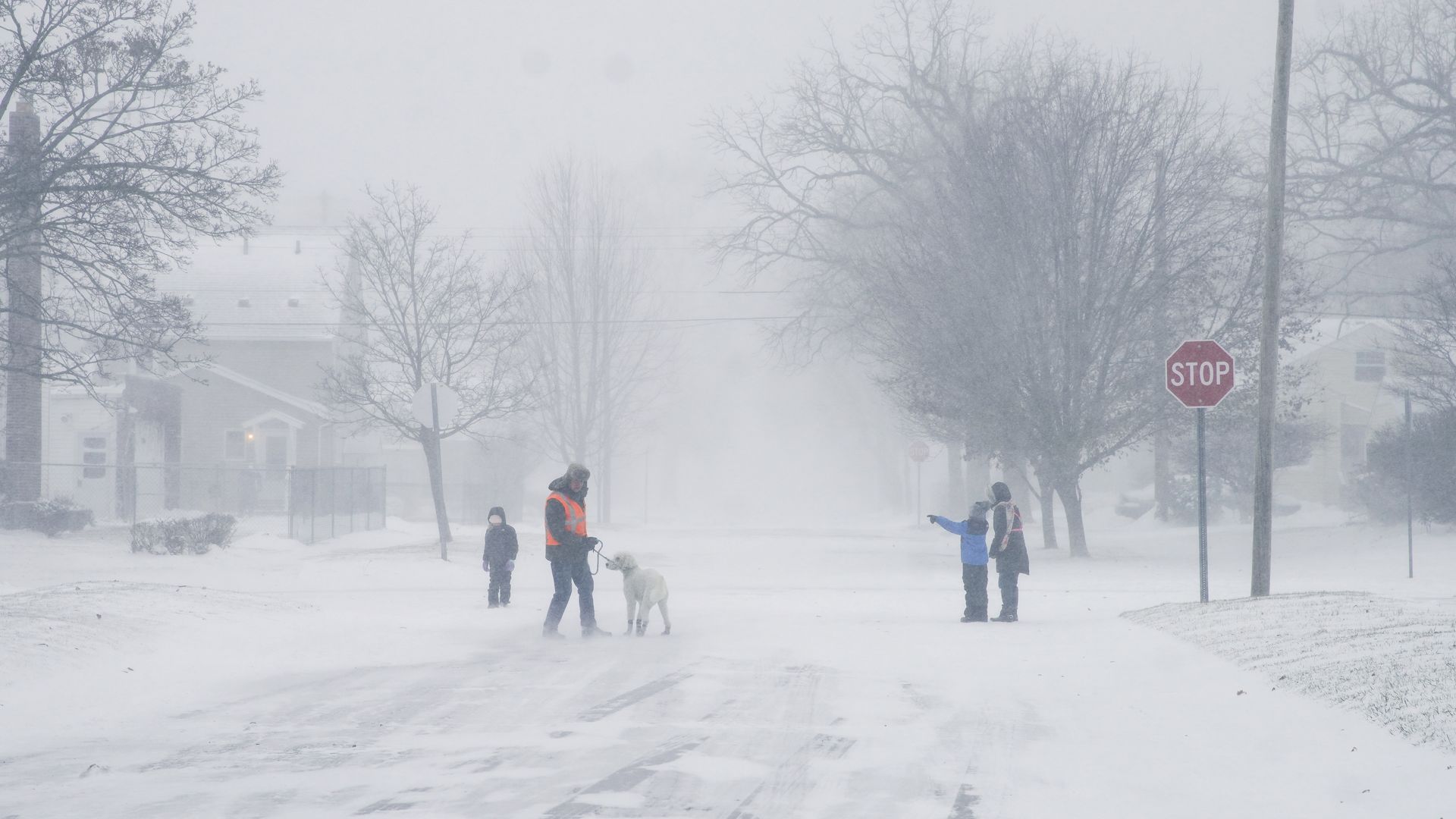 The extreme winter storm and Arctic outbreak hammering swaths of North America have left many parts of the U.S. facing frigid temperatures and travel nightmares.
The big picture: Much of the country woke up on Christmas Day to cold temperatures, power outages, travel delays and dangerous weather conditions that have left several people dead. It was weakening overnight, but still remained a threat to some areas, notably Buffalo, New York.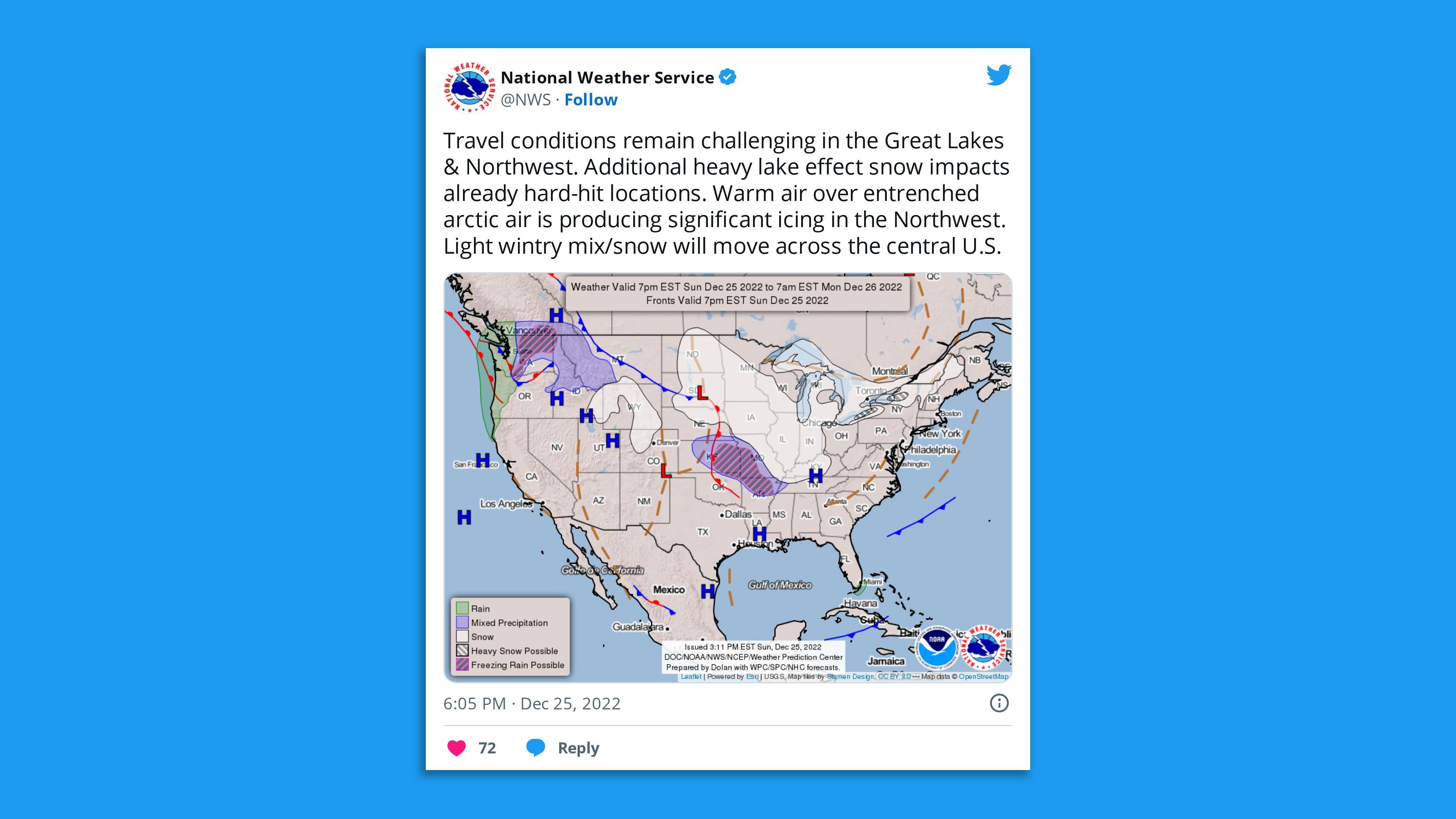 At least 34 people have died in the massive storm and officials warned that toll was expected to rise, AP reports.
State of play: "Weather conditions that caused the significant lake effect snow even downwind of the Great Lakes is weakening," the National Weather Service said in an update early Monday.
"In the West, an atmospheric river event will bring heavy rain that could cause flash flooding, heavy high elevation snow, high winds, and areas of significant icing in parts of eastern Washington," the NWS added.
"Light accumulations of a wintry mix will be possible in the Mid-South to the Ohio Valley."
Of note: The city of Buffalo, New York, was in the midst of its worst blizzard on record, which has brought record-breaking snowfall and zero visibility.
Power outages across the U.S.
Zoom in: Nearly 260,000 customers across the U.S. woke up without power on Christmas Day, according to PowerOutage.us.
By early Monday, that number had dropped to just over 70,000, with nearly 33,000 of those in Maine.
New York had the second-highest number with almost 14,000 customers experiencing outages.
Flight delays and cancellations amid holiday travel
Travel problems were happening across the U.S. as many Americans tried to reach friends and family for Christmas. There were thousands of flight delays and cancellations on Saturday and Sunday, with more expected throughout the busy holiday weekend.
"The life-threatening cold temperatures and in combination with dangerous wind chills will create a potentially life-threatening hazard for travelers that become stranded, individuals that work outside, livestock and domestic pets," the NWS said Sunday.
"In some areas, being outdoors could lead to frostbite in minutes. Ensure outdoor animals and livestock have sufficient shelter," the NWS added.
Winter storm freezes U.S.
Areas ranging from the Plains to the Gulf Coast and Midwest saw historic temperature drops. By Friday morning, more than 350 million Americans were under some type of winter weather warning, Axios' Andrew Freedman writes.
Winter storm endgame
Most areas should begin to thaw Monday as the winter weather rushes through the Northeast.
"By Christmas night into Monday, the next low-pressure system coming from the Pacific will deliver the next surge of moisture toward the Pacific Northwest and then into northern California," the NWS said.
More from Axios:
Editor's note: This story has been updated with additional details about weather conditions.
Go deeper